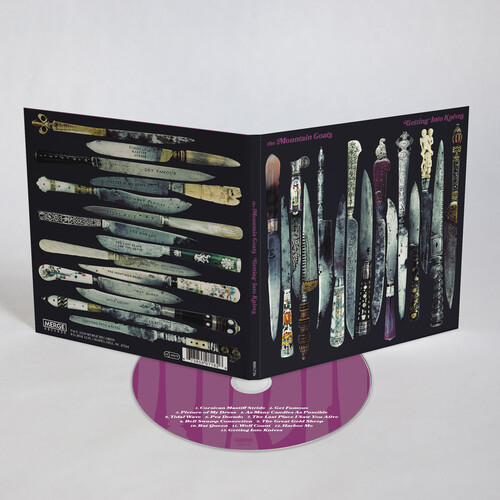 It's time for knives. On the first of March, 2020, John Darnielle, Peter Hughes, Matt Douglas, and Jon Wurster, aka the Mountain Goats band, visited legendary studio Sam Phillips Recording in Memphis, TN. Darnielle armed his band with new songs and reunited with producer Matt Ross-Spang who engineered last year's In League with Dragons. In the same room where the Cramps tracked their 1980 debut album, the Mountain Goats spent a week capturing the magic of a band at the top of its game. The result is Getting Into Knives, the perfect album for the millions of us who have spent many idle hours contemplating whether we ought to be honest with ourselves and just get massively into knives.
The Mountain Goats started 2021 on the small screen Friday night with a rapturous TV performance of "Get Famous" for The Late Show with Stephen Colbert. The band (comprised of John Darnielle, Matt Douglas, Peter Hughes, and Jon Wurster) recorded the session late last year at Overdub Lane with an expanded band including Dexter Moses and Annalise Stalls on saxophone and clarinet, Joe MacPhail on organ, and Chris Boerner on guitar. Watch the "Getting Into Knives" highlight today!
John Darnielle – Vocals, Guitar Matt Douglas – Keys, Saxophone, Guitar Peter Hughes – Bass Vocals Jon Wurster – Drums Dexter Moses – Saxophone Annalise Stalls – Clarinet Joe MacPhail – Organ Chris Boerner – Guitar
the Mountain Goats new album 'Getting Into Knives' is out now on Merge Records.