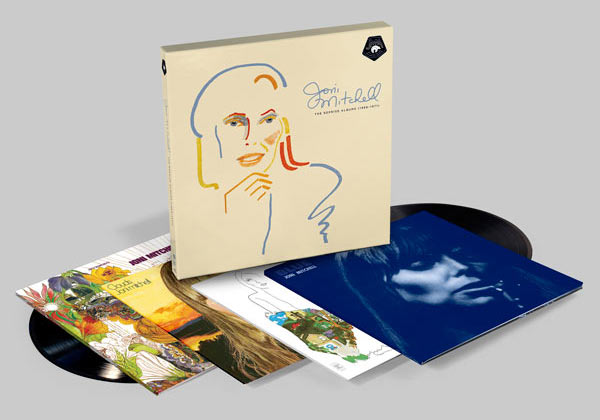 Last year Joni Mitchell and Rhino stunned fans with the announcement of the Joni Mitchell Archives, an ongoing series of releases that look back at the career of the multifaceted songwriter, singer, producer, and visual artist. 
Joni Mitchell and Rhino announced the next volume in the series: "The Reprise Albums (1968-1971)", to be released June 25th, just fifty years and three days after she released the classic album "Blue" on June 22nd, 1971.  This 4-CD or 4-LP set collects her first four albums, which feature some of her most enduring work:Song To A Seagull (featuring the essential tracks "Cactus Tree" and "Marcie"), Clouds ("Chelsea Morning" and "Both Sides Now"), Ladies of the Canyon ("Big Yellow Taxi," "The Circle Game," "Woodstock") and the timeless Blue (featuring "River" and "A Case of You"), which recently landed on Rolling Stone's list of 500 Greatest Albums of All Time.
Joni Mitchell released Blue, concluding her prolific four album run for Reprise Records with an album considered by many to be one of the greatest of all time. Its stirring, confessional songs have been celebrated by music lovers and critics alike for decades while inspiring a wide variety of artists as diverse as Prince and Taylor Swift. Even today, its stature as a masterpiece continues to grow. Just last year, the album was named #3 on Rolling Stone's list of the "500 Greatest Albums of All Time." To celebrate the album's 50th anniversary, Rhino is releasing "The Reprise Albums (1968-1971)" the next installment of the Joni Mitchell Archives series, featuring newly remastered versions of Blue (1971) and the three albums that came before it: Song To A Seagull (1968), Clouds (1969), and Ladies Of The Canyon (1970).
In the case of Song To A Seagull, the original mix has been recently updated by Mitchell and mixer Matt Lee. The cover art for "The Reprise Albums (1968-1971)" features a previously unseen self-portrait Mitchell sketched during the time period. The collection also includes an essay by Grammy winning singer-songwriter Brandi Carlile, another artist who's been influenced greatly by Mitchell.
All the music on The Reprise Albums (1968-1971)has been newly remastered by Bernie Grundman and it also premieres a new mix of "Song To A Seagull"  by Matt Lee and Joni Mitchell.  In interviews, Joni has applauded her producer David Crosby's choice to keep her songs sparse as in her live shows, but also expressed dissatisfaction over the chamber reverb that it had been said was baked into the tapes.    The new mix honours the sonic fingerprint of the original while dialling back some of that reverb.  For fans, it will be a whole new way of experiencing Joni's first artistic statement.
The box set is handsomely packaged in a deluxe slipcase and adorned with a newly discovered self-portrait of the artist from the era.  You'll also find new liner notes by Brandi Carlile, a friend and admirer of Joni Mitchell and 6-time Grammy winner in her own right. If you purchase directly from Joni Mitchell's online shop (in the U.S. or through the new EU storefront launched today), you'll get a 7″x7″ print of the album artwork – one per copy purchased, no matter the format.  But vinyl enthusiasts will want to act quickly on this one, as the LP edition of The Reprise Albums (1968-1971) is limited to just 10,000 copies.
And speaking of Mitchell's online store, today marks the launch of the first official Joni Mitchell merchandise line.  You'll find a plethora of exclusive Joni Mitchell Archives-emblazoned memorabilia, as well as album cover T-shirts.
As for the vault material that fans are craving?  Joni and Rhino promise that Joni Mitchell Archives Vol.2: The Reprise Years (1968-1971) will follow later this year with a wealth of unreleased studio and live recordings.  "Mitchell continues to be intimately involved in producing these collections, lending her vision and personal touch to every element of the projects," Rhino representatives said in the press release.  "Future releases in the Archives series will arrive in a similar manner, with a boxed set focused on studio albums from a specific era, followed by an official Archives release looking at unreleased audio from the same period."
As Brandi Carlile writes in her notes, "No matter what we are dealing with in these times we can rejoice and know that of all the ages we could have lived through, we lived in the time of Joni Mitchell."  The four albums on The Reprise Albums (1968-1971) remind us how lucky we are with a stunning portrait of an artist finding her voice.
The Reprise Albums (1968-1971) arrives on 4-CD, limited edition 4-LP, and digital on June 25th.  You can pre-order your set from the links below and preview the set with the new remaster of "A Case of You."
Joni Mitchell, The Reprise Albums (1968-1971) (Rhino, 2021)