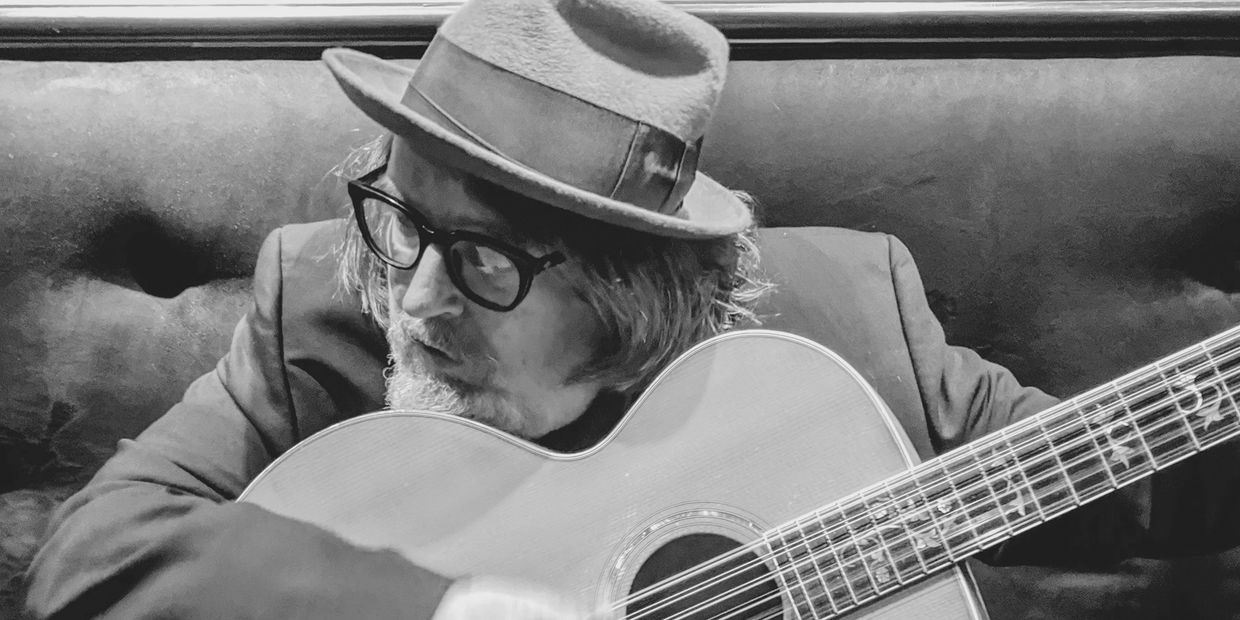 "The Midnight Broadcast" is the most unusual entry in Peter Case's extensive and eminently admirable career. The sixteen tracks interweave music, sound effects, and spoken word segments to create a simulation of that quasi-mystical sensation that's inspired so many music lovers and musicians since the invention of radio. It is ultimately an experience that is as thought-provoking as it is dream-like.
The Buffalo, New York native has done a record something like this before, specifically, the 2007 Grammy Award-nominated "Let Us Now Praise Sleepy John" Serving as a link to that deserved homage, it is thus appropriate folk-bluesman to Estes' "Oh the Morning"/"President Kennedy" appears here. But it's an illustration of Peter's aptitude as a musicologist as well, as are numerous selections from the public domain: "Stewball" and "Captain Stormalong," among others, are juxtaposed with a pair of astute recognitions of influence in the form of Mance Lipscomb's "Charlie James" and Memphis Minnie's "Bumble Bee."
Two Bob Dylan tunes further reinforce Case's grasp of history, musical and otherwise. Of a piece with their surroundings, the spare acoustic-based performances of both "Early Roman Kings" and "This Wheel's On Fire"  are unfettered by effect in the singing or playing. In addition, these compositions of the Nobel Laureate's are quite purposefully sequenced: the former, a cull from The Bard of Minnesota's splendid "Tempest" album of 2012, appears just as the album is gaining momentum, while the latter, climax to the epochal Music From Big Pinkby The Band, also concludes this LP (and on a comparably ominous note).
Written by Bob with that iconic group's bassist/vocalist Rick Danko during The Basement Tapes era, this secular fire-and-brimstone narrative gains even more foreboding in this context through its subdued rendition (and as it mirrors the dark grey clouds of this cover art). It's an extension too of an almost subliminal link of continuity with Dylan's entire oeuvre, a notion unavoidable before Case's sole original concludes; on its very own terms, "Just Hanging On" is a sage and patient observation on our trying times, but it gains further significance via its circuitous but nonetheless recognizable echoes (intentional or not) of Dylan's own "I'll Keep It With Mine" from 1964.
Setting the tone in more ways than one for The Midnight Broadcast,  the deceptively lo-fi audio quality there mirrors the authentically rootsy range of songs including "Grey Funnel Live." But the sonics are in line with Case's voice, which, even as it's retained its fundamentally boyish tone over the years, has gained a weathered quality that lends it even more character. As weighty as some of the performances can sound, like "Going Down Slow," the musicianship itself is uplifting, deriving as it does from what is essentially a very personalized and intimate simplicity.
Other cuts here manifest those virtues too, and, in doing so help illustrate the evolution of modern folk music. "When I Was A Cowboy,"  for instance, was often covered by the late great Irish bluesman Rory Gallagher and attributed to Leadbelly under the title of "Out On The Western Plain." Peter and his various collaborators, including the versatile likes of Lee Fortier and Bert Deivert, clearly evoke the timeless (and durable) quality of such material, while producer and multi-instrumentalist Ron Franklin's contributions achieve much the same end: brief as are the likes of the 1:07 duration "Jupiter Holler No. 4," they become integrated with their surroundings because they sound complete unto themselves.
As does the austere remainder of  "The Midnight Broadcast", with its skeletal arrangements adorned with harmonica, Vox organ, and maracas. But then Peter Case has never allowed extraneous ornamentation on any of his records, so this latest execution of his 'less is more' concept is not only wholly in line with the rest of his solo discography, but a distinctly memorable exercise in ambition on its own terms.
Bandaloop Records Released on: 12th March 2021.