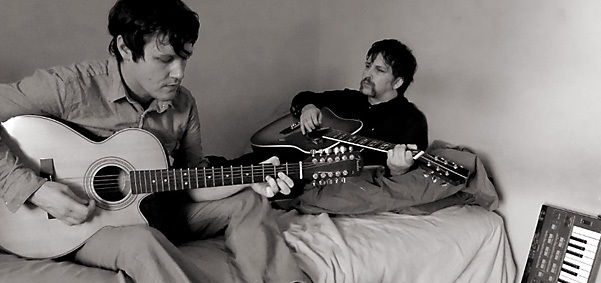 Ben Chasny (Six Organs Of Admittance) and Donovan Quinn (Skygreen Leopards) return this week with their long-awaited second New Bums LP, channelling acoustic guitar rock 'n' roll in the vein of The Replacements or Johnny Thunders, albeit with a wee bit more of a psychedelic folk approach like their other projects. Released on the ever-reliable Drag City label, this ticks all the right boxes for us.
Seven years and a handful of lifetimes ago, New Bums came out of nowhere with their debut album, "Voices In a Rented Room" – a record the New York Times described as "feeling like it's falling apart." New Bums took this as a compliment and, thus emboldened, they toured relentlessly in support of the release: criss-crossing the USA in the spring of 2014, with a European run that summer. Then, silence descended, as the Bums withdrew to the place from which they'd mysteriously emerged.
Now, the New Bums are back. 2021 finds them with a new album in hand. Following a West Coast US tour in late 2019 it's clear that the duo of Donovan Quinn (Skygreen Leopards) and Ben Chasny (Six Organs of Admittance, Rangda, etc) are fully reanimated, as evidenced by the songs and sounds of "Last Time I Saw Grace".
Retaining the drunk-dog-locomotion of their debut, New Bums sprinkle a bit of fresh fancy into their signature twin guitars- and-vocals sound, with cleaner recording techniques, further developments in harmonies and a new appreciation for a song with more than two parts, making 'Last Time I Saw Grace' nothing less than the perfect progression from the purposefully murky mixes of their debut.
Continuing to embrace an acoustic rock 'n' roll sound, inspired by artists such as Jacobites, Robyn Hitchcock, Johnny Thunders, Replacements and such, New Bums push the words and the stories to the front of the line, crafting tales with satiric glee on Last Time I Saw Grace. However, this world of empty perfume bottles, bodies tied to masts and moving onward to devastation (after the bottle on the table pulls out a gun) feels much more Gombrowiczian dreamscape than drunken night on the town. Yes, everything is wasted but this is an existential wasteland rather than a substance-laden one. This combination of arch Californian post-aristocratic melodrama with torn and frayed acoustic guitars opens up a new genre entirely, one those at Drag City Records are tempted to call Rent Control Romantic.
Back in slagtion, New Bums, that duo nobody thought to ask for – Six Organs of Admittance's Ben Chasny and Skygreen Leopards' Donovan Quinn – are deeper in their nocturnal jungle where all the folly and failure in the world is like an elegant fever dream you want to have every night, and do. Dry humour and pathos pop in a collapsed acoustic vein!
"Tuned to Graffiti" is a track from "Last Time I Saw Grace," available on March 19th, 2021 on LP from Drag City Records.