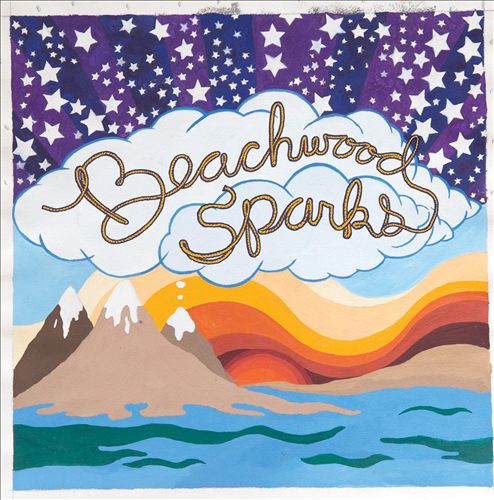 Los Angeles's Beachwood Sparks said that they hated the term "americana" to describe their music . But looking back now, there was something about their sound in terms of the production and energy in it that I think is missing from some of the big names in americana these days. It had that Laurel Canyon country-rock feel of bands like The Byrds and Buffalo Springfield but didn't feel derivative. There was a buzz about it – the album felt messy but at the same time exciting. And the songs were just crazily good. Those first few bars of opener' Desert Skies' still make the hairs on the back of my neck stand up. Even the cover is one of my favourite album covers of all time. Thank God they were reincarnated into GospelbeacH, but nothing will beat their debut – it's a record I can't imagine ever tiring of hearing and it's great news to hear it is now being re-issued.
If ever a band sounded like the sunbaked children of a partnership between the trippy psychedelic dreamers of the paisley underground and the lonesome cowboys of the late-'60s Laurel Canyon cosmic country, Beachwood Sparks are it. The group's self-titled debut album is a perfect distillation of the two thanks to soaring pedal steel, winsome harmonies, alternately twanging and swirling guitars, and songs that sparkle like lost gems. The band take care to adorn each sweet and sad melody with note-perfect arrangements that fill every corner of the mix with something good. They coat the melancholy songs in a woody patina of dusky sunlight, surrounding Chris Gunst's fragile vocals with sympathetic strums and vocal harmonies. "Canyon Ride" is a blue delight, especially when the downcast "doo-doo-doos" come in, "New County" is a lovely laid-back waltz that sounds lifted from a late-'60s Byrds record, and "The Reminder" features some excellent barroom piano and sounds as lowdown and broken as the saddest Gram Parsons song.
The bulk of the album revolves around these tender ballads with the band showing off considerable skill as singers, writers, and players. They balance these moments with a handful that cut loose a little as they kick up some serious dust on rockers like "Sister Rose" or "The Calming Seas," take a detour to the beach for "This Is What It Sounds Like," drop some acid-y, guitar-heavy elements into the woozy "Something I Don't Recognize," and ramble through some hippie C&W on "Silver Morning After." No matter the mood or tempo, every song comes across like the band playing at their absolute peak. Most of the members of the group had already been making music for a long time when they started Beachwood Sparks, notably with lo-fi heroes Further, and it shows. They play with confidence and restraint, while still filling the uptempo songs with a sense of joy and the sad songs with tear-streaked soul. Beachwood Sparks might not be the first band to give cosmic country a shot, but their debut album proves right away that they are one of the best.
[The 2020 reissue of the album adds a second disc of single tracks and rarities, including two that were on the Japanese release of the record. Two alternate versions of songs from the album are fun: "This Is What It Feels Like" has an explosive psych-rock coda that doubles its length; "Canyon Ride" leans even more into Laurel Canyon rock with a ripping guitar solo added.
The band's 1999 Sub Pop single is made up of one of their summeriest tunes in "Midsummer Daydream" and a pleasantly laid-back slice of country-pop titled "Windows 65." The two tracks from the Japanese album are lovely: "We'd Love to See You" is fine soft rock complete with electric piano; "Surfing Saints" is drifting psych pop that the Rain Parade might have come up with if they were stranded in the desert for a week. Best of all is the previously unreleased song "Morning Light." It's hard to see why this jangling, sun-dappled power pop ballad didn't make the final cut for the album. These extra tracks help tell the complete story of this version of the band and make for an essential addition to what's already a brilliant album.