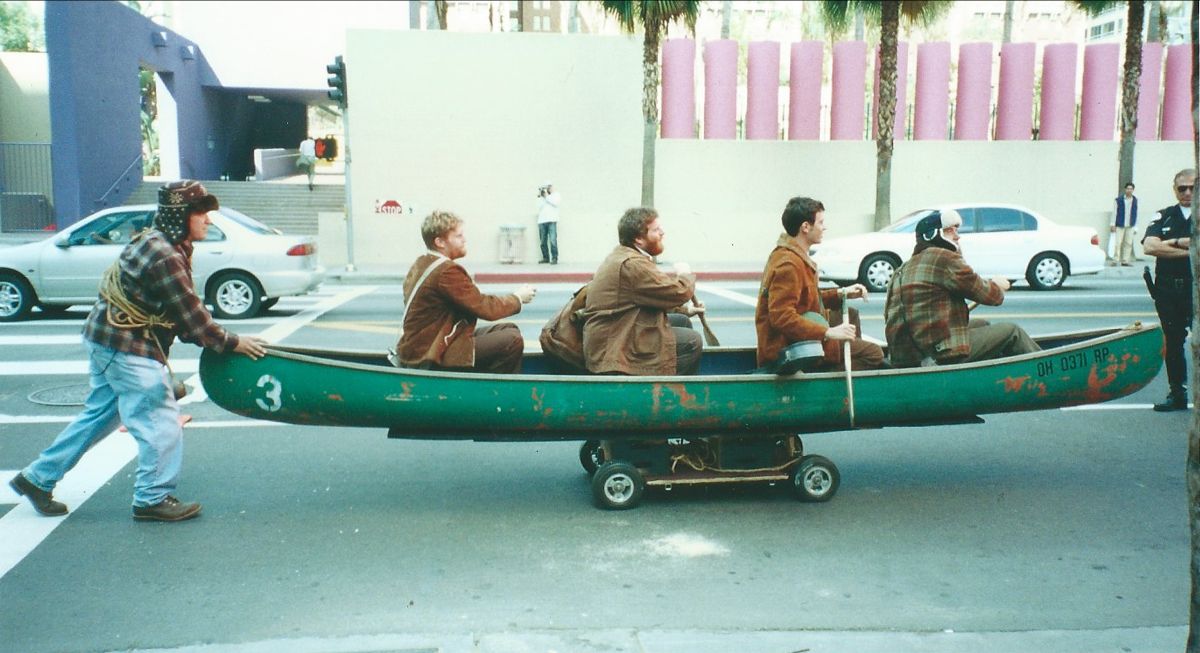 One night in June of 1999, we were sitting in Jason's tiny house in Modesto, California when he mentioned that he could sit down at the piano and play the whole of what would be The Sophtware Slump front to back. This meant he was (finally!) ready to begin recording. The piano was in the kitchen then so we sat and he started to play. Distracted by beer and conversation, we didn't make it all the way through.
Early last year, as we discussed if we should commemorate the 20th anniversary I recalled the memory and wondered what the album would have sounded like before all that wonderful production, before one note had been committed to tape.
Today we announce The Sophtware Slump…..on a wooden piano. Recorded at Jason's home during Pandemia 2020. It will arrive digitally November 20th on Dangerbird Records and as part of a four piece vinyl boxset of the original album and most of the b-sides and odds and ends from that era, many appearing on vinyl for the first time here. And a standalone physical release to follow in early 2021.
Grandaddy formed in 1992 and have released five official LPs, most recently 2017's Last Place. In its 20th anniversary feature on The Sophtware Slump, Stereogum summed up the album, and Grandaddy, with the question: "What if West Coast indie, but sci-fi?" In an age of unprecedented connectivity, these songs spoke to significant solitude. Grandaddy members include Jason Lytle, Aaron Burtch, Jim Fairchild, Tim Dryden, and the late Kevin Garcia, who passed away in 2017.
The Sophtware Slump. Grandaddy's second album, released 20 years ago today, essentially answered the question: What if West Coast indie, but sci-fi? Or, given the music's vast prog-rock horizons and Lytle's skepticism toward all the technology encroaching on Earth's natural order: What if Radiohead, but West Coast indie? Grandaddy hailed from Modesto — Spanish for "modest" — and the punny title was appropriately self-deprecating. It made a lot of thematic sense, too:
This was a concept LP about the slouching citizens of a disappointing dystopia, trapped on a tapped-out planet full of useless junk. But far from a dreaded second-album misstep, The Sophtware Slump stands as a quirky, ambitious landmark in the overgrown ruins of Y2K-era indie.
Lytle formed Grandaddy in 1992 after his burgeoning pro skateboard career was unceremoniously ended by a knee injury. Early gigs at skate parks plus a longstanding devotion to the Maximumrocknroll radio show led to Grandaddy playing up tempo punk rock at first, but by the time they released their debut album Under The Western Freeway in 1997, their style had softened into a rustic yet electronic spin on the scrappy underground guitar noodlings of Pavement and Built To Spill. The album's best, most enduring song, "A.M. 180," paired fuzzed-out power chords with a deviously catchy keyboard riff that sounded futuristic and amateurish all at once. The other tracks toyed around with a less overtly poppy variations of this aesthetic, a sort of ramshackle space-age slacker rock that, as it turned out, lent itself perfectly to songs about the American West decaying into a technological wasteland.
Such is the genius of The Sophtware Slump. Jason Lytle had established an entire alternate universe in sound and substance, strung together in peculiar vignettes that left much to the imagination. It was a triumph, but Grandaddy weren't done evolving yet. Three years later, they'd return with Sumday, an album that ditched the mythology and experimentation in favor of '70s-inspired hi-fi splendor. At the time, Lytle called it "a reflection of everything we've been working towards" and "the ultimate Grandaddy record." Maybe, but some might argue that the ultimate Grandaddy record is the one they rolled out in the year 2000, the grand treatise about the tortured love triangle between mankind, his planet, and the works of his hand. Like the clunky machinery that dots its landscape, The Sophtware Slump may now seem like an outdated relic, but boot it up and you'll discover it still works wonders.
Wishing you all as much health and happiness as you can muster during this often trying time. With love from Jim, Jason, Aaron and Tim. And Kevin.
Grandaddy really figured out their sound and worldview with their fantastic second album, featuring frontman Jason Lytle's absurdist tales of mundanity and stress in our increasingly tech-reliant world, set to a blend of '90s indie rock, glammy synthphonic flourishes (Flaming Lips/Mercury Rev's influence loomed large in 2000), and twangy country. The concept album imagines a world full of alcoholic robots, sad computer programmers, lost pilots, stuntman Evil Knevil, and forests made of discarded appliances that Lytle makes relatable with his empathetic style and a hard drive full of earworm spacerock pop…somehow it all sounds even more relevant now than it did in Y2K.