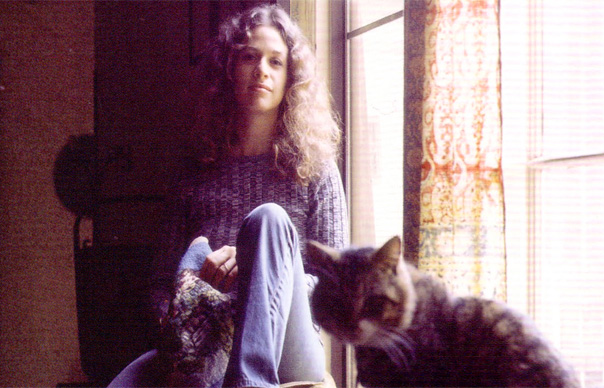 When Carole King began her career in the late 1950s, Phil Spector had just begun to redefine the sound of pop. Elvis dominated the US charts, rock'n'rock was here to stay – at least. King records her first songs with a certain Paul Simon, marries Gerry Goffin in college a little later and makes music with him. The two had their first hit in 1960 with  "Will You Love Me Tomorrow" for the black girl group The Shirelles. For the duo, it's the beginning of a steep career: The Monkees, Aretha Franklin and Dusty Springfield all have their numbers at Rolodex. But the two separated in 1968, King moved to California and tried to boost her still moderate career as a performer. She collaborates with Joni Mitchell and finds a new composition and studio partner in James Taylor, who also accompanies her on her debut on guitar. This is what she soberly calls "writer". She can write songs after all, but she doesn't like the role as a potential pop star.
Originally released on February 10th, 1971. Carole King's "Tapestry," surely one of the greatest singer-songwriter albums of all time…abetted by Joni's wonderful voice, of course….
She will nevertheless be one when "Tapestry" is released in February 1971, on which you can also hear the song co-written with Taylor, which will later shape the "Gilmore Girls". The album becomes one of the best-selling in history, but the others usually collect the fame. "You've Got a Friend" becomes world-famous in his simultaneously released version of Taylor, "(You Make Me Feel) Like a Natural Woman" is still remembered by most as an Aretha Franklin number and even "Where You Lead" celebrated its greatest commercial success in the interpretation by Barbra Streisand. King probably won't have bothered her any further, because she is also more songwriter than singer on "Tapestry", interested in the perfect pop formula and what can be expressed in it. That's a lot about twelve songs precisely because King's approach is characterized by telling reduction. 
This does not mean, however, that "Tapestry" is not exactly the stylistic patchwork promised in the title. Starting with the thunderous blues of  "I Feel the Earth Move" or "Smackwater Jack" over the quasi-soul of  "It's Too Late" to the piano-emphasized ballads, King absorbs the essence of this and that genre, integrating it with quite reduced means – piano, sometimes guitar, drums, bass, less often supplemented by other instruments – in songs that do not seem to make much concessions to this or that convention. , but to express their own standards. It's all about song writing, not individual self-expression. To pop music in its purest form. The arrangements are waterproof, solos are hardly any and if they are, they are short. "Tapestry" is in its own way an album without ego and thus an absolute anomaly of its time and beyond.
This can be seen above all in King's singing. It's not expressive, it's inductive: big gestures, wild phrasings, there's no such thing on this album. A lot of content in a few words. After all, it is not a question of communicating a singular emotional world in the most impressive way possible, but of finding an expression of the general from the individual. The lyrics deal almost exclusively with absences and the desire for presence, for love, friendship, human bonds and desires. The big pop themes, that is, which in 1971 have already completely overstretched and merged into words. Why King's lyrics take on almost small-talk character at times and thus circumvent the pathos: "So far away / Doesn't anybody stay in one place anymore" is the motto at the beginning of "So Far Away". At first, this reads not for personal sensitivities, but for an all-too-familiar commonplace: a casual, annoyed remark in which much resonates – anger, powerlessness, despair. In "Tapestry" many such phrases are woven in, which in themselves mean nothing and in the context of King's songs everything. Better, because simpler lyrics were hardly written in pop history.
King was and is a hit supplier who turned others into pop stars with her music and, as if by mistake, became one herself. "Tapestry" is full of songs that, once they're in it, don't go away so quickly. However, it is also an outstanding album, which with a lot of modesty transfers big themes into songs that after a long time resemble a coming home. Even if in the meantime they become independent as earworms and eventually begin to annoy. Because that's really big pop. It was rarely larger than on "Tapestry"
The cover photograph was taken by A&M staff photographer Jim McCrary at King's Laurel Canyon home. It shows her sitting in a window frame, holding a tapestry she hand-stitched herself, with her cat Telemachus at her feet.
Legendary voice and songwriter born in Brooklyn in 1942. She released 20 albums between 1970 and 2012