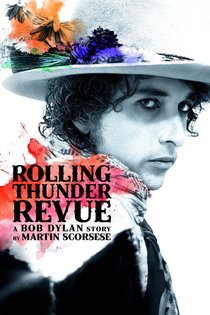 Bob Dylan's life and career are so encased in myth that it can be hard to untangle the romanticism from the reality. As much a symbol as he is a man, Dylan has spent most of his adulthood resisting being labelled the voice of his generation while slyly welcoming fans' desire to dissect his every utterance, devoting much of the last couple decades opening up the vaults to release a series of official "bootleg" recordings associated with his most iconic albums and tours. He invites us to look deeper and listen harder, as if the answers can be gleaned from closer study.
Long before David Bowie, Tom Waits, Madonna or Lady Gaga dabbled in persona play, Robert Zimmerman made us ponder masks in popular music. He's both there and not there, which can be frustrating and fascinating. Both sensations are on display in Rolling Thunder Revue, the oft-spectacular, sometimes shtick-y chronicle of Dylan's 1975 Rolling Thunder tour. As is typical when depicting anything in the Dylan universe, this concert film/documentary simultaneously oversells its subject's genius and provides overwhelming evidence of what a brilliant artist he is.
More layers of myth are applied while trying to present an honest account of a tour and a performer. At nearly two-and-a-half hours, Rolling Thunder Revue is overlong but also overpowering, inconclusive yet undeniably stirring. It left me exhausted, but I kinda want to see it again.
In 1975, in an America defined by both the self-mythologizing pomp of the upcoming bicentennial and ongoing socio-political turmoil, Bob Dylan and a band of troubadours—including luminaries such as Joan Baez, Allen Ginsberg, and Joni Mitchell—embarked on a now-legendary tour known as The Rolling Thunder Revue, a freewheeling variety show that was part traveling counterculture carnival, part spiritual pilgrimage. Director Martin Scorsese  blends behind-the-scenes archival footage, interviews, and narrative mischief, with a magician's sleight of hand, into a zeitgeist-defining cultural record that is as much a concert "documentary" as it is a slippery, chimerical investigation into memory, time, truth, and illusion. At the centre of it all is the magnetic Dylan, a sphinx-like philosopher-poet singing, with electrifying conviction, to the soul of an anxious nation.
BONUS FEATURES: DIRECTOR-APPROVED SPECIAL EDITION FEATURES:
• New 4K digital transfer, approved by director Martin Scorsese, with 5.1 surround DTS-HD Master Audio soundtrack
• New interviews with Scorsese, editor David Tedeschi, and writer Larry "Ratso" Sloman
• Restored footage of never-before-seen Rolling Thunder Revue performances of "Tonight I'll Be Staying Here with You" and "Romance in Durango," and of a never-before-seen cut of "Tangled Up in Blue".
• Trailer
• English subtitles for the deaf and hard of hearing
• PLUS: An essay by novelist Dana Spiotta and writing from the Rolling Thunder Revue tour by author Sam Shepard and poets Allen Ginsberg and Anne Waldman
Genre – Documentary
Director – Martin Scorsese
Running Time – 142 minutes