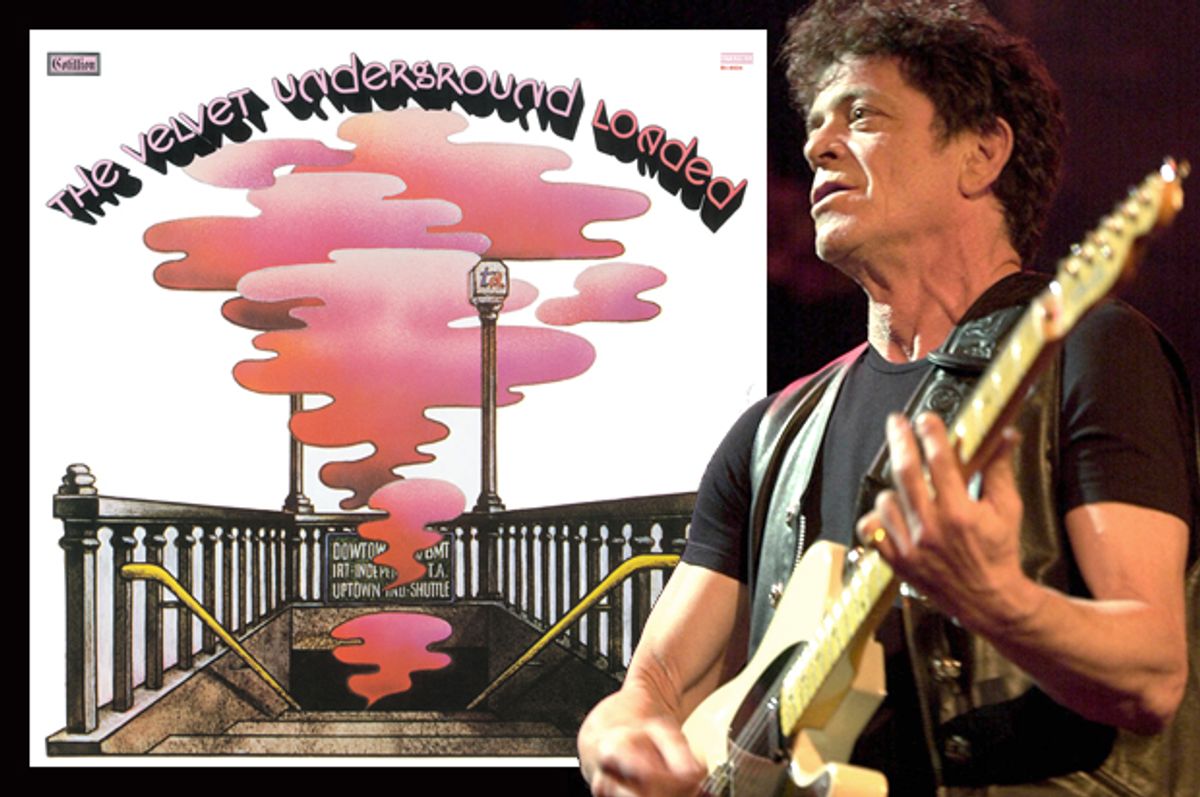 "Loaded," the Velvet Underground's fourth album, released in November of 1970 and getting the grand box set treatment soon to mark its 45th anniversary, was the last to feature Lou Reed. It was also the last Velvet Underground album I bought and listened to on my quest to own every note this band every recorded. For some reason, "Loaded" was the hardest one to track down.
I knew as I scoured the bins that "Loaded" was the original home for a pair of Velvet Underground songs that had already taken on legendary status by the '80s, "Sweet Jane" and "Rock and Roll." But the only version of "Sweet Jane" I'd heard at that point was the one off Lou Reed's live album "Rock n' Roll Animal," which was widely acknowledged as a way to place the irascible star back on the charts after he chose to follow up his breakthrough "Transformer" — which David Bowie and his late guitarist Mick Ronson crafted into a glitter-era sensation — with the dour, Bob Ezrin-produced "Berlin."
That live version of "Sweet Jane" comes with an extended intro — if you happened to turn in before those chords smashed down, you might think you were listening to Yes. But then there's a wave of applause and Reed strolls onstage, and begins to sing in his tough monotone. He's got bleached blonde hair and never takes off his extra dark aviators:
"Loaded" was a fitting end for the mighty Velvet Underground. Lou Reed had penned an album seemingly loaded with hits, but by now, four LPs into the Velvets' career, a sad few record buyers appreciated the band. After recording the album, Reed called it quits and disapeared to his parents' home in the suburbs – the ultimate anti-rock statement. Resignation permeates the album. Reed's voice is noticeably ragged, and bassist Doug Yule ended up recording many of the vocals for the final mix. Drummer Moe Tucker was pregnant, and Yule's brother Billy sat in on drums for most of the "Loaded" sessions, further alienating Reed from the already disintegrating band.
I'd heard Jane's Addiction's slurry, meandering, percussive version of "Rock n' Roll" before I ever heard the Velvets. "Rock n' Roll" was clear-eyed and true. But it was almost immediately clear to me what I had been truly missing all these years. "Sweet Jane" is the second song on the album, after the bubblegum sweet "Who Loves the Sun" (a showcase for Doug Yule, who replaced the more avant John Cale), and it begins with a guitar squiggle followed by those steady, wave-like chords (unmistakable in any version), and just like in the live "Rock n' Roll Animal" version, Lou sings: "Standin' on the corner, suitcase in my hand. Jack's in his corset, Jane is in her vest and me I'm in a rock and roll band.
What makes the "Loaded" version life-changing and revelatory the fact that "standin' on the corner" is cooler than anything you are doing, even if the suitcase is full of used books to sell at the Strand on Broadway.
Lou was "a monster," a bad man, a crank, a grouch, a sharp tongued, cranky, short-fused bastard, There is also an utterly batshit version of "Sweet Jane" on the live "Take No Prisoners" album, in which Lou rails against rock critics and the hipster scene and just about everything else: The album is more of a stand-up routine than a live document,
This was no longer the art-rock Velvet Underground, but a far more accessible version, relying on Reed's songwriting over the band's overall musicality. accordingly, the songs are either retreats into the faux innocence of parental ideals ("Head Held High"), or autobiographical pieces of teenage rebellion ("Sweet Jane").
"Rock and Roll", for instance, reads like text-book angst, where everything your parents do is, well, "it ain't happening at all". The album appropriately sounds like Reed's final bit of energy for the band. there's the saddened tone of "Oh! Sweet Nuthin'", in which the heroes walk with their "head[s] down", and "New Age", in which they mingle with "over the hill" movie stars.