There are two ways of remembering the late Mick Ronson. One is as the immortal guitarist/pianist/arranger for David Bowie, before (or after) sprinkling magic across everyone from Ian Hunter to Bob Dylan, from Elton John to Ellen Foley, and so many more that there's no room to list them.  And the other is as the purveyor of two of the most amazing albums that the 1970s ever birthed, before he decided he really didn't want to be the star of his own show, and got back to making other people sound astonishing. In 1970, Mick Ronson changed the career of David Bowie and went on to work with Lou Reed, Bob Dylan, John Mellencamp, Morrissey and more.
Although Ronson's career was defined by his time with Bowie, there was a significant before and after. In the 1960s he played in various Hull groups, including The Mariners, who were advised by Rolling Stone Bill Wyman to change their name to the King Bees at around the time Bowie was also fronting a group called Davie Jones And The King Bees; and The Rats, whose main claim to fame was a 1967 single called The Rise And Fall Of Bernie Gripplestone.
Benny Marshall was The Rats' lead singer and a close friend of Ronson. "Mick was the best guitarist in Hull, so when he left to head down south and join Bowie, I was pretty upset," he says. "John Cambridge, our drummer, had played with Bowie on [the album] Space Oddity. He was the bloke who went back to Hull in January 1970 with the brief to find Ronson and bring him to London. He found Mick marking out the lines on the municipal football pitch."
Cambridge did as instructed and the pair were introduced at the Marquee club, where Bowie was playing on February 3rd, 1970. Two days later Ronson had learned the riffs and song structures well enough to back Bowie, Cambridge and Tony Visconti for a John Peel Radio 1 show live in concert at the Paris Theatre in Lower Regent Street in London. They did 15 songs, including a new number, Width Of A Circle, and plenty of material from Bowie's recently released self-titled second album. Reaction was positive. This was better than Bowie's regular gig at the Three Tuns pub in Beckenham. Ronson moved into Bowie's Haddon Hall apartment on Southend Road in Beckenham and became part of the family.
Having tired of the hippie collectivism, Bowie wanted to make a hard rock album. As Visconti said later: "We respected groups like Cream, but we didn't have that in us. We needed someone to be [that] important element, and that somebody was Mick Ronson." Everyone loved Ronson's laconic Northern humour too, especially Bowie, whose father and mother came from Yorkshire and Lancashire respectively. He'd send Ronson up and get just as good back.
Before this auspicious occasion, bass player Rick Kemp had also scouted Ronno to play on fellow Yorkshireman Michael Chapman's second album, Fully Qualified Survivor. "Michael said his producer Gus Dudgeon didn't want him to play electric guitar," says Kemp, "and asked me did I know anybody? I mentioned Ronson, which wasn't a good career move for me, letting this little runt in. Gus told me to find him. I was driving a Morris 1000 with the wings flapping off and I spotted him working, mowing lawns. I put the question: 'Do you want to play on an album?' He replied: 'What do you mean? One that's in the shops for sale, like? And I get paid?' I took him down to London, and within minutes of arriving he'd got the runs for glory."
Tony Visconti insists that Ronson came to Trident Studio in September 1969, when the David Bowie album was being finalised: "Mick came to the mix of Wild-Eyed Boy From Freecloud, and was persuaded to play a little guitar line in the middle part and joined in the handclaps on the same section."
In April, sessions began for The Man Who Sold The World. It was a brilliant album, but another commercial flop. It was so badly received that Bowie was convinced to ditch the band, and Ronson, Visconti, ex-Rat Woody Woodmansey and Marshall took the collective name Ronno and released a single, 4th Hour Of My Sleep/Powers Of Darkness, a freestyle rock-metal affair that showcases Ronno's blistering Les Paul playing. It sank without trace, although Vertigo Records later included both sides on their Superheavy Vol 1 and 2 compilations.
Later on, Ronson's crunching heavy metal attack, allied to arcane Wagnerian, dystopian, mind-fuck lyrics, was hailed as a masterpiece. Certainly Ronson's contributions to Bowie tracks such as She Shook Me Cold, Running Gun Blues and the epic Width Of A Circle cemented his place, leading Bowie to call him, with a smug smile, "my Jeff Beck".
Bowie's 1970 album "The Man Who Sold The World" had not been a commercial breakthrough, but it added to Ronson's confidence. Visconti and Ronson had masterminded the sound, dashing off arrangements in the Minstrel Gallery or the basement at Hedonism Hall while Bowie canoodled with Angie elsewhere, chucking out lyrical fragments in between romps. She Shook Me Cold, the dirtiest song he ever wrote, was directly about Mrs Bowie, but it was Ronson who provided the Jimi Hendrix-style intro and the power trio setting à la Cream. Later, Angie lamented the fact that Ronson didn't receive the publishing he deserved: "In terms of kudos and feeling that one is valued, it would have been nice for Mick Ronson to have had publishing credits."
Ronson had already written a mini-score for four recorders, used in the break in All The Madmen. It was a start. "I thought: 'Well, if you can do that then so can I.' I went out for dinner with Dana Gillespie, who had tracks that needed strings, and David said: 'Oh, Mick'll do that!' I never had, but it was great. It was all done in your head and then straight to piano and guitar. David pushed me forward. That was his thing. He made stuff happen."
Bowie was now heavily reliant on Ronson. On Hunky Dory the guitarist finally got his credit, as the arranger of Changes, Life On Mars?, Kooks, Quicksand and Biff Rose's Fill Your Heart, virtually copied note for note. In retrospect many have noticed how similar the sound of Hunky Dory is to Michael Chapman's Fully Qualified Survivor, including Chapman himself.
Ronson wasn't fazed by his burgeoning role, giving the Royal College Of Music-trained Rick Wakeman instruction for the now iconic piano parts on Life On Mars?. On the Ziggy Stardust epic Five Years, his string section whipped up the hysteria. On Suffragette City, it was Ronno who came up with the funky, lurching ARP synthesiser sound that many mistake for saxophones. All those years studying piano and violin and listening to string quartets in Hull paid off.
After the rise comes the fall. On October 20th,1973, Mick Ronson played with David Bowie on stage for the last time in that decade. Only 200 people saw the appearance in the flesh, shot for NBC's The Midnight Special.  Dubbed The 1980 Floor Show, it was a strange day. Bowie serenaded supposed transsexual Amanda Lear on Sorrow, and he and Marianne Faithfull duetted on Sonny & Cher's I Got You Babe. Marianne was wearing a nun's habit with the back cut out and no knickers, so everyone in the band could see the most sought-after arse of swinging London, although the audience couldn't.
Bowie hated the end results: "shot abysmally". This was the night Ziggy Stardust truly left the building, which may explain why a smiling Bowie ended each song with an affectionate pat on Ronson's white satin-clad back. The two men wouldn't appear on the same stage together again until 1983, when they reunited for a song at a show in Canada on Bowie's Serious Moonlight tour. In 1970, Mick Ronson changed the musical fortunes of David Bowie, a struggling singer-songwriter with two novelty hits behind him. Together, and with their band the Spiders From Mars, they reinvented Bowie musically and created some of rock's best-loved albums: Hunky Dory, The Rise And Fall Of Ziggy Stardust And The Spiders From Mars, Aladdin Sane. Afterwards, Ronson struggled to match that initial success,
If the Ziggy album was a Ronson tour de force, the follow-up, "Aladdin Sane", was a mixed blessing for him. His contributions were immense, but so were those of recently arrived pianist Mike Garson, whom Ronson had auditioned, later advising him to "make yourself indispensable. That's what David likes. Don't just be a session man."
His work on Lou Reed's Transformer effectively rescued Reed's career after his debut solo album had bombed. "It was a good experience for me," said Ronno. "Lou's guitar was always out of tune, so I'd kneel in front of him and tune it properly. He didn't care, cos he was so laid-back." And without his contribution, Transformer might never have got off the ground. "It came out pretty well," Ronson said. "Though I didn't know what the hell [Lou] was talking about half the time. He'd say stuff like: 'Can you make it sound a bit more grey?'"
Fortunately the album was a roaring success. "Transformer" is easily my best-produced album," Reed said. "That has a lot to do with Mick Ronson. His influence was stronger than David's, but together, as a team, they're terrific."
In the summer of '73, having finished his sessions for Bowie's covers album "Pin Ups", most of which he'd arranged as usual, Ronson returned to the Château d'Hérouville studios outside Paris and made his solo debut album, "Slaughter On 10th Avenue". Bowie chipped in from a distance, gifting the songs Growing Up And I'm Fine, Pleasure Man/Hey Ma, Get Papa and a rough translation of Lucio Battisti's 'Io vorrei, non vorrei, ma se vuoi', now christened Music Is Lethal. RCA weren't overjoyed with what they heard, and the album's release date was put back more than six months to 1974.
This box set focuses on the latter, rounding up 1974's "Slaughter on 10th Avenue" and the following year's "Play Don't Worry", and then adding two further discs of sessions, out-takes, and live tracks that trace Ronson through 1976… no longer interested in making a new LP, but curious what it might sound like. A lot of these have leaked out over sundry past collections, and once past the thrill of hearing that voice, that guitar. But the two albums that preceded these tapes, the two that were released  in the wake of his departure from Bowie's band, at a time when it seemed inevitable that Ronno would be rock's next stellar superstar… they are a different matter entirely.
Slaughter was especially delicious, a combination of covers (Elvis, Annette Peacock, Richard Rodgers), Bowie originals ("Growing Up and I'm Fine" and the co-penned "Hey Ma, Get Papa"), and Ronson's own work with former SRC frontman Scott Richardson, it stood – and still stands – as perhaps the ultimate statement on glam rock, a collection of songs that could journey from early rock to modern jazz, from dark Europa to vivid glitter, and make the whole lot hang together.
Other bands on the circuit were playing with each of these elements individually… listen to "Hey Ma," and there's the blueprint for what Cockney Rebel would do next. "Only After Dark" was scything rock, "Growing Up and I'm Fine" would have suited Roxy Music. 
But the opening "Love Me Tender" and the closing "Slaughter" itself do more than bookend the party. They offer up their own interpretations of what music could be made to do, the first building slowly until the vocal breaks your heart; the last lifting you so high that nothing could bring you down after hearing it. And live, it was even more stirring.
In 1976, at the height of his cocaine addiction, Bowie had washed his hands of the good old days. "I gave them [his band the Spiders From Mars] more life than I intended," he said. "And I was also getting honestly bored. There's only so much you can do with that kind of band. I wanted no more to do with that loud thing. Hurt my ears. Wasn't pleasing my mind too much either. Since then, poor Mick has completely missed his vocation. From his faulty solo career right on down. I've been disappointed. He could have been amazing. I just don't know. Christ, I haven't spoken properly with him in years.
Evidently Bowie's cage was rattled by Ronson's comment: "David needs someone around him to say: 'Fuck off, you're stupid.' He needs one person who won't bow to him." Bowie's reply was: "I've got God. Who's Mick got?". "There was certainly a time when David relied on Mick," says singer Dana Gillespie, a fellow MainMan artist and mutual friend, "but he'd drop all communication with you. Mick was badly hurt when David never returned his phone calls."
In fairness, Bowie became more charitable later. "Mick was the perfect foil for the Ziggy character," he said. "He was very much a salt-of-the-earth type, the blunt northerner with a defiantly masculine personality, so what you got was the old-fashioned yin and yang thing. As a rock duo I thought we were as good as Mick and Keith."
Within months Ronson was back in another band, joining Mott The Hoople for what would be their final single, Saturday Gigs. Ronson and frontman Ian Hunter had bonded back when Mick had knocked up a string arrangement for Mott's Sea Diver, but the other Mott guys resented the arrival of this 'rock star' in their midst, with MainMan and RCA sending limos for their boy while Mott travelled together in a bus. Tired of the conflict, Hunter split the band.
Ronson went back to his solo career. Bowie didn't take part in follow-up album Play Don't Worry either, but allowed Ronson to use the backing track from the cover of the Velvet Underground's White Light White Heat considered for the American attempt at a Pin Ups album but soon discarded.
Play Don't Worry was excellent in parts. Not a natural songwriter, Ronson did himself proud on the opening Billy Porter, his take on Claudio Baglioni's 'Io me ne Andrei', translated into Empty Bed, and versions of two songs by Pure Prairie League, whose 1972 album Bustin' Out featured his guitar and strings.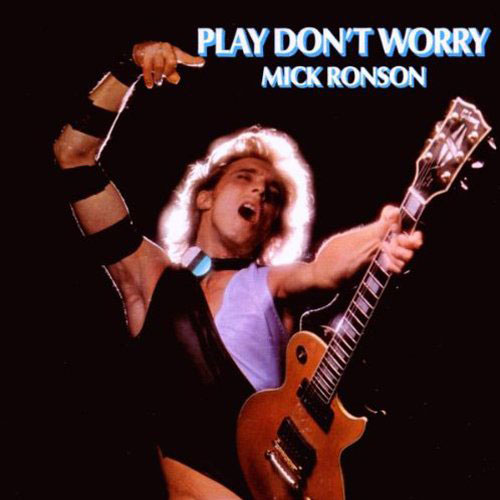 "Play Don't Worry" was a more straightforward collection… the opening "Billy Porter" could have made it onto Slaughter without disturbing that album's perfect equilibrium, but "Angel #9" looked back to Ronson's work with the Pure Prairie League in the early Bowie days; "Girl Can't Help It" was an excuse for him and Ian Hunter to go full-bore Little Richard on our ears; and "White Light White Heat" was an out-take from Bowie's Pin Ups sessions, with Ronno's vocal instead of the other guy's.
It's still a great album, hanging together with consummate ease, and hitting all the right spots – the solo that dominates "Angel #9" is one of his finest ever, and the self-penned title track shows what  cracking songwriter he was, just as  "This Is For You" illustrates what a great, and expressive, voice he had. Still it's a shame that one of the finest performances on the session, a gentle piano-led cover of another Annette Peacock number, "Seven Days," only made it out as a b-side, but it's also one of nine bonus tracks appended to the album, so that's alright then. (Eight join Slaughter.)
Ronson returned to the studio with Bowie to create demos for future Diamond Dogs tracks 1984 and Dodo. His work wouldn't appear on the finished album, a creepy, avant-garde affair, but his trademark guitar style did in the shape of Rebel Rebel, almost a Spiders From Mars pastiche riff, played now by Bowie, Ronno's platinum-coated spectre was fading into the background.
After Bowie and Lou, where do you go? Ronson produced and played on Ian Hunter's magnificent debut solo album, with that signature opening flash of epic genius, "Once Bitten Twice Shy", and Hunter inspiring one of Ronson's most fearsome solos by showing him a bad review for Play Don't Worry before he went in to lay down a guitar part on The Truth, The Whole Truth, Nuthin' But The Truth.
In 1975 Ronson moved to New York, rented a place on Hudson Street near the Meatpacking District and enjoyed the city with his best friend Hunter, who had provided safe haven via Mott The Hoople, Mott and the Hunter Ronson Band.
This is where they met Bob Dylan, who invited Ronson to join his band of gypsies, the Rolling Thunder Revue, after a meet engineered by Dylan's main fixer, Bob Neuwirth. That evening began at the Bitter End on Bleecker Street. "We weren't Dylan fans at all," ."Mick thought he sounded like Yogi Bear. But Ian took us anyway. And Dylan played the Desire album and he was mesmerising, Ronno was soon back with Hunter, appearing on You're Never Alone With A Schizophrenic and Welcome To The Club. With his solo career on hold, he became a full-time producer. He worked with Van Morrison, John Mellencamp and Roger McGuinn, and there was production work with artists as varied as David Cassidy, Slaughter And The Dogs and the Rich Kids.
Again, there's nothing here that hasn't seen the light of day before, but having them all in the same place is definitely a bonus, and there are some glorious inclusions, including a cover of Bowie's "Soul Love" that Ronson retitles "Stone Love," and decidedly NOT a cover of "Life on Mars," which is the song he performed during his solo spot on the Rolling Thunder Revue.
A handful of tracks from a projected Ronson live album include another b-side, "Leave My Heart Alone," which is also another Pure Prairie League track;  there's some jams and alternate versions, and even an interview recorded for Teen magazine in 1974, and given away free as a flexidisc.  Oddly, and completely out of place, there are also two numbers recorded on the 1979 Hunter-Ronson tour, but both fit in perfectly… a tremendous version "Angel #9," and the show's traditional opening number, the Shadows' "FBI."
The accompanying booklet tells Ronson's story well, and pulls some great images from the archive, and with his own seventies catalogue now neatly corralled, maybe we can start to dream about the other box set Ronson deserves, documenting his life as a sideman. Morrissey has the fondest memories. "Everyone who worked with Mick expresses devotional love for him, whereas people who worked with Bowie express admiration. Mick told me that he alone wrote the main guitar hooks for Starman, The Man Who Sold The World and others – not just hooks, really, but grand choruses in themselves.
Ronson played guitar on Your Arsenal but didn't want a credit. "Again this was Mick's unaffected Cinderella aspect, which I later saw in Jeff Beck when I worked with him on my Years Of Refusal album," Morrissey recalls. "Jeff and Mick were identical in the way that they would quietly pick up their guitars without fanfare, and as they sat in the corner they'd plug into the desk and a tingling earthquake would erupt without any discourse. And they both made their guitars sound like grand pianos."
In the late 1980s, Ronson's health began to cause concern. He was diagnosed with liver cancer, something he neither made a secret of nor chose to acknowledge as a threat. Instead he threw himself into projects such as Morrissey's Your Arsenal and Bowie's Black Tie White Noise. He also kicked off a fine version of All The Young Dudes with Bowie and Hunter at the Freddie Mercury Tribute Concert at Wembley Stadium on Easter Monday, 1992, which was the last time his fans saw him on stage.
On Ronson's posthumously released Heaven And Hull, he wrenched out some of his finest ever work, particularly on Dylan's Like A Rolling Stone, with Bowie's astounding vocal inspiring the guitarist to take the song to another planet. And he still had enough time to play on The Wildhearts' My Baby Is A Headfuck, recorded weeks before his death on April 29th, 1993. He spent his last hours in the company of Hunter, Suzi and sister Maggi at Tony Defries's house on Hasker Street in West London.