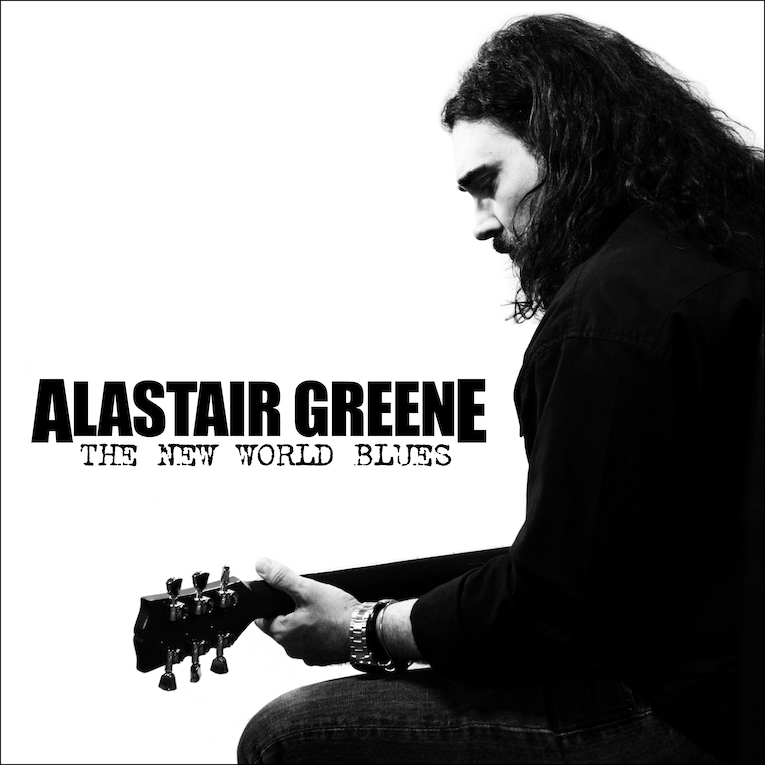 Blues/rocker Alastair Greene turns in a remarkable all-around performance on his new album "The New World Blues". The platter released October 23rd, 2020 on Grammy-nominated blues guitar star Tab Benoit's Whiskey Bayou Records and paints a vivid musical picture of Greene as a guitarist, songwriter, and vocalist. Greene trekked to Houma, Louisiana to record with Benoit, who produced these sessions, played drums, sang harmonies, and co-wrote some of the 11 new original tracks presented here. The vibe and material on The New World Blues are both focused on the sound of master musicians practicing their craft together with few distractions. "This is definitely the most stripped down blues-based album I've ever made," says Greene, "The vast majority of this record is live in the studio with very few overdubs and many were first or second takes."
Greene composed a diverse and soulful batch of songs forThe New World Blues that draw their strength from a deep well of rock, funk, and blues influences. He is a skilled, articulate songwriter with vocal and guitar talents to match. He comes by his rock style honestly, having done eight years of international touring on guitar and vocals with the Alan Parsons Project and major dates with Starship featuring Mickey Thomas. His blues work has landed him on tour with Sugar Rayford's Blues-Music-Award-nominated band and in featured slots at the Big Blues Bender and the Legendary Rhythm & Blues Cruise. He tips his hat to rock players like Gary Moore and Peter Green on some cuts, deploys his sweet slide technique on others, drops funky grooves, and also captures the swampy feel of the Cajun world. Benoit and bass player Corey Duplechin come together to form a solid and authentic Louisiana rhythm section that does a superb job of supporting Greene through all his twists and turns and provides his songs with a proper backbone.
The record opens with the driving mid-tempo beat of "Living Today," a steady-rocking track with a positive message and a lot of hot guitar work from Greene. His lyrics reflect the good and bad aspects of modern life and the difficulties inherent in living and loving in our current environment. Greene maintains a smooth vocal tone here, which works swimmingly with the song's hypnotic feel. Next up is the gritty funk of "Lies And Fear." It's built on a heavier sort of riff and well-executed harmony vocals that glide right over the hip-shaking groove put down by Benoit and Duplechin. It's powerful enough to get a crowd up and moving right away and Greene's slashing lead guitar work takes it to an even higher place.
"Bayou Mile" is a chill, atmospheric song about coming home that lets Alastair show his mellow side. His slide playing here is ghostly and perfect for the track's mood and his vocal take feels practically whispered. It's a stellar moment that deserves some close, late-night listening time. "Back At The Poor House" is a rocked-up instrumental shuffle with funk overtones that's full of ripping guitar laid over a mighty fine pocket. It's a wonderfully kinetic track that gives Greene and the crew plenty of room to stretch and shine. Alastair's tone is impeccably rich and complex, which will endear him to guitar fans everywhere, and he uses it to get the most out of every note.
Greene saves his title track, "The New World Blues," for the record's closing spot but rest assured that it's worth listening all the way through to catch. He and the band absolutely burn this one down, with plenty of distorted slide guitar and rock and roll attitude for all. Listen to the whole album as an experience and you'll finish with this big payoff as your reward. Alastair Greene blazes a big trail with his new record and continues his ascent to the top of the blues/rock game. He delivers an ideal balance of song writing, guitar, and vocals you can't help but love. Get at this one straight away.