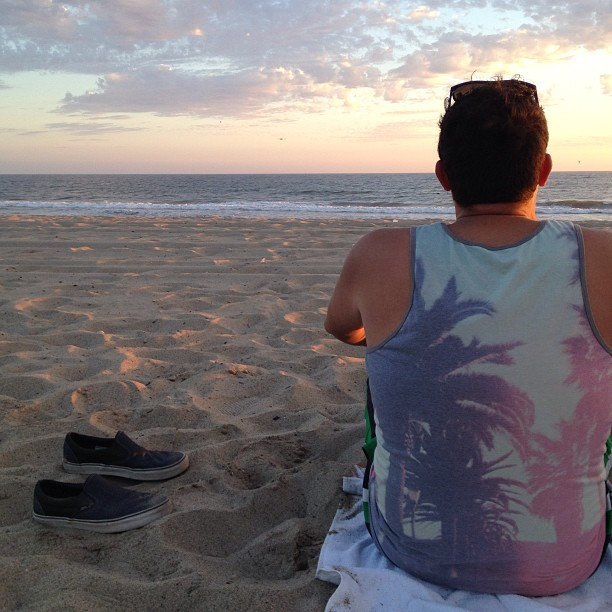 After living his whole life in New York, Jeff Rosenstock moved to L.A. while making this one, and that's reflected not just on the album artwork but in the sound of these songs. This sounds more like a '90s California pop punk record than anything else Jeff has made as a solo artist, and Jeff knows how to recreate '90s California pop punk in a way that sounds tasteful and fresh. "No Dream" might be the most wall-to-wall fun album Jeff has released under his own name — almost all the songs are short, fast, punchy, and Jeff even writes "we hope it makes you feel good" on his Bandcamp — but like his last few albums, it's fun music with a purpose. It may sound like classic pop punk but the lyrics are never carefree or juvenile or any other negative stereotype associated with the genre. "No Dream" is an angry, socially conscious record that tackles Trump's immigration policies, capitalism, hypocrisy, and other topics in a way that's smart, incisive and avoids cliche punk sloganeering. No Dream makes you feel good, but it also makes you think, and as has been the case with Jeff's last few records, I have a feeling it'll keep making you think as time goes on. His music has an immediacy and instant adrenaline rush to it, but it also has layers buried deep within the songs that reveal themselves over time. I can't claim to have cracked the surface just 48 hours after the album came into our lives, but I already can tell there's a lot to dig into on No Dream, and that it's gonna be worth it.
For many years, Long Island DIY pop-punker Jeff Rosenstock has been writing urgent, biting, extremely catchy songs about smart-phone anxiety and late-capitalist collapse. The message hasn't changed, but the substance seems to get more urgent all the time, and so does the music. Rosenstock and his furious Death Rosenstock band recorded No Dream live to tape, all the better to capture the euphoric energy of their live shows, and the album bursts with hooks and ideas. It ends with "Ohio Tpke," a masterfully Springsteenian six-minute lament about how road life can destroy you. I bet Rosenstock misses it so bad right now.
NO DREAM is the 4th studio record from the Death Rosenstock band full of chords, words, beats and more! Tracked live in a big room for that classic "is that a mistake?" sound by Grammy-nominated recorded "Grammy Jack" Shirley, you are GUARANTEED to have not heard this record before you've listened to it! We hope it makes you feel good, but if it doesn't, that's on you sorry.
Released May 20th, 2020
The Band:
JOHN DEDOMENICI – BASS
KEVIN HIGUCHI – DRUMS
MIKE HUGUENOR – GUITAR, VOCALS
DAN POTTHAST – ACOUSTIC GUITAR, KEYS, VOCALS
JEFF ROSENSTOCK – VOCALS, GUITAR, KEYS N MORE