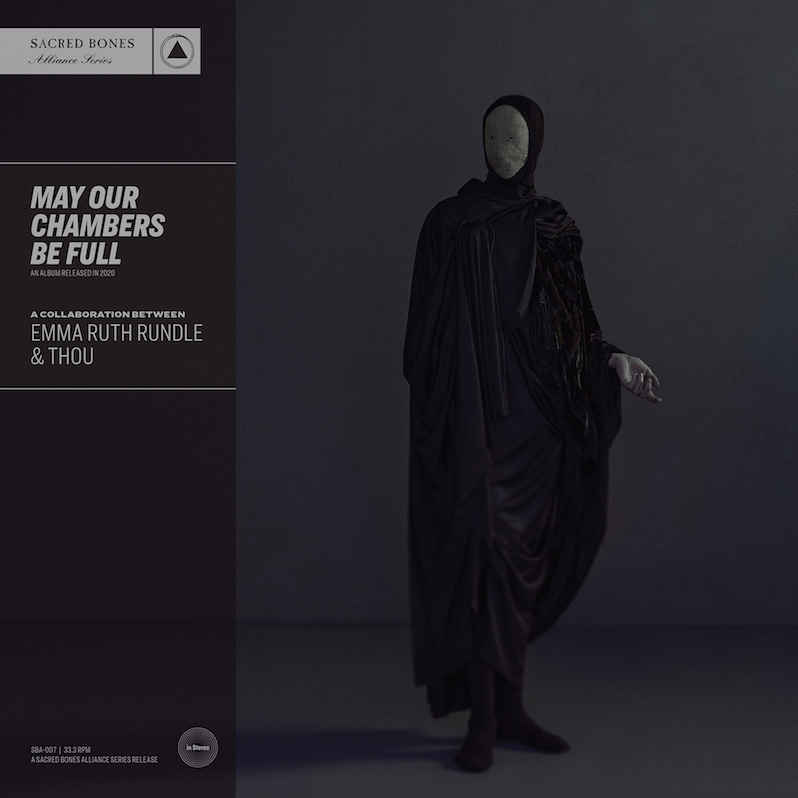 Given our previous adoration both of Emma Ruth Rundle's immaculate On Dark Horses it seemed inevitable that this record would rate with us . Each artist has a hybrid tendency, the capacity to remain in the realm of hyperemotive dreamstates, a space induced by both heavy atmospherics and a keen post-psychedelic sense of melody. On paper, this pairing makes tremendous sense; each seems to sit on either side of a divide, one slightly heavier than the other while one sits more in dreamy shoegaze than the other, but each containing traces of the other. What you would hope, on seeing this dual-headline pairing on a record sleeve, is that each of them would pull those hidden elements out of the other, not just gifting Emma a greater weight but revealing in retrospect that weight as it existed in her earlier material, just as Thou has their evocative colours and dreamy post-psychedelia laid bare in their earlier works. And, thank god, that's precisely what they did.
There's something soothing, of course, with the highest rated record among us being a collaborative record in a period where human connection feels desperately, painfully needed. COVID has worn on all of us; it can be hard to convince yourself of the necessity of writing about music when people are getting sick and dying, easy to let deadlines for columns careen off the rails as you worry about aging family and distant friends. That sense of communalism at work, the implicit hope of the title, certainly struck a chord. But the most potent aspect of the record was, inevitably, its fullness. This is the trait, ultimately, that is most richly satisfying about each of these artists on their own. Emma Ruth Rundle nearly won a Best Song nod a few years back precisely for this reason, her songs billowing out into clouds of drama and history that feels so often more like stepping into another psyche, the voice inside of your head composing a new universe.
Thou, especially over the past three or so years, have been much the same, radically expanding their scope and sonic vision such that they feel like a limitless group no longer purely defined by heavy metal. These two in unison not only drew out hidden or obscured elements of each other; they intensified those obvious and shared elements as well, producing a record that is both at once the best record of the year and among the best of either artist's bodies of work. 
May Our Chambers Be Full straddles a similar, very fine line both musically and thematically. While Emma Ruth Rundle's standard fare is a blend of post-rock-infused folk music, and Thou is typically known for its down-tuned, doomy sludge, the conjoining of the two artists has created a record more in the vein of the early '90s Seattle sound and later '90s episodes of Alternative Nation, while still retaining much of the artists' core identities. Likewise, the lyrical content of the album is a marriage of mental trauma, existential crises, and the ecstatic tradition of the expressionist dance movement. "Excessive sorrow laughs. Excessive joy weeps." Melodic, melancholic, heavy, visceral.
R#eleased October 30th, 2020