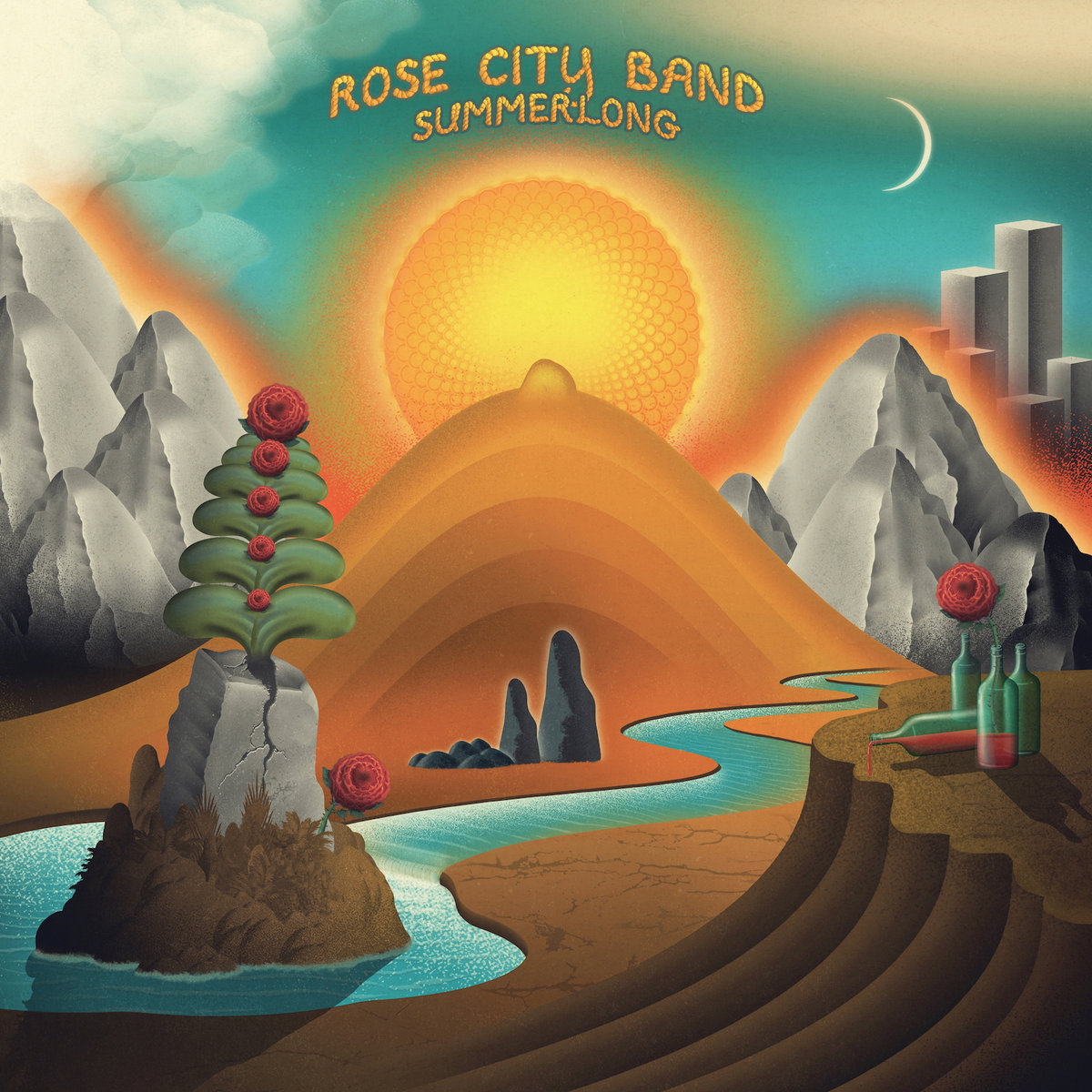 Portland, Oregon has always been a groovy place and musicians like Ripley Johnson are the reason why. Best known as one half of droning psych funkers Moon Duo and the leader of spacey cult favorites Wooden Shjips, Johnson has called Portland home for years now. Fittingly, his aptly named side project the Rose City Band proudly waves the flag for its namesake city with its heady blend of country, psych and 70s rock and roll. Originally started as a recording project for Johnson that resulted in a self-titled debut, the Rose City Band is now stepping fully into the spotlight with their follow-up "Summerlong".
Coming in at only eight songs, Summerlong may be on the shorter side but it hardly feels like an EP. This might be because there are a handful of longer tracks that find the band stretching out and getting comfortable as if improvising live in front of a crowd. From the opening track "Only Lonely" – a breezy, twangy groover with mellow folk rock vocals and carefully picked guitar solos with plenty of breathing space – it's clear we are in for an exciting trip. "Empty Bottles" slows things down for a bummed out, dreamy sound as Johnson reflects on his own lost loves, bringing to mind the surfy twang of Li'l Cap'n Travis and Yo La Tengo before switching gears and launching into a funky instrumental jam to let you fall into the stoned embraced of the music.
The band cranks things back up for the rambling "Real Long Gone", balancing the West Coast country sounds of the Grateful Dead alongside vocals that bring to mind Dire Straits while dosing the driving rhythm with intertwining guitar solos. "Floating Out" drips along at the pace of a lazy Sunday afternoon, easing into its introspective lyrics with blissed out vocals and a slowly percolating, sparsely beautiful guitar solo. "Morning Light" is quick and cheery, accented with the high and lonesome twang of a steel guitar, while "Reno Shuffle" drops in heavy with a lurking blues groove and organ to give the song a bouncing 60s psychedelia vibe. Many of the songs fall in a similar vein to throwback cosmic country acts like Natural Child and Mail the Horse, but where the Rose City Band takes thing in a different direction is in tripping out and taking a more jam-friendly, acid-soaked approach. This culminates in the album's last two tracks, with the synth-laden "Wee Hours" morphing into a free-flowing, danceable instrumental jam before segueing into "Wildflowers," a song brimming with the kind of flowery guitar playing that would make Jerry Garcia smile.
Interestingly, Johnson has said he started this project with no expectations and even joked with his friends about retiring from touring and just playing in a country rock band at the local bars. But across these eight tracks it becomes clear that Johnson isn't messing around, with a sound that marries all of the styles he is best known for with his passion for country. Johnson has more than earned his credentials as a psych rocker, and if you listened to the most recent Moon Duo album the sound of the Rose City Band may come as a bit of a surprise, but with Summerlong he proves he has chops as a country rock artist too while championing the grooviness of the band's namesake city.
The album is one of the standout releases of the year, and also leaves you wanting to experience the Rose City Band live as soon as we are allowed to do that again.