In 1972-73, Leon Russell released two albums about as far apart on the musical spectrum as they could be. "Carney" was an ambitious concept album with flashes of psychedelia. 'Hank Wilson's Back!", brought him back to his rockabilly/country roots. One is seriously ambitious. The other is just serious fun.
The dramatic shift between the two reflected Leon Russell's multi-genre reach and aspirations as well as the changing musical times. But what drove both was his need to try on different personas, to figure out how to deal with the sudden glare of the spotlight fame brought him in the early 1970s. In a musical sense, Leon Russell was asking, "Who am I really?" And the answer to that question was anything but simple, In the Early Days Leon Russell had, he admitted freely, "huge stage fright."
Sure, back in his early Tulsa days he started working in bars and clubs when he was severely underage… like fourteen. But when he graduated from high school, his band the Starlighters hit the road for two months to back Jerry Lee Lewis, one of rock and roll's most aggressive onstage performers. That was the first time, but far from the last, that Russell would play straw boss for a scenery-chewing front man.
When the seventeen-year-old moved to L.A., his multi-instrumental talents—this child prodigy studied classical piano, could play tenor sax or xylophone, and took guitar lessons from the one and only James Burton made him a go-to session guy. He thrived in the studio. Everyone knows he did literally thousands of sessions for a phone book's worth of artists. But he always kept his own level-headed perspective. "I was a jobber, like an air-conditioning installer," he told one interviewer. "You need air-conditioning? Call this guy. People called me to do what I did."
When Russell migrated to the house band for TV's Shindig in 1964, he transferred his skills, once again helping to organize musical backing for a weekly cavalcade of pop stars. Revealingly, in 1967 he built his first home studio. Not long after, he started Shelter Records, his own label, with partner Denny Cordell. Over time, Shelter would release records by the likes Freddie King, J.J. Cale, the Gap Band, and Tom Petty and the Heartbreakers.
It's as if Russell was building his own musical ecosystem where he could do what he loved most—write, record, and produce. Russell was a control freak in the studio and onstage. He was intuitively finicky about details others didn't know they'd missed. It made him an excellent producer and bandleader. Shelter Records was barely open when Delaney Bramlett, an ex-Shindogs colleague, tapped Russell for the floating cast of characters that toured as Delaney & Bonnie and Friends. Then he got a panicky call from Joe Cocker, whose 'Joe Cocker!. album he'd co-produced.
Joe Cocker had parted ways with his Grease Band, partly because he didn't want to tour. Whoops! His management informed him they'd set up three months on the road. Suddenly Cocker needed a new touring band… in a week. Russell pulled together pals from the Friends and added a horn section and background vocalists to create Mad Dogs & Englishmen. The number of folks onstage could hit fifteen or so, but Russell was always in control… and usually out of the spotlight.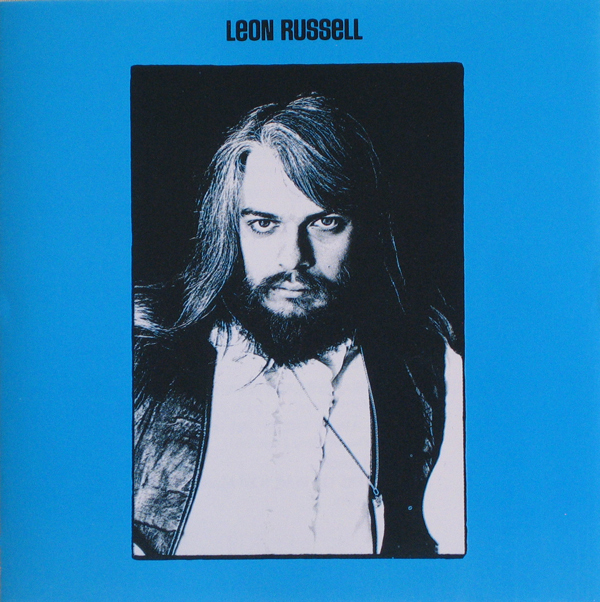 Leon Russell
His debut album, came out while he was ramrodding Cocker's travelling circus. The album's personnel bristled with A-listers: Eric Clapton, George Harrison, Steve Winwood, Mick Jagger, Bill Wyman, Charlie Watts, and so on. It had his take on "Delta Lady" which Cocker had a top 100 hit with. And "A Song for You" which became an instant classic; eventually somewhere between one and two hundred other artists would cover it.
When Cocker's tour was done, the documentary Mad Dogs and Englishmen focused its spotlight on Russell and made him a star almost despite himself. Then he had to tour to support his own album for the first time. Along the way, he appeared at the Fillmore with admirer Elton John, who'd later play a crucial role in his last "comeback," and made the rounds of TV shows to promote sales. Watch those appearances now, and you can see he's trying out a public persona to deal with a sudden fame that kept growing after mega-events like the 1971 Concert for Bangladesh.
His sense of reserve wasn't new or an afterthought. Leon Russell was a stage name; Claude Russell Bridges never legally changed his handle, because it offered him some mental insulation.
As he put it, "It's handy. I can be a different person for a while."
'Carney'
With 'Carney', his third album, Leon Russell, Joe Cocker's Master of Space and Time and victim of acute stage fright, pulled the curtain back on his unexpected stardom.
It was 1972, the apex of the age of concept albums, too many of which were flatulent self-indulgence—which may be a big reason that 'Carney' these days is virtually forgotten, except for its hit "Tight Rope" Another is that the album is challenging. Until 'Carney', Russell's primary musical calling card was his usually sunny roots-rock directness. Here his songs gather ingredients of classic rock to veer determinedly into a layered complexity and dark vision that can flummox those expectations.
Take "Acid Annapolis To most critics, this experimental psychedelic flight of wordless swoops and chittering sonics verged on seeming trite even at the time. But you can also hear it as an abstract comment on this concept album's central themes: the gaps between perception and reality, between public and private faces—fundamental human traits that both unite and divide us.
That's foundational for the album's big hit—the biggest Russell ever had—"Tight Rope." Its Fellini-esque picture rides rhythms alluding to a circus oompah beat. Russell's nasal drawl and hiccup-like falsetto stabs mimic the fragile balance he's maintaining as a performer. The B section's musical jauntiness underpins some pretty sarcastic lines: "Like a rubberneck giraffe / You look into my past / But baby you're just too blind to see."
That last word, separated from the others, is almost a yelp. The next cut, "Out in the Woods" explores being lost and alone in a tumult of others' expectations. "My love she is not waiting" is a deftly poignant line that underlines how completely cut off from human contact the singer feels. He begs her to come get him even though "your sweet understanding can't fix this broken heart."
In similar fashion, "Me and Baby Jane" looks back at his Okie childhood and the lost girlfriend who "offered me balance for a while" now has "vacant eyes and a needle in her vein," as old friends "stand beside me too late to try and find excuses in the face of being blind." But dark as it is, can you doubt, listening to it, that Russell fan Elton John drew inspiration from this song? Or that Mark Knopfler at least glanced off the honky-tonk-meets-gospel "Roller Derby The Queen here, after all, is another performance artist, like the Carney: she's daunting as hell on the floor, but once she's home "alone in love / she murmurs like a sweet mourning dove."
Bird cheeps, rain, road sounds—the opening of "Manhattan Island Serenade" seems counter-intuitive. But that's exactly how alone he is, in his imaginary landscape at the center of this country's most populous city, where this song's gospel feel adds complex tension to lines like, "With every step I'll see your face / Like a mirror looking back at me."
That conceit is the core of "Magic Mirror" the album's final track dealing with the central theme of projection. What you see up on that tightrope is some version of what you'd like to be. It may have nothing at all to do with what's actually going on. That's OK: after all, it's a show.
But then Russell retrains the lens on himself to ask, "Do I see myself in anyone I meet?… If only we could try to see ourselves as others would." 'Carney' peaked at number two on the Billboard charts. It was Russell's last hit record for decades.
'Hank Wilson's Back!'
When Russell headed to Owen Bradley's studio in February 1973, he wasn't exactly what Nashville's music establishment was looking for in their continuing quest to woo mainstream America to listen to their takes on country music. He looked like a hippie, but that Okie drawl proved his pedigree; he wasn't just another one of those longhairs who'd created country-rock despite the Grand Ol' Opry crowd's sneering, dismissals, and resistance. Nor was he one of the emerging Outlaws they'd marginalized, who'd very soon draw crossover listeners with their fusions of rock and country.
Russell wanted to pay homage to their tradition's classics, fit into it, maybe above all redefine himself as he nestled within it as a fictitious persona. Say hi to Hank Wilson—the name itself a homage to country-star Hanks like Williams, Snow, and Thompson. Tellingly, his album cover portrait is taken from behind.
Choosing Bradley Barn to make the album is a big clue to his motives. So is this veteran session man's tapping an A-list of Nashville session stalwarts for his sidemen.
But what Russell wanted, maybe above all, was a fresh start with a new persona that cut virtually all ties with his last decade. If 'Carney' was ambitious and probing, this disc seems like remarkably un-radical fun. Yet there are also sly, subtle touches of creative reinterpretation throughout. Recasting Lester Flatt's "Roll in My Sweet Baby's Arms" the disc's opener, as classic rockabilly before putting the bluegrass hammer down announces Russell's unconventional embrace of Nashville's roots.
Hank Thompson's "A Six Pack to Go" reiterates that move, when the bluesy acoustic intro that also punctuates the song yields to good old honky-tonkin' in a modified Thompson vein.
This concept shapes the album's best stuff: unconventional Leon wearing a Stetson instead of a top hat or greasepaint.
His aside, "Ah, Billy Byrd," on "I'll Sail My Ship Alone" is just one of his overt grins at playing this new role. Another is the party atmosphere made explicit at the end of Lead Belly's "Good Night Irene" which he infuses with an infectious passion that peaks on his interpolated autobiographical lines about Tulsa and Nashville.
The album's last cut is revealing: "In the Jailhouse Now" these days famous thanks to the Coen Brothers' O Brother, Where Art Thou? gets a tasty back-porch acoustic treatment that midway, mirroring the opening track, upshifts to modified rockabilly. You could argue that particular song underlines Russell's aims with this album: to redefine his relationship with the prison fame can be. And there's truth to that. But what's palpable on almost every track, even Bradley-style string-laden stuff like Hank Williams' "I'm So Lonesome I Could Cry" and "Am I That Easy to Forget"
is how much fun he's having as he throws himself wholeheartedly in his personal tour through the country classics of his youth.
No doubt that's why he recorded more Hank Wilson albums even though fewer and fewer listeners cared. He'd made a pile, achieved more than he'd dreamed of, and could now cut back on touring and delve into… well, whatever he felt like. He'd come down from the tightrope and had no regrets. Decades later, during his Elton John-instigated comeback, he told an interviewer, "I was surprised by the success I had. I was not surprised when it went away.