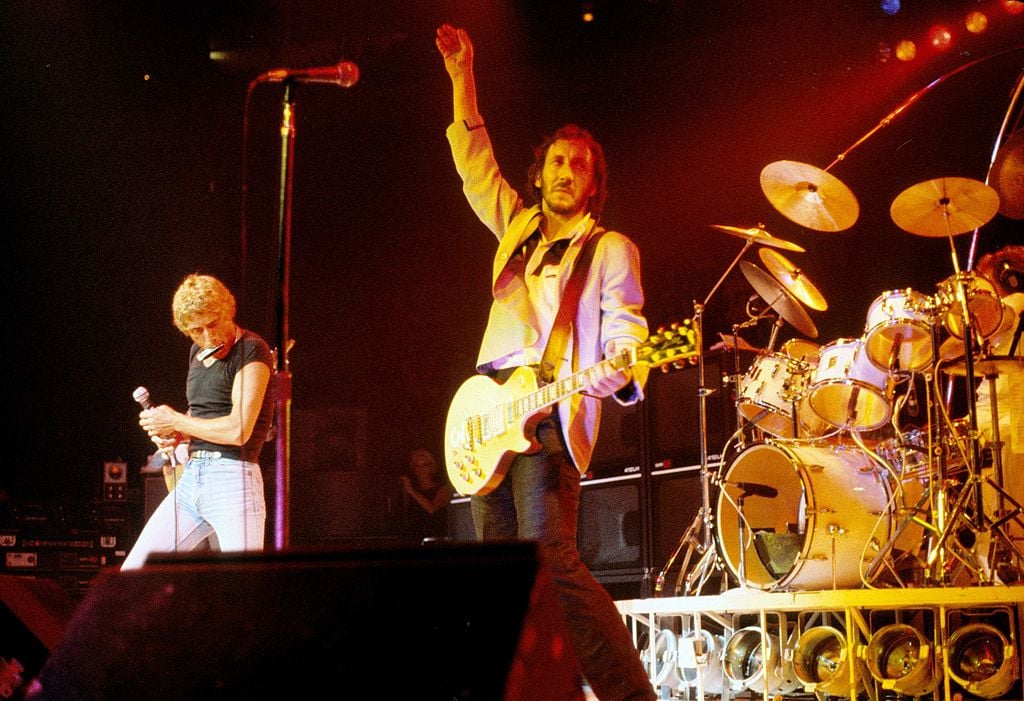 Following Keith Moon's death in September 1978, The Who decided to continue as band, recruiting former Small Faces drummer Kenney Jones; keyboardist John "Rabbit" Bundrick was also added to the line-up for live performances, adding another element to the band's sound.  A horn section was introduced to the band's act for the first time around this time. It would be retained through 1980. The horn section also allowed numbers like "5:15" and "Drowned" (now sung by Townshend) to be reintroduced to the act. Meanwhile, 1979 shows are known among Who fans for new material that Townshend introduced on some nights during jams,  The tour supported their 1978 album "Who Are You",
The Who performed at the Chicago Amphitheater in Chicago, Illinois on December. 8th, 1979,
The version of "How Can You Do It Alone" from the Face Dances reissue also comes from the Chicago show.
"5:15", "My Wife", "Music Must Change", and "Pinball Wizard" from the Thirty Years of Maximum R&B Live video and DVD come from the same Chicago show.
The concert was broadcast live to several local movie theaters. The general consensus was that this show was the
best on the 1979 tour. The show was visually stunning. Many times Pete Townshend or Roger Daltrey would move to the front of the stage and direct the cameraman to focus in close, then unleash a mic twirl or scissors kick for the hungry crowd.
Backstage Roger asks us if we liked the show with a devious smile, knowing full well how great it was for the band
and crowd alike". ~ The Who Concert File book/Joe McMichaels;Jack Lyons.
The Chicago Tribune wrote: "… it is the spirit The Who brings to its performance that makes it so special. Like the title of its current movie, "The Kids Are Alright," The Who is alright and more; and though no longer "kids" in terms of the calendar, Daltrey and Townshend in particular reflect a genuine love for rock and roll, with a kid like enthusiasm which has nothing to do with age. Twirling the microphone on its cord, running in place to the beat, Daltrey throws himself into the proceedings with a joy that's not only convincing, but catching; Townshend, meanwhile, lopes and lur-ches around the stage, his windmilIng arm crashing out heavy rock chords. The Who's own energy output is just as devastating on a more human level.
Daltrey and Townshend come across like cheerleaders for rock and roll. If the act is, when It comes to the seeming affection for the music and the transcendent moments that rock at its best can offer, just that – an act- really doesn't matter".
The three-disc version of The Who biographical film "Amazing Journey: The Story of The Who" includes the majority of the band's show of 8th December at the International Amphitheatre in Chicago.
Roger Daltrey: Harmonica, Vocals, John Entwistle: Vocals, Bass, Kenney Jones: Drums, Pete Townshend: Vocals, Guitar
John Bundrick: Keyboards,Reg Brooks: Trombone, Howie Casey: Saxofone, Dave Caswell: Brass Section
Setlist:
Substitute,I Can't Explain,Baba O'Riley,The Punk And The Godfather,My Wife,Sister Disco,Behind Blue Eyes,Music Must Change,Drowned,Who Are You,5.15,Pinball Wizard,See Me Feel Me,Long Live Rock,My Generation,I Can See For Miles,Sparks,Won't Get Fooled Again
Encore:
The Real Me, Dancing In The Streets, Dance It Away, Young Man Blues, Roadrunner, Big Boss Man, How Can You Do It Alone