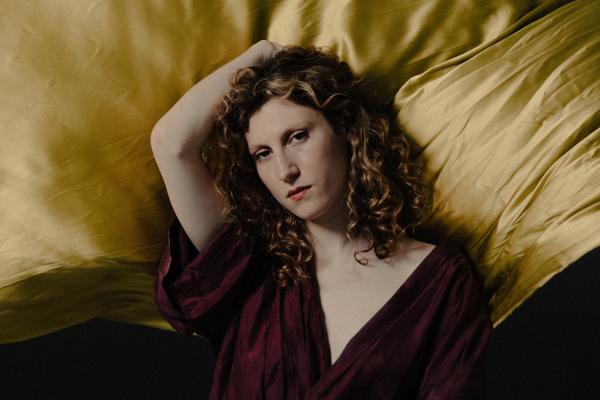 Squirrel Flower – the moniker of Ella O'Connor Williams – recently announced her debut album, "I Was Born Swimming" out January 31st on Full Time Hobby. Along with the announcement she shared the video for lead single 'Red Shoulder'; today she has followed up with new single 'Headlights'. Showcasing a gentler side to her songwriting, 'Headlights' comes with a stunning video by Bao Ngo.
The track is tender and beautiful, exemplifying the way her lyrics stick firmly in the mind of the listener, lingering long after the track is over.
Speaking of the track Squirrel Flower says: "Headlights takes place in a moment of solitary reflection; a glance back and a glance forward. I wrote it on tour driving through the pioneer valley in Massachusetts in some heavy fog. Suddenly I was aware of the space the car was plummeting through, both physical and temporal."
Bao Ngo says of the video: The video for 'Headlights' was inspired by cheesy, classic imagery of actors riding in cars through LA— evoking glamour and sunshine. Here, we ran with the concept and placed it in a Massachusetts suburb on a cold winter day, driving around in circles in a convertible, shooting from morning til night, playing with a slightly warped sense of time so that the video would feel a little cold and a little lonely, and perhaps at times a little jarring, while still aiming to subtly reference the beauty of older Hollywood films."
Throughout the 12 songs that make up I Was Born Swimming, landscapes change and relationships shift. The lyrics feel like effortless expressions of exactly the way it feels to change — abstract, determined and hopeful.
Squirrel Flower's music is ethereal and warm, brimming over with emotional depth but with a steely eyed bite and confidence in it's destination. The band on I Was Born Swimming plays with delicate intention, keeping the arrangements natural and light while Williams' lead guitar is often fiercely untethered. The album was tracked live, with few overdubs, at The Rare Book Room Studio in New York City with producer Gabe Wax (Adrienne Lenker, Palehound, Cass McCombs). The musicians were selected by Wax and folded themselves into the songs effortlessly. At the heart of the album lives Williams' haunting voice and melancholic, soulful guitar.
"Headlights" is taken from Squirrel Flower's debut full length album, I Was Born Swimming, out January 31st, 2020.