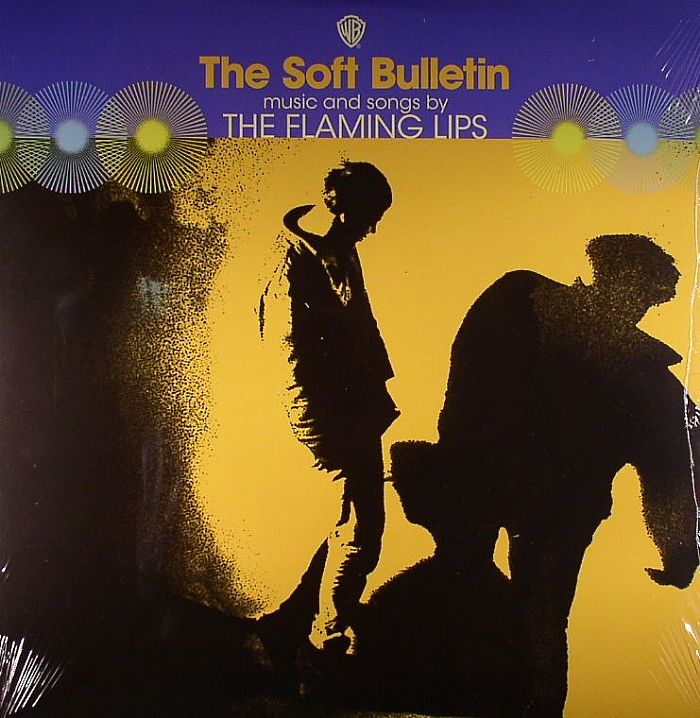 The Flaming Lips offer an oral history of The Soft Bulletin, with intimate interviews examining the stories behind this modern classic. The Soft Bulletin is the ninth studio album by The Flaming Lips, released by Warner Bros. Records on May 17th, 1999 . The album was released to wide critical acclaim and hailed by critics as a departure from their previous guitar-heavy alternative rock sound, into a more layered and intricately arranged work.
The Flaming Lips will celebrate it's 20th anniversary of their 1999 masterpiece The Soft Bulletin with a limited edition vinyl reissue this October. The 2-LP reissue, released exclusively through subscription service Vinyl Me, Please and pressed on mustard yellow, preserves the album's original 13-song vinyl track list – including the track "Slow Motion," originally omitted from the U.S. CD release – and is accompanied by a new art print designed by frontman Wayne Coyne.
The album is now considered by many to be the Flaming Lips's masterpiece, "The Soft Bulletin is a record that's always with us… and we're always considering it… we're always playing it… we're always celebrating it," Coyne said of the reissue in a statement.
"Densely textured, awkward but somehow melodic, The Soft Bulletin finds these pop oddballs with their poker-faced humor firmly intact — 'When you got that spider bite on your hand/I thought we would have to break up the band,' sings Wayne Coyne in his strained Neil Young-style voice, referring to an accident that could only have happened to the Lips, and did," Rolling Stone wrote of The Soft Bulletin in a 1999 album review.
"Their music isn't, how you say, universally accessible, and the weirdness gets same-y, but no one else has posited a parallel universe in which the Sixties and the Nineties exist simultaneously, allowing for a peculiarly convincing brand of monolithic robotic swirl."
"Over the past twenty years, The Soft Bulletin has cemented its standing as a modern classic of American rock music. The Flaming Lips' distinctive use of theme, melody and unorthodox recording techniques accelerated them to an early-career magnum opus that has inspired countless artists," Vinyl Me, Please Head of A&R Alex Berenson said in a statement.
Archival Materials Provided by The Flaming Lips, Michelle Martin-Coyne, The Fearless Freaks Directed By Bradley Beesley, Scott Booker, Dave and Mary Fridmann, George Salisbury, Warner Brothers Records
On January 31st, 2006, Warner Bros. re-released The Soft Bulletin in the US as a two-disc package titled The Soft Bulletin 5.1. It includes a remastered CD and a DVD-Audio disc that contains a 5.1-channel surround sound mix of the album.
The Soft Bulletin has so many special moments it could easily half-fill a 10 of the Best on its own. But on an album where nearly every song's a gem, from the brittle beauty of The Spiderbite Song to The Spark That Bled's gorgeous six-minute symphony, Feeling Yourself Disintegrate feels particularly precious. Here, Coyne floats high above the everyday muck and, cushioned by soft pillows of celestial synths and strings, realising that his body's been slowly breaking apart ever since he was born; that all life is destined to die. "Love in our life is just too valuable / Oh to feel for even a second without it / But life without death is just impossible / Oh, to realise something is ending within us," he sings gently, and for just a fleeting second, he's grabbed hold of nirvana. In slightly grubbier fashion, The Soft Bulletin helped Warners see the light, too: after years of bemoaning the band's lack of commercial success, they suddenly had a mainstream breakthrough act on their books. Their next project would be even bigger.
"The Spark That Bled" and "What Is The Light", "Waitin' for a Superman"
The Soft Bulletin, originally released in 1999, still stands as a pinnacle of what pop music can be at its most magical and inventive, an album rattling with wondrous sounds and ideas you'll want to hold on to forever. On one hand, it's their most sonically breathtaking work, built on otherworldly noises and instrumentation that sound as if they're being beamed from a future disco in an orbiting space-station; on the other, it's their most moving and vulnerable, too, with Coyne finding more frailty than ever before in his outlandish ideas. Race for the Prize, a touching tale of two scientists prepared to sacrifice themselves and find a cure that will save the world, is a belter: just listen, now, to the giant crack of those distorted drums, that giddy piano riff, the rush of those shrieking synthesised strings that fizz in your synapses like sherbert being poured on your brain. And then Coyne, somehow, touches looks past the HG Wells-like set-up to hit just the right nerve and bring you back down to Earth. "Theirs is to win / If it kills them," he yelps. "They're just humans with wives and children." It's four-odd minutes of glorious, perfect psych-pop, and a bittersweet sci-fi masterwork to boot.
The Flaming Lips
Wayne Coyne – songwriting, vocals, guitar, keyboards, theremin
Michael Ivins – bass, keyboards, backing vocals, engineering
Steven Drozd – songwriting, drums, guitar, backing vocals, keyboards, bass, xylophone, glockenspiel, pedal steel
The cover artwork of the album is a modified version of a photograph taken by Lawrence Schiller for a 1966 Life magazine article on LSD, The Soft Bulletin is still an undeniably essential listen that belongs in every record collection