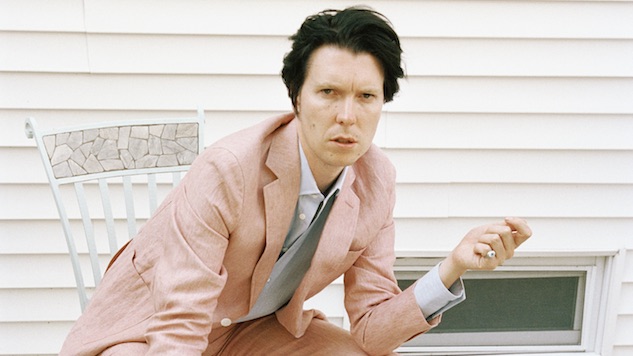 Alex Cameron has just announced his new album, Miami Memory, set for release September. 13th on Secretly Canadian. Can't wait until September? Luckily for you, the Sydney-born indie-pop rocker has also shared a new single, "Divorce," with an accompanying music video. Alex tweeted Miami Memory is here. My new single. I want your eyes glued to your screen, and your ear buds jammed deep inside your ear holes. I want you trembling. Thumbs aching from sharing. This one's for my girl. Lotsa love. Alex
With a knack for donning the masks of a wide array of oddball characters in his previous, Cameron finds a new character in Miami Memory—himself. Facing the threat of a bitter breakup, Cameron sings, "I've killed little baby rabbits. I've killed microscopic crabs / But I never killed a feeling like the one you and me had."
Inspired by the empty threats of leaving that lovers make in the heat of a moment, "Divorce" is an impassioned exclamation of misery at the thought of losing a relationship. In the video, Cameron's shadowed face calls out from the darkness as a heart necklace drapes over his shoulders. He asks us where his love went because he can't find it in his hands. Then, grief turns to frustration as Cameron offers to crash on a friend's "motherfuckin' futon couch if that's how you wanna play it."
In the end, Cameron finds himself "drinkin' in the dark" with his battery "all ran out."
His third album, Miami Memory finally features Cameron, rather than a wacky, made-up character, as its main narrator. The album is a vulnerable, tender and at times lustful love letter to his partner.
"When you listen to these songs, and you're waiting for the twist, or the joke, or any kind of discomfort, I can assure you none of those things were there when I wrote them," Cameron said in a statement, clearly differentiating this album from his tongue-in-cheek, gleefully uncomfortable work of the past.
Instead of writing the imagined narratives that makes up most of his discography, Cameron turns instead to true stories plucked from his own life in a heartfelt gift to his girlfriend. Miami Memory also promises to be Cameron's most musically expansive work yet. While pulling in the synth-driven tones of his early work, the new album harnesses the drive of classic rock, with anthemic lyrics layered with warm sax, bass, guitar and organ.
'Divorce' off the new album 'Miami Memory' by Alex Cameron, out 9/13/19 on Secretly Canadian.