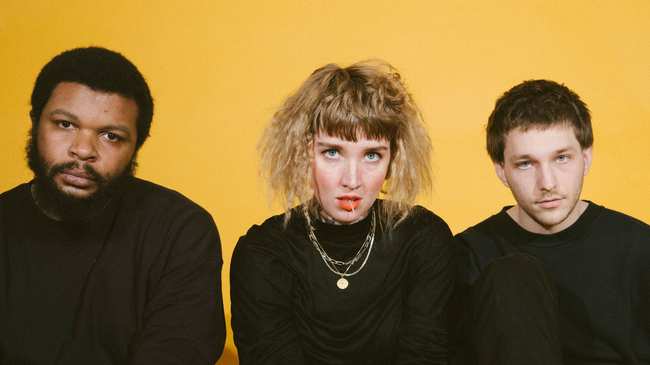 Love is everyday magic. That's the impression you get listening to Water, the new album by Chicago trio Dehd. Veterans of Chicago's increasingly fruitful DIY scene Jason Balla ( Ne-Hi and Earring) Emily Kempf (Vail and formerly with Lala Lala) and drummer Eric McGrady share a strange and inexplicable chemistry. Love rises up into the atmosphere like steam off a summer sidewalk and makes you wild. Love breaks your heart and you consider yourself lucky for it. Like water itself, it surrounds us, it supports us; it's what we're made of. It takes the shape of its container. The music is hazy and reverb-drenched, a scuzzy and hyped-up take on surf rock that could only come from the Third Coast.  It's all animated by the red-lining feel-good spirit of the Velvet Underground's Loaded and the breezy melodicism of C86-era indie rock, with a dash of the Cramps' spooky-hop bop courtesy of McGrady's locomotive drumming.It's a clear-eyed look at the wild nature of everyday life that's been spun up in sugary sweet melodies and scratched-crystal sounds. More than anything, it's the embodiment of Dehd's m.o. from the start: As Kempf puts it, "Work with what you have and make it magical."
There's countless reasons a band could break up: personal differences, creative differences, the magic just isn't there anymore. You'd think a literal breakup between two dating band members would do the trick, but for Chicago's breezy rockers Dehd, it only made their bond stronger.
Dehd's unique story is thoroughly documented on their new album "Water", with songs tracing the perspectives of both guitarist Jason Balla (NE-HI, Earring) and bassist Emily Kempf (Lala Lala) through the end of their relationship. The songs feel ironically weightless for an album dealing with tense moments of frustration and heartbreak, and mirrors the ever-shifting essence of water itself. "It's like a weird party," Balla tells me. Weird, but comfortable. Both Balla and Kempf based in Chicago talk about their new record, how the band's dynamic shifted in the face of a dramatic life change, and how music kept them together.
"When you play music with certain people and it just clicks, it's not something you can take for granted. It doesn't always work like that."  Jason Balla
Is there a central focus on Water, or is every song its own living thing and the record's just a natural collection?
Jason: It's kind of a product of the circumstances at the time, because we were in the process of our romantic relationship breaking up, so it was mostly that couple-month period distilled into the songs we were writing at the time. Emily: It was really cool. The band just prevailed through the form of our relationship changing, and it was just documented in the songwriting.
How comfortable was the songwriting process, knowing you two were writing about each other? Even on the single "Lucky," you get straight to the point, singing, "Lucky to have people in my life with the power to break my heart."
Emily: Yeah, there's a lot of songs like that [laughs]. We don't even really talk about it. Frequently, we write lyrics and neither of us know what the other is saying until we're recording. We both start singing stuff and I don't really hear Jason, then when we're recording I'm like, "Oh, shit." I think both of us are committed to the truth, but we're also not shitty to each other on purpose. The songs reflect that. None of them are hateful. They're just both of our takes on a scenario without us talking about it.
Was there a learning curve dealing with this subject matter face-to-face?
Jason: It's pretty much always worked this way with us, which is why it was possible, I think. Emily: This [album] is probably the first time we've talked about it so bluntly.
Jason: Making music feels natural, so it was like, this is something worth putting up with and having some discomfort about, because it's worth doing, and it's rewarding in a creative and artistic way.
Emily: It's like being in a different world, like when we were in the band it was a different world to be in and it was safe to do all this processing, together and separately. Jason: And you have to be on your best behavior together because [drummer Eric McGrady]'s there and you don't want to disappoint dad [laughs].
Yeah, there's a relaxed sound to your music, and obviously you all still get along well. Do you see one being the product of the other?
Jason: It's just the combination of the three of us. When you play music with certain people and it just clicks, it's not something you can take for granted. It doesn't always work like that. I've tried to play music with people over the years where it's like, "Oh, we don't understand what each other is doing at all, actually."
How has the dynamic shifted within the band? I assume with a change in your personal relationship, there's been a bit of a shift?
Jason: Oh yeah, it's a record with a lot of emotional growth and learning about yourself. Emily: We didn't really know what was going to happen. We didn't know if the "we" was going to stop being a "we." We just kept showing up. If it seemed like it was time for us to stop showing up, I feel like we would've honored that, but things kept working themselves out. The music, and the way it feels to write songs and to play them.
Emily: The magic, honestly. The concept of "true love conquering all" kind of shit, in America and culturally—it's usually sent into a romantic spin. But it's like, I see this band as a true love situation. The real love is we're all friends and we all show up for each other. There's this unexplainable mystery when we come together in a musical way, and that's the kind of thing we're in awe of. I don't know why the three of us met and work together so well and create this really fun music. It's very pure and free from this other stuff. We're not absorbed with ourselves, we're absorbed with the music that comes through us together. We just loved making music together and for some reason when we make music together, the other stuff just didn't matter.
Like the real love thing that I was talking about, it's not always romantic or sexual or fun and frilly—or even in a "getting high" sort of feeling. It means showing up when it's hard and having these tough conversations and crying on tour and saying sorry for stuff and writing a song about it and learning how to communicate in a musical space and also an emotional space. We'll have conversations at practice and we'll have short talks just checking in on each other, like, "Is this okay? How's this going?" and setting, like, boundaries. It just keeps working.
Do you feel like when people listen to the record they'll understand that message? Do you feel like it comes through?
Emily: I think the message comes through from watching us perform and by watching us continuing to exist as a band. Jason: I think on the record, you can pick what's applicable and what makes sense to you.
Emily: It's probably relatable on a "dealing with heartbreak" sort of level. The conclusion that we're at now, maybe that will be apparent on the next record. I don't really know what the story is going to be yet, but I guess we'll know soon.
From Dehd's sophomore LP 'Water' out May 10th on Fire Talk.