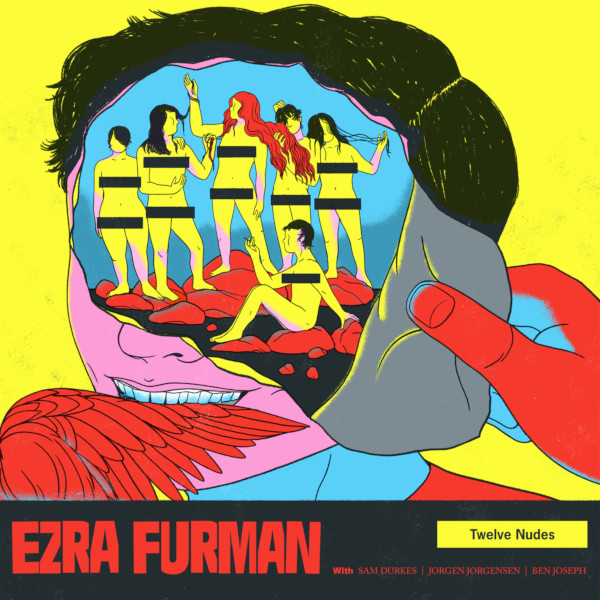 The perpetually underrated indie-rock mainstay Ezra Furman has shared the lead single from his latest album release"Twelve Nudes", due out August. 30th. It's accompanied by a colorfully macabre music video that visualizes the song's panic attack-driven narrative, as Furman dances, falls and smokes through the anxiety.
As is typically the case with Furman's songwriting, "Calm Down" (aka "I Should Not Be Alone") just shreds. Furman has always been able to bridge this gap between pop-rock and garage meltdowns with a particular punk-rock sensibility; the immediately laid-back and groovy bass line that kicks the song off paves the way for an absolute ripper of a bridge that finds Furman yelling at the listener to calm down.
It's almost impossible to calm down while listening to the song, though—this thing rocks. The video, animated by frequent Furman collaborator Beth Jeans Houghton, matches the breakneck pace of the track, using vibrant colors to underscore the cognitive dissonance between feeling pretty on the outside and like you're on the verge of a meltdown on the inside. There's dancing eyeballs, demon babies, fornicating dogs and all sorts of other psychedelic imagery. "Calm Down" is over way sooner that you'll want it to be,
That catchy mentality seems to pervade the rest of Twelve Nudes, which Furman says will be among his punkiest, most political songwriting. Furman says of its lead single in a statement:
Desperate times make for desperate songs. I wrote this in the summer of 2018, a terrible time. It's the sound of me struggling to admit that I'm not okay with the current state of human civilization, in which bad men crush us into submission. Once you admit how bad it feels to live in a broken society, you can start to resist it, and imagine a better one.
Twelve Nudes is inspired in equal parts by the legendary punk-rocker Jay Reatard and the poet/essayist Anne Carson, whose work inspired the album's title. "Anne had these visions, or meditations, to deal with the intense pain in her life, which she calls 'nudes,'" Furman says. "So, my album is called Twelve Nudes."
The record is produced by John Congleton, whose recent work with Sharon Van Etten rather impressed. Furman will be backed by Sam Durkes, Jorgen Jorgensen and Ben Joseph on this record.
Official music video for 'Calm Down aka I Should Not Be Alone' by Ezra Furman. Taken from his forthcoming album 'Twelve Nudes' out 30th August via Bella Union Records.