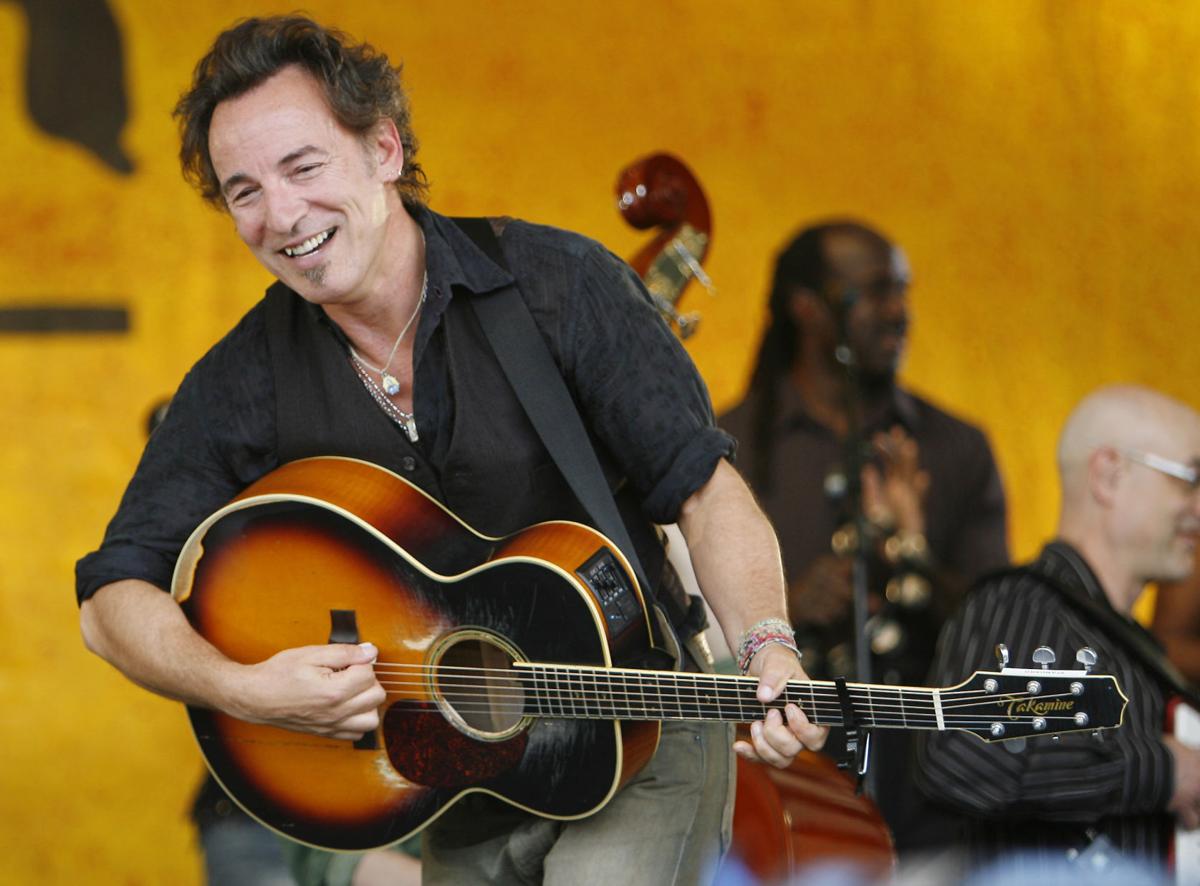 Bruce Springsteen recently surprised the attendees at the Asbury Park Music and Film Festival by announcing that he would be releasing a concert film from the epic show that The Boss delivered to a 2006 Fest pummeled, bruised and beaten by Hurricane Katrina just eight months prior.
This was the first time Bruce had debuted his Seeger Sessions Bands, and there are many people that would argue that it was one of the most important sets ever delivered during the entire history of the festival. Springsteen devotes four full pages of "Born to Run" to his 2006 Jazz Fest experience. For many of those who stood on the Acura Stage field at the Fair Grounds that day, Springsteen's show was a watershed event, an emotional meeting of music and moment.
He apparently felt the same way. He prefaces his account with, "There was one show in America that stood out as not only one of the finest but one of the most meaningful of my work life: New Orleans."
He recounts arriving at the Fair Grounds at 8:30 a.m. for a sound check before the festival opened. U2 guitarist The Edge, an old friend, was there bright and early, as well, watching from the side of the Acura Stage as the Seeger Sessions Band rehearsed. He concludes, "I've played, many, many, many shows, but few like this one. …You cannot book, manufacture or contrive these dates. It's a matter of moment, place, need, and a desire to serve in your own small way the events of the day. There, in New Orleans, there was a real job to do."
Springsteen emphasizes how critical performing is to his existence; it is his primary drug. "I've never gotten anywhere near as far or as high as when I count the band in and feel what seems like all life itself and a small flash of eternity pulsing through me. It's the way I'm built."
Springsteen said he to release a film of his April 30th, 2006 performance with the Seeger Sessions Band at the New Orleans JazzFest. He considers that show, he said, to be among his Top 5, ever. He also said, about that rootsy Seeger Sessions project, "I wanna do that again sometime."
Bruce Springsteen ranking that show as quite likely the best, and certainly most emotional, musical experience.
As Bruce Springsteen led his sprawling Seeger Sessions Band onto the Acura Stage on the Sunday, he confessed to a hint of trepidation. "It's our first gig, " he said. "Let's hope it goes well." Moments later, he encountered a "technical problem" with his pants. Grinning, the embarrassed Boss turned his back to the vast audience and made the necessary adjustments. "It's not just a new band, " he later explained, "but a new belt."
That was his first, and final, glitch. For two hours, Springsteen and his glorious Seeger Sessions ensemble — six horns, a banjo, accordion, pedal steel, fiddles, piano — rendered vintage folk and protest songs stirringly alive and relevant in a tour de force performance. Like few others in popular music could, he crafted a show that spoke eloquently to the city's struggles, both welcome distraction and poignant reminder.
The opening "O Mary Don't You Weep" set the tone. Springsteen led, then the full ensemble swung in behind him. A muted trumpet, a trombone and a saloon piano all took solos. Springsteen, as usual, heaved himself into the material at hand. The gravel in his voice stamped a ragged glory on "John Henry" over banjos and accordion. "Old Dan Tucker" and "Open All Night" were each a hoot. Big horn swells lit up a gritty "Jesse James."
The best folk songs transcend time. In the old Irish anti-war ballad "Mrs. McGrath, " a cannonball claims her son's "two fine legs"; it could just as easily have been an improvised explosive device.
Certain lyrics resonated more directly for locals: "There'll be better times by and by." "God gave Noah a rainbow sign, no more water, but fire next time." "The bank holds my mortgage and they want to take my house away." "The only thing we did right was the day we started to fight." And it was easy to imagine "Louisiana" swapped into the lyrics to "My Oklahoma Home, " which was "blown away" in a natural disaster.
In his most overtly political statement, Springsteen recalled his visit the previous afternoon to the 9th Ward. "I saw some sights I never thought I'd see in an American city, " he said. "The criminal ineptitude makes you furious." In response, he adapted Blind Alfred Reed's "How Can a Poor Man Stand Such Times and Live" with new lyrics dedicated to "President Bystander": "My old school pals had some high times there/What happened to you folks is too bad, " he sang, mocking President Bush's comments in the early days after Hurricane Katrina.
The set's watershed moment, literally, was "My City of Ruins." Originally written for his adopted hometown of Asbury Park, N.J., he dedicated it to New Orleans. To a hushed audience, Springsteen closed his eyes and began: "There's a blood red circle on the cold dark ground, and the rain is falling down/The church door's blown open, I can hear the organ's sound, but the congregation's gone . . . the boarded-up windows, the hustlers and the thieves, while my brother's down on his knees . . . now tell me how do I began again? My city of ruins. . ." And then the refrain: "Come on, rise up! Rise up!" Thousands lifted their hands to the sky.
Just as quickly, Springsteen kicked back into good-time gear with "Buffalo Gals" and a zydeco rubboard and accordion reimagining of "You Can Look (But You Better Not Touch), " from his 1980 album, "The River." A tuba, improbably enough, was the final instrument onstage before the encore at a Springsteen show.
Then he presented one last gift. A hundred bands in New Orleans, Springsteen said, could play this last song better than he. But he had come across two lesser-known verses that he thought might be appropriate. With that, he unspooled "When the Saints Go Marching In, " not as a boisterous, high-kicking second-line, but as an acoustic prayer, delivered in a desperate hour. Face clenched, he sought the promised land: "Now some say this world of trouble is the only world we'll ever see/But I'm waiting for that moment when the new world is revealed."
No other artist could have spoken to, and for, the city of New Orleans at this most important of Jazzfests more purposefully, more passionately and more effectively than Bruce Springsteen and the Seeger Sessions Band.