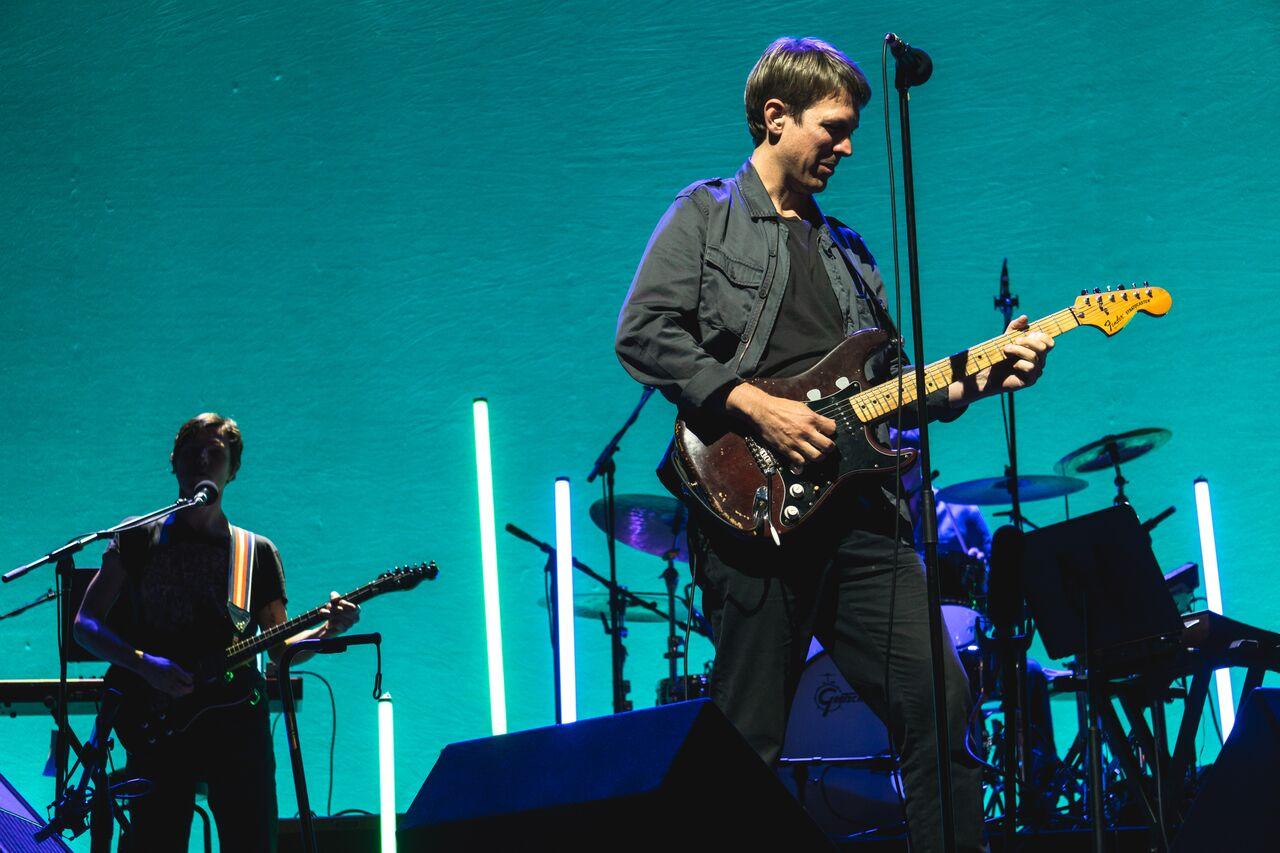 All this week, we're presenting "[W]hat may well have been among New York City's best live shows this year [2018]" recordings of the performances of David Bowie's Berlin trilogy: Low(1977), "Heroes"(1977), and 1979's Lodger, and the music that inspired the trilogy. In the week where we mark the anniversaries of Bowie's birth and his death, you can hear those stunning performances of Bowie's music and the works that inspired it.
One album was performed in its entirety each night—Lodger on the 17th, "Heroes" on the 18th, and Low on the 19th—and each concert will open with short programs of music that inspired the trilogy composed by Brian Eno and Klaus Schulze.
Recorded at Brookfield Place in October of 2018, the cast of players was led by Shearwater/Loma's Jonathan Meiburg and featured current and past members of Shearwater, Deerhoof, Dirty Projectors, Wordless Music Orchestra, Xiu Xiu, Battle Trance, Glass Ghost, and Loma, along with special guest, Carlos Alomar (David Bowie's guitarist and musical director for 30 years.) Also, hear music that inspired the trilogy: Brian Eno's "Discreet Music," and selections from Another Green World (1975), and "Body Love" by Klaus Schulze.
Jonathan Meiburg, in the program, writes that "[T]hese albums are the pinnacle of [Bowie's] musical and artistic output…the Berlin Trilogy has everything: brooding, cinematic instrumentals, rave-ups that end almost before they begin, gorgeous ballads that threaten to collapse on themselves, and Bowie's most famous and expansive song. Jonathan Meiburg had begun rehearsing a few songs from Lodger with his band Shearwater. Then Bowie passed, and it seemed like an encore or two of "Look Back in Anger" wasn't enough. They figured out how to play the whole album, and then wanted more. Meanwhile, the band's Emily Lee had already begun the herculean task of scoring out the albums' impenetrable ambient epics.
Shearwater decided to begin with Lodger, the album they knew best and was easiest to play, which also meant the series would end with Low's loveliest and most confounding moments. They also decided to bring in some friends, including saxophonist Travis Laplante and Deerhoof shredder Ed Rodriguez. While Bowie had at least a dozen singers in his body, they split the songs into three, more or less: Meiburg, Lee, and Xiu Xiu's Jamie Stewart. It was a series of smart decisions for a strange locale.
Wordless kicked off the first night with a statement of intent: Eno's Discreet Music, reenvisioned as wafts of guitar, cello, and electronics for a platonic ideal of mall music. Lodger is the most accessible in the trilogy, but it's hardly Muzak—especially its wildest moments Bowie never attempted to play live. The deeply weird "African Night Flight" was all squalls and lumbering rhythms and rapid-fire monologue from Stewart, while "Move On"—essentially Bowie's "All the Young Dudes" played backwards—sounded live like some blend of the Who and Pornography-era Cure. And the, as Meiburg put it, "unfortunately timely" "Boys Keep Swinging" was a sleazy riot.
In the rehearsals I sat in on, the band seemed deeply nervous about tackling "Heroes." And yet, piled into a warehouse's small soundproofed room with views of the toxic Gowanus Canal instead of the Wall, they'd managed to make the beloved title track sound new, anchored by Power's amiable bass and Meiburg's affectionate melancholy set against Stewart's anguished wailing. On stage, they did it again, and tore through the first side's "Beauty and the Beast" and especially the psychotic broken beats of "Blackout" with relish before launching into the second side's moody complexity.
It's possible to play these songs, Meiburg had told Schaefer in an interlude, as long as you stop thinking "and just glide over the top of it." As Lee plucked her koto and Stewart caressed a gong for "Moss Garden," we were all gliding along with them. And then we were plummeting deep into "Neuköln," the low point of "Heroes," which they performed as a kind of Badalamenti-goes-to-Berlin noir with an almost ridiculous finale courtesy of Laplante's bravura sax solo. How could this possibly be followed? "Luckily, this album comes with its own encore," Meiburg joked, referring to the slinky "The Secret Life of Arabia," which closed the night with the kind of release only disco handclaps can offer.
Speaking of release, on the final night Wordless dug up a 1977 porn soundtrack by Klaus Schulze as a prelude to Low, and cellist Clarice Jensen filled her arrangement of the krautrock icon's Body Love with wild drones and spurts of percussion—a real treat, especially with surprise guest Shahzad Ismaily on Moog. Schaefer also came with a surprise: Bowie's longtime collaborator Carlos Alomar, who explained that completing the trilogy took "curiosity, courage—oh, and a half-million-dollar budget."
Meiburg and company had plenty of the first two, launching into Low with a fairly nonchalant "Speed of Life," the album's opening credits, and a menacing take on "Breaking Glass" in which Stewart howled "you're such a wonderful person/but you've got PROBLEMS" and Meiburg whispered in response, "I'll never touch you." The moment was fraught. But the real killer of Low is side two. In rehearsals, Meiburg had counted out the beats for "Warszawa" as the group found the math in its midsts. On stage, before the largest and loudest audience of the series, Alomar came out and conducted, his presence almost pastoral. Blessed, they carried on, playing "Weeping Wall" with a lack of preciousness that turned Bowie's proto-post-rock beauty into an ersatz Morricone Western. "Subterraneans," Low's highlight, was a different frontier altogether: still alien, still bleak, but newly inhabitable.
The crowd stood and cheered, visions of Bowie in our heads, looking back in wonder at where we are now. Just blocks from where Bowie passed, the city paid its respects the way it always does: by reinventing the past. The Berlin trilogy might be history, but it's full of living songs,
John Schaefer continues:
"Bowie actually began referring to his "Berlin Trilogy" only in the promotional phase leading up to Lodger's release. In retrospect, all three albums reflect the city – its darkness, its cultural ferment, its isolation. Working with Brian Eno, and Tony Visconti, Bowie produced some of his most memorable rock songs, and some of his edgiest. But he also surprised and confounded the listening public by devoting large stretches of each record to musical experiments that departed not only from the world of rock but from the song format itself.
The lasting impact of these three albums has been felt not just in the world of rock but in contemporary classical music as well. Philip Glass was moved to write a series of symphonies based on the trilogy: his Lodger Symphony completes that trilogy and premieres in 2019. Subsequent generations of composers and musicians have grown up with the freedom to move among the various musical worlds that Bowie explored in these three pivotal albums. For proof, you need only look at the musicians in these concerts: they represent a gathering of the tribes, from the worlds of indie rock, but also from New York's thriving contemporary music scene – many are part of both camps, and some are composers themselves."
The band Members:
Timo Andres (piano, synthesizer)
Angel Deradoorian (flute, voice, synthesizer) launched a solo career after making a name for herself with well-known acts such as Dirty Projectors, Avey Tare, and Flying Lotus. In 2009, she appeared on Dirty Projectors' Bitte Orca, released her first solo EP under the name Deradoorian and lent her vocal talents to LP, the debut album from Discovery (founded by Rostam Batmanglij of Vampire Weekend and Wesley Miles of Ra Ra Riot). In 2015, she released her long-awaited solo album, The Expanding Flower Planet (2015), Eternal Recurrence, her second release released in 2017.
Dan Duszynski (guitar, voice, percussion) He is also the drummer of ethereal rock band Loma (Sub Pop).
Greg Fox (drums) is a New York City born-and-bred drummer, He has played on and released 49 records since 2008, including his work with Liturgy, ZS, Ben Frost, Colin Stetson, Skeletons, Hieroglyphic Being, Man Forever, and others, named "Best Drummer in NYC" by the Village Voice in 2011. Currently spending most of his time in NYC,
Josh Halpern (drums) is a live and session drummer, singer, and producer based in Austin, Texas and is known for his infectiously animated performances. He's most at home on the road with bands like Shearwater, Still Corners, Marmalakes and Palo Duro His most recent studio recording is Nights and Weekends, a collaboration with songwriter Peter Shults, released under the name Teddy Glass.
Clarice Jensen (cello, electronics) is the artistic director of ACME, She has collaborated with composers and recording artists, including Jóhann Jóhannsson, Stars of the Lid, Owen Pallett, Max Richter, Tyondai Braxton, and numerous others.
Eliot Krimsky (synthesizer) played keyboards with Here We Go Magic and Meshell Ndegeocello, He is currently preparing his first solo album, Wave in Time.
Travis Laplante (tenor saxophone) is a saxophonist, composer, and qigong practitioner living in Brooklyn, New York, Laplante leads Battle Trance, the acclaimed tenor saxophone quartet, as well as Subtle Degrees,
Emily Lee (musical director, keyboards, voice, koto, violin) is a New York-based multi-instrumentalist and vocalist. She performs in Shearwater, Loma, and Snake Oil, and plays keyboards with Mutoid Man for the heavy metal talk show Two Minutes to Late Night.
Frank LoCrasto (synthesizer) is a Texas-born, Brooklyn-based musician, He has appeared on more than 40 records.
Grey Mcmurray (guitar, bass, voice) has been called "sublimely odd" (New York Magazine), and "the world's least obtrusive guitarist" (The Guardian). Recently he has been performing as a duo with Beth Orton, Colin Stetson's Sorrow Ensemble, He is the co-leader of the duo itsnotyouitsme with Caleb Burhans, with four releases on New Amsterdam Records.
Jonathan Meiburg (voice, guitar) leads the band Shearwater, which has released six albums since 2006 on Matador and Sub Pop Records. The most recent, 2016's Jet Plane and Oxbow, and the band's live performance of Lodger for the Onion's A.V. Club inspired them to take on Bowie's entire Berlin trilogy. Meiburg also performs with Loma, whose self-titled debut was released this year by Sub Pop and is currently finishing a book about South America's strangest birds of prey. He lives in Brooklyn.
Lucas Oswald (guitar, voice) is a songwriter, He has toured internationally with Minus Story, Old Canes, Appleseed Cast, Jesca Hoop, and Shearwater.
Sadie Powers (bass)  She tours with Shearwater and recently toured with Lucy Dacus. Her composition, Wick (for french horn, water glasses, and electronics), was recorded in Spring 2018 by the avant-garde trio How Things Are Made and appears on the trio's album, She comprises half the electroacoustic ambient duo, Triptychs, and was the bassist for the new romantic band Dead Fame, which released albums Frontiers (2011) and Vicious Design (2014).
Ed Rodriguez (guitar) has been around far too long  He currently plays guitar in Deerhoof.
Jamie Stewart (voice, percussion) He began the musical group Xiu Xiu in 2002.
Carlos Alomar (special guest) was David Bowie's rhythm guitarist and music director for almost thirty years. His songwriting credits include "Fame" with Bowie and John Lennon, as well as "DJ" and "The Secret Life Of Arabia" with Bowie and Brian Eno.