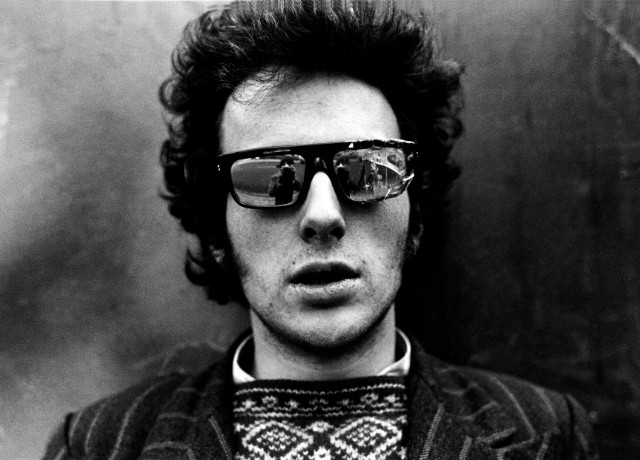 If Joe Strummer had never done anything outside of the Clash, that would've been enough. That band, they're one of the absolute Greats, one of those groups that is so iconic and influential that Strummer's legend in rock history was easily solidified by that alone. But though his releases were more sporadic after the Clash fell apart, he still recorded a lot of other great music before his untimely death in 2002. He is getting an everything-and-the-kitchen-sink treatment for the many reels of unreleased tape he had archived in his barn.
In 2013, The Clash Sound System box set compiled everything of that band's varied and sundry discography, with the standard live sets, first-, out- and mis-takes, in a package designed like a boom box. A new book, available in the box set and deluxe editions, is filled with "rarely seen and previously unpublished memorabilia from Joe's personal collection as well as historical press reviews and technical notes about the albums," according to a news release.
Joe Strummer 001 looks to be a more modest affair than that package in every way except the actual music it contains, covering the complete cross-section of Strummer's solo musical development, inextricable as it is from his work with The Clash; the dead-standard early bar band material, his late-'80s hip-hop-influenced four-on-the-floor slams, bonfire-and-whiskey folk globe-trotters and the weed-smokey collage-pop of The Mescaleros, stretching back to 1975. Among the gems inside are rare soundtrack songs (including an outtake of "Crying on 23rd," from Sid & Nancy), collaborations with artists like Johnny Cash and a particularly rare unreleased cassette demo from the mid-'70s called "Letsagetabitarockin."
An incomplete list of the various projects included here should make it clear: The 101ers, The Astro-Physicians, Radar, Electric Dog House, The Soothsayers, Pearl Harbour, Joe Strummer and The Mescaleros, collaborations with Jimmy Cliff and Johnny Cash and post-Clash work with Mick Jones and Paul Simonon.
Below, find a sample single from it, titled "London Is Burning" — a song that was reworked into the (better) Mescaleros' song "Burning Streets (London Is Burning)." "London Is Burning," recorded with the Mescaleros, was later issued as "Burning Streets" on Streetcore, a 2003 posthumous release. The cassette edition of Joe Strummer 001 is where you'll find the "U.S. North Basement Demo," recorded by Strummer and Jones in 1986.
Joe Strummer 001 will be released September. 28th on Ignition Records.