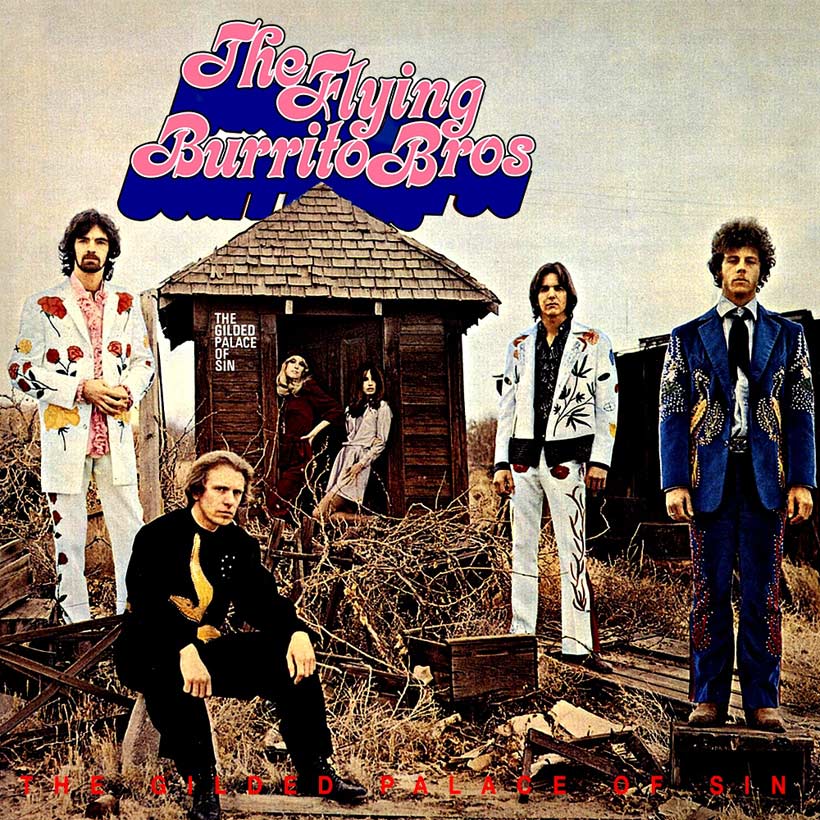 When The Gilded Palace Of Sin was released, on 6th February 1969, sales were initially not good but their debut album by The Flying Burrito Brothers has since earned its status as one of the defining albums of country-rock and Americana music. named it as one of the 500 essential albums all music lovers should own.
Gram Parsons and Chris Hillman formed the The Flying Burrito Brothers after both leaving The Byrds. They brought in bassist Chris Ethridge and pedal steel guitarist Pete Kleinow to complete the line-up, appropriating the band's name from a group of Los Angeles musicians who gathered for jam sessions.
"We're a rock'n'roll band that sounds like a country band," said Gram Parsons, a Harvard theology student drop-out who was 22 when the album was made. The singer-songwriter, guitarist and keyboardist is acclaimed as one of the most innovative forces in country music, becoming a huge influence on musicians as diverse as Emmylou Harris, Ryan Adams and Lucinda Williams.
There are 11 songs on The Gilded Palace Of Sin, including the haunting classic 'Sin City', which was co-written by Hillman and Parsons, and which included allusions to contemporary figures such as Robert Kennedy ("A friend came around/Tried to clean up this town"), who had been assassinated in June 1968.
Hillman said he woke up one morning with the lines "This old town's filled with sin/It'll swallow you in" swimming in his head. He roused his flatmate Parsons and they completed the song in about 30 minutes. "It was just before Christmas and it was about to rain; and we were living in the San Fernando Valley in a tract type home," Hillman recalled. 'Sin City' has been covered by scores of musicians .
There was a spontaneity to the album's production that helps make The Gilded Palace Of Sin sound fresh half a century later. Chris Ethridge said, "I told Gram I had a couple of old melodies from back when I was growing up. I played them for him and we wrote the two songs that day, 'Hot Burrito #1' and 'Hot Burrito #2', and then that night went into the studio and cut 'em."
As well as being full of modern Americana classics – including the achingly beautiful two-part harmonies on songs such as 'Juanita' and 'Wheels' – there were also innovative cover songs. Hillman said that Parsons opened him up to new musical experiences by setting the challenge of taking great soul songs – such as 'The Dark End Of The Street' – and reinventing them.
Hillman said, "We also took the interesting song 'Do Right Woman, Do Right Man', which was Aretha Franklin's big soul song at the time, but we did it country. That was the genius of Parsons. He got me into looking beyond the country parameters." They brought in David Crosby to sing backing vocals on that track.
Drummer Jon Corneal, who had worked with a teenage Parsons in The International Submarine Band, and went on to work with Loretta Lynn, played on five tracks and was one of four drummers used on the album.
One of the qualities that underscores the whole album, right from the energetic opening track, 'Christine's Song', is the brilliant playing of "Sneaky" Pete Kleinow's pedal steel guitar. In 1969, the Burritos didn't really have a lead guitarist so a lot of the solos fell to Kleinow. Parsons used to call him "The Maharishi Of Country Music", and Kleinow became one of the most sought-after session musicians in the business.
'My Uncle' (the only track to feature Hillman on mandolin) and 'Hippie Boy' are counterculture songs of the time about the Vietnam draft and the 1968 Democratic National Convention riots in Chicago, which Parsons described as "the toughest challenge on the album".
The album's artwork is also special. It was overseen by Tom Wilkes, who had joined A&M after being the art director of the 1967 Monterey Pop Festival. Parsons had arranged for custom-made Nudie suits to be created by the acclaimed designer Nudie Cohn. Parson's one, which featured red poppies and marijuana leaves, hangs in the Country Music Hall Of Fame. Wilkes said: "We decided to take them out to the desert and do something kind of surreal with the Nudie suits, shot by Barry Feinstein. And they looked great anyway. They looked funky and kind of country western and kind of rock."
Gram Parsons, who was aged 26 when he died, in 1973, left a marvellous legacy, including The Gilded Palace Of Sin, which helped draw the blueprint for both 70s country-rock, Americana and the alt.country sound. On November. 6th in 1973: road manager Phil Kaufman & friend Michael Martin were charged & fined $300 each for the theft of a coffin containing the body of country rock singer-songwriter Gram Parsons; the court heard that the two men were merely carrying out Gram's wishes to be cremated in the desert; the pair had stolen the body & driven it to Joshua Tree in a borrowed hearse, where they attempted to cremate it by pouring five gallons of gasoline into the open coffin & throwing a lit match inside, resulting in an enormous fireball…