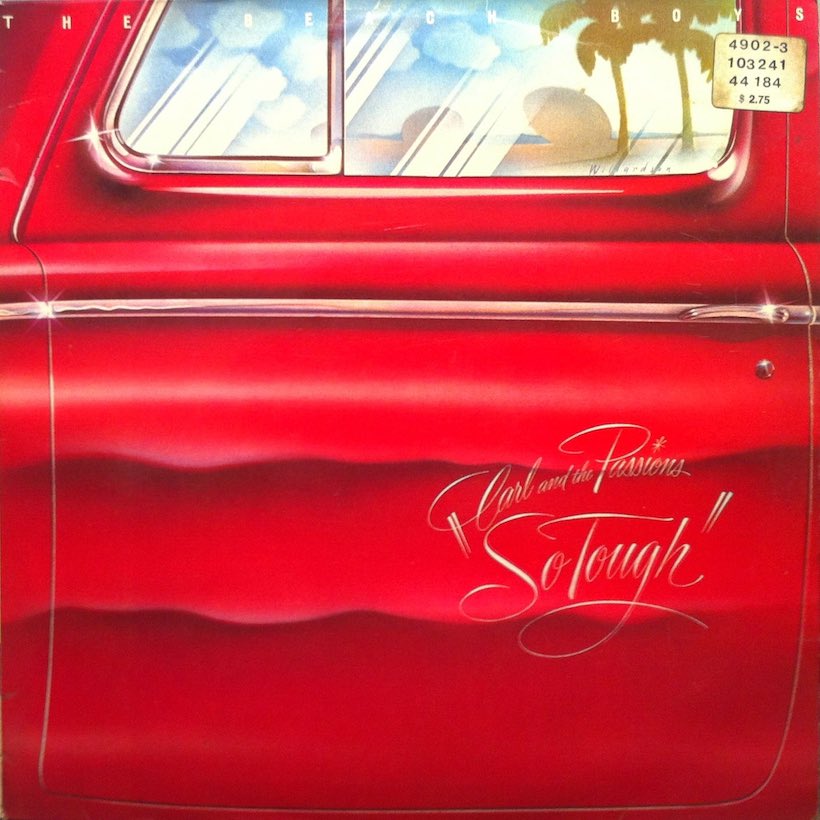 Where next after the album Surf's Up?That was the question for The Beach Boys as they sailed the uncertain commercial waters of the early 1970s. The surprising answer was an album in which Brian Wilson's involvement was limited, on which Bruce Johnston barely featured after his sudden (and temporary) departure, and which was named after the band that Carl Wilson and Mike Love had formed in high school.
Carl and the Passions – 'So Tough'was released on 15th May 1972, and if it failed to deliver any major hits, It was the Beach Boys' 17th studio album stands as a showcase, especially, for Carl, as he took a greater hand in studio direction. Surf's Uphad won rave reviews and landed the group on the cover of Rolling Stone in an extensive interview, but it was less than a sales blockbuster, and the group's direction was to change again.
Sessions for the new record began in December 1971 at the Beach Boys' new recording studio, Brother, just before the group embarked on some pre-Christmas tour dates. 'All This Is That,' written by Carl, Mike and Al Jardine, was one of the first songs to come together, as were 'He Come Down' and 'Marcella,' which (as Keith Badman's The Beach Boys diary book detailed) came to life under the title 'Beatrice From Baltimore.' 
By the new year of 1973, the factions within the band were prompting Carl to suggest that fresh impetus and new faces may be needed. Not long after the sessions began, Bruce Johnston had a falling out with manager Jack Rieley and left the band. That led to the arrival as official members of South Africans Ricky Fataar and Blondie Chaplin, as the Beach Boys became, in name at least, a seven-piece outfit. Their input was felt on the albums that continued, firstly at Brother, and then at Brian's home studio in Bel Air.
Fataar and Chaplin wrote and sang on 'Here She Comes' and 'Hold On Dear Brother,' while Dennis Wilson took lead vocals on the pretty 'Make It Good' and 'Cuddle Up,' written with Daryl Dragon, later to find fame as one half of the Captain & Tennille. Brian's main involvement was on the opening 'You Need A Mess Of Help To Stand Alone,' which became the LP's first single, followed by 'Marcella.'
By the spring, Johnston's departure through what he called "differences in musical policy" was confirmed. When the album emerged, with the Beach Boys on an extensive European tour, the overall feeling was of a highly listenable if disjointed record, by a group heading in several directions at once.
Carl Wilson described this album as "a scattered project , it wasn't everybody pitching in…".it's certainly an eclectic collection ; "all this is that " is certainly a hidden gem. I've always much preferred side two of "Carl & The Passions" over side one – I've always taken "Hold On Dear Brother" to be about Brian.. I think that "All This Is That" is one of The Beach Boys more beautiful songs – kind of their own "Across The Universe" in a way, and the two Dennis Wilson songs are career high points for him, in my opinion…"Marcella" does sound kind of Stones-ish to my ears – the Chaplin/Fataar songs, sound very much to me like something by The Band – but the first five songs on the album, to me, are just so – so. good,
Reprise released it in America as an initial twin-pack with Pet Sounds, a juxtaposition which hardly helped the new record to shine.  Rolling Stone felt that only four of the tracks were "acceptable", and that Brian Wilson's lack of genuine involvement hurt the album.
The Beach Boys
Blondie Chaplin – vocals
Ricky Fataar – vocals; drums; slide guitar; production on "Here She Comes" and "Hold On Dear Brother"
Al Jardine – vocals; production on "He Come Down" and "All This Is That"
Mike Love – vocals
Brian Wilson – vocals; production on "You Need a Mess of Help to Stand Alone"
Carl Wilson – vocals; guitar; bass; keyboards; production on "He Come Down," "Marcella," and "All This Is That"
Dennis Wilson – vocals; production on "Make It Good" and "Cuddle Up"
Bruce Johnston — harmony and backing vocals on "Marcella"