Mike Campbell was born in Panama City, Florida. He grew up there and in Jacksonville, Florida, where he graduated from High School in 1968. At 16, he bought his first guitar, a cheap Harmony model, from a pawnshop. His first electric guitar was a $60 Guyatone. Like Tom Petty, Campbell drew his strongest influences from The Byrds and Bob Dylan, with additional inspiration coming from guitarists such as Scotty Moore, Luther Perkins, George Harrison, Carl Wilson, Jerry Garcia, Roger McGuinn, Keith Richards, Brian Jones, Jimmy Page, Mick Taylor, and Neil Young. The first song he learned to play was "Baby Let Me Follow You Down," a song which appeared on Dylan's eponymous debut album.
Mudcrutch moved to L.A. and signed a record deal with Shelter Records, recording an album in 1974 that ended up being shelved. Campbell then joined Petty to start up the original Tom Petty and the Heartbreakers in 1975 along with Benmont Tench (keyboards), Ron Blair (bass guitar) and Stan Lynch (drums).
He formed a band named Dead or Alive which quickly disbanded. Campbell first met Tom Petty through Mudcrutch drummer Randall Marsh when they were auditioning him and he suggested his friend Mike to play rhythm guitar.
Like the other players in the Heartbreakers, Campbell avoids the virtuoso approach to playing, preferring to have his work serve the needs of each song. Guitar World magazine noted "there are only a handful of guitarists who can claim to have never wasted a note. Mike Campbell is certainly one of them". He is a highly melodic player, often using two or three-strings-at-a-time leads instead of the more conventional one-at-a-time approach. "People have told me that my playing sounds like bagpipes," he muses. "I'm not exactly sure what that means." His estimation of his own style is typically modest: "I don't think people can really top Jimi Hendrix and Eric Clapton as far as lead guitar goes. I like my playing to bring out the songs." Like Tench, he is heavily involved in constructing the arrangements for the Heartbreakers' tunes. And also like Tench, he prefers rawness to polish in the studio and onstage.
Directed by Justin Kreutzmann, this 15 chapter web documentary features Mike Campbell taking us on a tour of his guitar collection and explaining the stories and significance behind the instruments as they relate to his own personal journey and the music of Tom Petty and The Heartbreakers.
0:01 "Chapter 1: Introduction – Treasured Gifts That Keep Giving" 7:50 "Chapter 2: A Sound Is Born On The 1964 Fender Stratocaster" 13:32 "Chapter 3: The Irreplaceable Fender Broadcaster Part 1" 18:46 "Chapter 4: The Irreplaceable Fender Broadcaster Part 2" 23:47 "Chapter 5: Thicker and Dirtier – The Gibson Goldtop" 29:18 "Chapter 6: Chimes of Freedom The Rickenbacker Sound – Part 1" 34:40 "Chapter 7: Chimes of Freedom The Rickenbacker Sound – Part 2" 40:14 "Chapter 8: In Between Bright and Heavy That Gretsch Tone" 46:33 "Chapter 9: A Whole Studio On Your Guitar Vox" 51:03 "Chapter 10: Biting Clear and Loud The Gibson Les Paul Jr. and SG" 57:23 "Chapter 11: Begging To Be Played The 1959 Gibson Les Paul" 1:04:37 "Chapter 12: The Surf Sound of The Fender Jaguar/The Mike Campbell Duesenbeg and the Super Bowl" 1:10:32 "Chapter 13: Handle With Care: (Another) Invaluable 1964 Fender Stratocaster" 1:16:39 "Chapter 14: The Homestead and Studio" 1:23:37 "Chapter 15: Assorted Specialties and Conclusion"
Mike Campbell's drool-inducing lineup of vintage guitars and amps he brings on the road. Campbell's guitar tech, Steve Winstead, walks us through every guitar, amp, and pedal and lets us in on Campbell's time-tested formula for great tone.
Guitars
One side of Campbell's guitar arsenal covers all the bases. From the left side we have "Little Ricky," which is a Rickenbacker-style mandolin with a whammy bar. Next is a recent Fender Custom Shop Tele with a B-Bender used as a backup, then a pair of Rickenbacker 12-strings—the one on the right is used on "Free Fallin'." A pair of '50s Teles follows those as well as a Gretsch 6186 Clipper tuned to open-G for "I Won't Back Down." Finally, there's a mid-'60s Gibson SG that Campbell's been favoring for this tour after recently digging it out of storage.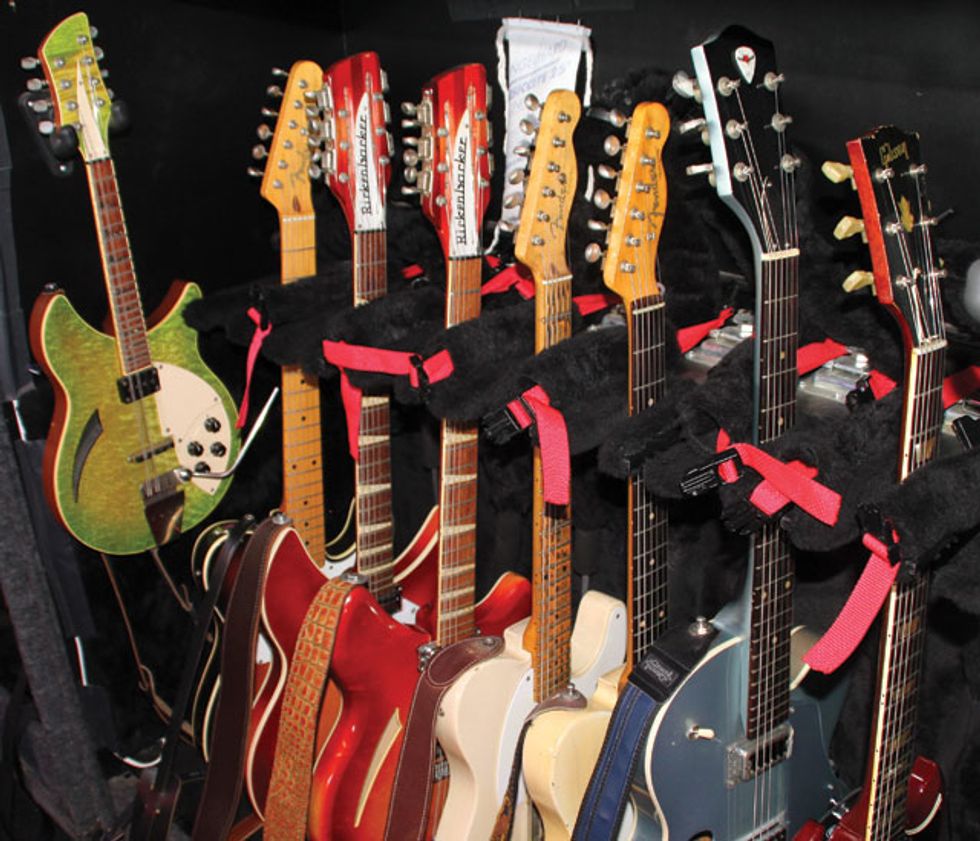 The basic formula for Campbell's amp rig is to crank up some low-watt amps and let the PA do all the heavy lifting. The bulk of his sound comes from a 1963 Fender Princeton and a 1954 Fender tweed Deluxe. He augments that with a custom Fender Excelsior and a Fender Vibrotane for Leslie-type effects.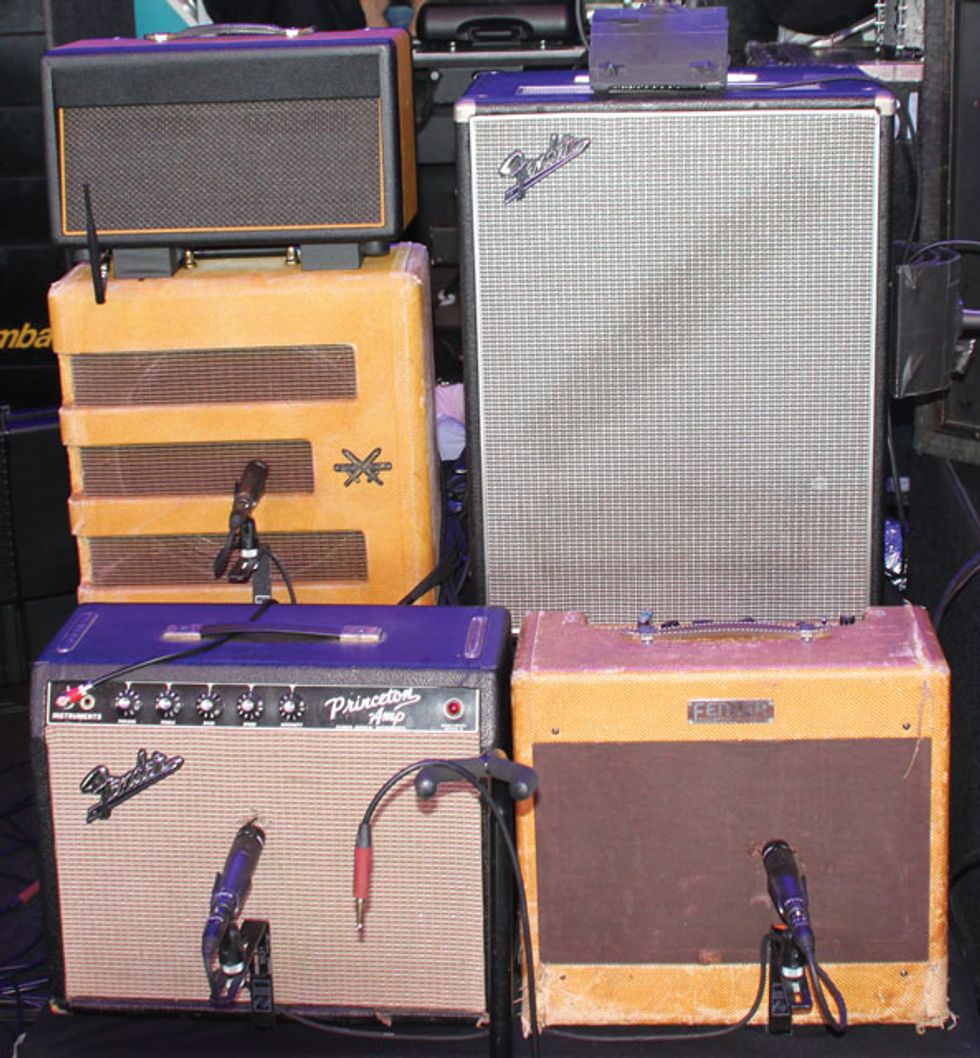 Effects
Campbell relies on a rare Dunlop Camel Toe for his distortion, a Line 6 DL-4, the Green Meanie switch (which brings his Fender Excelsior amp in and out), a DigiTech Whammy II, Line 6 MM-4, a custom switch for his 1962 reissue Fender reverb tank, a Boss RC-30, and a Boss TU-2 tuner.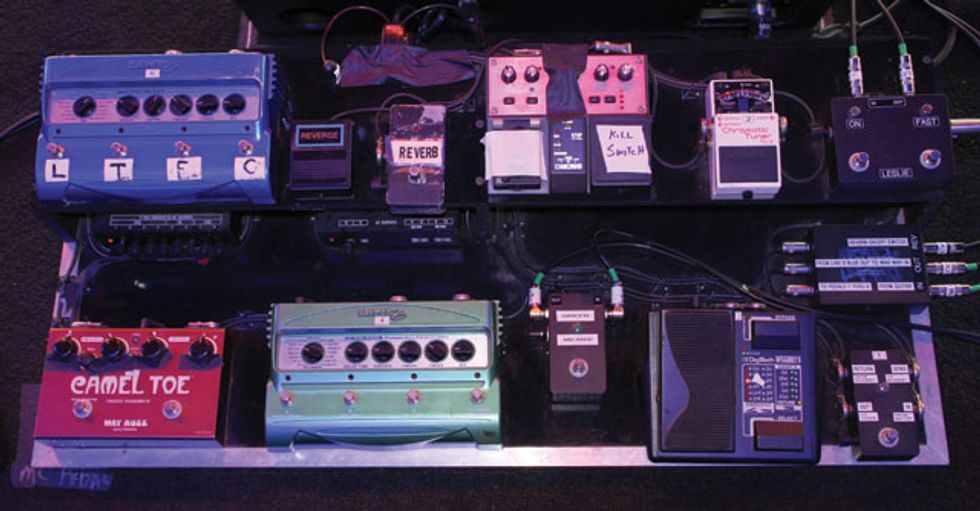 Rest In Peace Tom Petty: 1950 – 2017