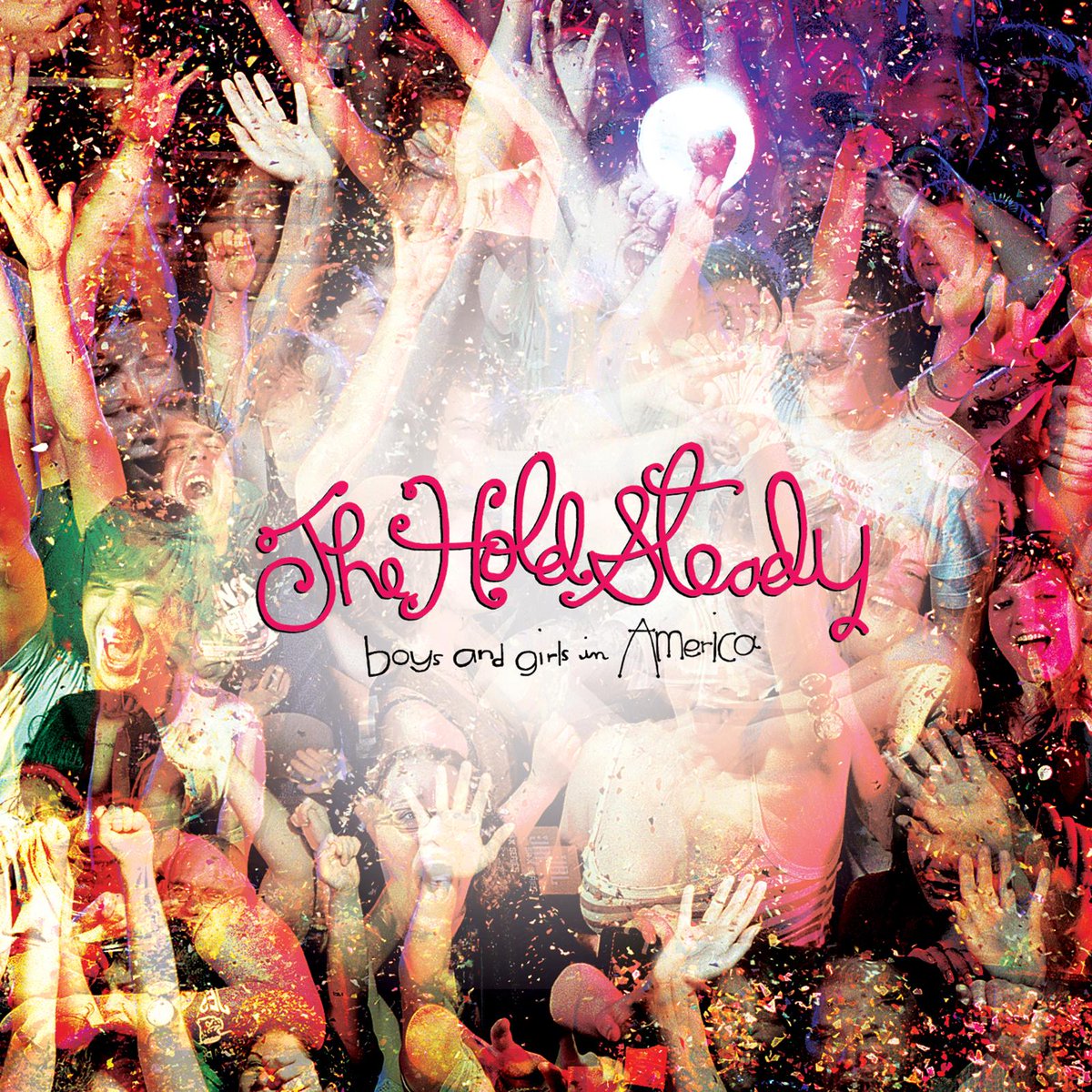 Today marks the anniversary of the release of Boys and Girls in America. People often mention to me that this album had a huge impact on them.
The Hold Steady made a new generation of indie kids feel like they were reborn when they first heard Boys and Girls In America. Released October. 3rd, 2006, it was the Brooklyn band's third album turned them into darlings of the indie rock world. It was among the Best Album's of 2006. The Guardian gave it five out of five stars, saying, "Finn's lyrics, combining precise observation with poetic sensibility — he is an astonishing writer — would mean less without the power of the band behind him."
While Separation Sunday had done really well , Boys & Girls kicked everything into a higher gear- more shows, bigger shows, more travel, more craziness. Craig Finn explains
The album was the first written with Franz and piano fully integrated into the band. We were also coming off a lot of touring for SepSunday, and had built and tested a well oiled rock and roll machine (and also a well oiled rock and roll lifestyle). We had fans that were eagerly awaiting the next release- that was new. And we worked with a top notch producer in John Agnello, who brought out some things that we hadn't previously thought of. The recording at Water Music in Hoboken was an absolute blast. One thing that I still marvel at is "You Can Make Him Like You"– it came together in about 10 minutes, and still is a song I love to play.
A lot of the praise was centered on frontman's Craig Finn's ability to use Springsteen-like storytelling and instrumentation to tell tales of modern skater kids, hood rats and druggies. Boys and Girls in America sounded like a punk rock take on Darkness On The Edge Of Town there's a piano break in opening track "Stuck Between Stations" so reminiscent of E Streeter Roy Bittan that for a moment the song could be a Boss outtake.
Finn acknowledged the similarities even while pushing back against them
"Obviously that classic bar-rock thing is something we go for, and Springsteen has done it very well," Finn said. "But I hate to make such a one-to-one comparison because a lot has happened musically since the E Street Band made those records 30 years ago." "I think the [Springsteen] comparison ends with the guitars," guitarist Tad Kubler said
He was right, a lot had happened. And nearly every trend in straight-ahead rock 'n' roll was absorbed by the Hold Steady to make Boys and Girls in America. Obviously alternative icons such as the Clash and the Replacements but so were mainstream rock in '70s bands like Kiss and particulary Cheap Trick sounds, fans found plenty to dig on the LP. Perhaps one of the reasons this album still connects with people is that Boys and Girls in America STILL have such a sad time together. Some of the mysteries discussed on this album are far from being solved.
Early adopters of the album championed this hybrid style and its rejection of the strutting, preening soundtrack of New York. The album gave the Hold Steady a massive cult following, but it didn't turn them into stars. Finn believed that their less-commercial sound may have proved difficult in turning their critical acclaim into massive sales.
Still, for a moment, it seemed as if the band would become huge, and the Hold Steady became the first band in 15 years to make the cover of the Village Voice. The Boys and Girls in America tour unfolded with a feel of you-gotta-see-this-band-before-they-are-huge.
But for the band, it still represented a watershed moment — selling 100,000 physical copies isn't something most rock bands can do these days. And thankfully, a cult can keep a career alive for a long time.