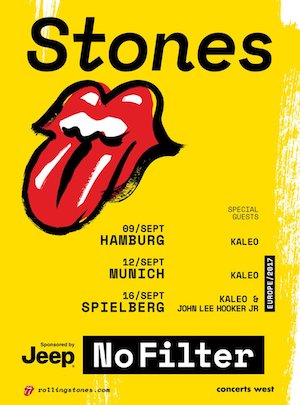 The Rolling Stones opened their No Filter European tour last night (9th September) with a spectacular show at Stadtpark in Hamburg. The 14-date, 12-venue itinerary got under way with a new stage design, at the first public concert in the location for 28 years. The Rolling Stones kicked off their 2017 No Filter Tour on Saturday 9th September 2017 in Hamburg, Germany. Opening with Sympathy For The Devil they delivered an electrifying set, featuring songs throughout the decades, including Play With Fire and Dancing With Mr. D.
The Stones delighted the massive crowd of 82,000 fans with a 22-song setlist that included many staples of their storied career such as 'It's Only Rock 'n' Roll,' 'Honky Tonk Woman', 'Start Me Up' and 'Brown Sugar.' The band are also featuring a public vote to choose one lesser-performed number from their catalogue for each show. Last night's winner was 'Under My Thumb.'
The show also featured several other songs that the Stones feature less often in their set, including 'Play With Fire' from Out Of Our Heads and 'Dancing With Mr. D' from Goats Head Soup. Keith Richards' traditional vocal feature spot included not just his trademark Exile On Main St. staple 'Happy' but the Steel Wheels gem 'Slipping Away.'
There was also space in the set for the band to perform 'Just Your Fool' and 'Ride 'Em On Down,' from their current, hugely popular blues album Blue & Lonesome. The show reached its climax with '(I Can't Get No) Satisfaction',  'Gimme Shelter'  and  'Jumpin' Jack Flash.'
The tour now moves to the Olympic Park in Munich on Tuesday (12th) where, as last night, the opening act will be the Icelandic band Kaleo. They will be joined at the show in Spielberg, Austria on 16th September by John Lee Hooker Jr. The No Filter tour continues into late October, concluding with three shows on the 19th, 22nd and 25th of that month at the U Arena. Support there comes from Cage The Elephant; other dates feature the Struts, Los Zigarros, de Staat, Rival Sons, the Hellacopters and Leon Bridges.