Are you excited yet? It's just a few days until the Green Man Festival 2017 in the beautiful Brecon Beacons, and we can't wait it could be the best Green Man yet . It's their fifteen Anniversary this year, I have been lucky enough to have been to eleven over the past years .There's some pretty impressive headliners this year with PJ Harvey, Ryan Adams and Future Islands and Ride.
But what about away from the main Mountain Stage? The Far Out Stage is maybe the place to be but in the Walled Garden and the comparatively new Rising Stage could throw up a few gems like last year. I thought I would share a few of those artists worth checking out, for no other reason than I like them. And there's plenty more bands that I could have included. Needless to say, it doesn't matter where you wander this year, you're still going to find someone pretty impressive.
Thursday 17th August  Far Out Stage
H Hawkline –  Far Out Stage
We've got to start with a Welsh boy haven't we? Huw Evans, otherwise known H Hawkline, is a Welsh singer/songwriter based in Cardiff. He's also lived in LA, and does radio and tv presenting (including S4C's Bandit with Huw Stephens. He's supported Gruff Rhys on tour.
Anna Meredith – Far Out Stage
Anna Meredith is a composer, producer and performer of both acoustic and electronic music.  Her sound is frequently described as 'uncategorisable' and 'genre-defying' and straddles the different worlds of contemporary classical, art pop, electronica, ambient installations and experimental rock . In March 2017 the band went on their first US tour including performances at SXSW, which the New York Times reviewed as "sheer exhilaration"  while NPR's Bob Boilen described the show as "a stormy, ecstatic, endlessly danceable thrill to behold…the best artist I've seen at SXSW and one of the most creative bands I've seen in years. Music for the head, the heart, the ass and the feet".
Harleighblu  – Chai Wallahs
The 21-year-old from Nottingham takes inspiration from the likes of Erykah Badu and Lauryn Hill, amongst others. Her voice sounds like a cross between Jill Scott and Amy Winehouse, and she oozes silky soul. She's with the Chai Wallerahs on Thursday also.
Friday 18th August
Siobhan Wilson  – Mountain Stage
Siobhan Wilson is a singer songwriter from Glasgow. She cites Nina Simone, John Martyn and Perfume Genuis among her influences and has recently toured with Willy Mason. She recorded her debut album Glorified Demons in her home city and it features, among others, the super popular track All Dressed Up, which has been downloaded for free over 50,000 times!.
Happyness  – Mountain Stage
Happyness are a 3-piece alternative rock band from London, consisting of Jon EE Allan, Benji Compston and Ash Cooper. All 3 members write the songs and are known for swapping roles within the studio and live shows, Their new album 'Write In' shows that, beneath their more leftfield influences, Happyness have it in them to be classic songwriters of considerable skill.
Kikagaku Moya  – Far Out Stage
Kikagaku Moyo are a Japanese psychedelic rock band from Tokyo, The band was formed by Go Kurosawa (drums/vocals) and Tomo Katsurada (guitar/vocals) in the summer of 2012 .
Chris Forsyth and the Solar Motel Band  – Far Out Stage
Chris Forsyth is a lauded guitarist, composer, and bandleader whose widescreen art-rock, fusing taut compositions and mercurial improvisations, has earned him a reputation as one of the most distinctive and critically acclaimed guitarists working today. In 2013, he assembled The Solar Motel Band, who quickly developed a reputation as an incredible live act, provoking ecstatic comparisons to visionary artists such as Television, The Grateful Dead, Popol Vuh, Neil Young & Crazy Horse, and Richard Thompson.
In 2016 he released the double LP The Rarity of Experience (No Quarter) to universal raves.  its "a near-perfect balance between '70s rock tradition and present day experimentation," NPR Music named Forsyth "one of rock's most lyrical improvisors," and the New York Times called him "a scrappy and mystical historian.
Angel Olsen  –  Far Out Stage 
Olsen's songs have often occupied an internal landscape where thoughts weigh heavy and loners fret over how to say that thing they really need to say to someone. "Shut Up Kiss Me" is all action, hang the consequences and anguished rationale, and if there's any distance between Olsen and what she's projecting, she hides it consummately. She rocked out on 2014's "Burn Your Fire For No Witness" but always from behind a thick curtain of murk. "Shut Up Kiss Me" is precise as her demands, illuminating every pyrotechnic reaction in Olsen's throat. "We could still be having some sweet memories," she sings towards the start of the track, her voice catching like a match against the striking strip. Eventually, she concedes, "It's all over baby, but I'm still young," like a volcano about to blow. It's an appropriately apocalyptic note: "Shut Up Kiss Me" is a come-on for these times when the end of the world feels nigh, so what the hell are you waiting for?
Gill Landry – Walled Garden,
A founder member of The Kitchen Syncopators, Louisiana native, Gill Landry, is a singer songwriter, multi-instrumentalist, and storyteller.he also played with Old Crow Medicine Show. The singer/songwriter makes the sort of sounds you expect to hear blowing through a old dust-bitten mid west town. The Walled Garden on Friday.
Nadia Reid  –  Walled Garden
Eighteen months on from Nadia Reid's 2015 debut the 25-year-old New Zealander has delicately but decidedly upped the ante. Her ethereal, pensive vocals are cast against plangent folk-guitar shapes, but there is more dirt under her nails. The songs deal with empowerment through determination in the aftermath of love and loss, often in no uncertain terms. The transcendental title track finds her quietly informing someone that she stayed too long. Reach My Destination bids a more bitter farewell: "Two little words that I used … One was 'fuck', the other was 'you'." Such caustic undercurrents provide startling electric shocks amid what is mostly humbling, melancholy beauty, although the 10 songs cover a spectrum from Martha Wainwright/Laura Marling acoustica to Stevie Nicks-style spectral pop. However, with little more than her voice and guitars, and Hanson St. Pt 2, I Come Home to You and Ain't Got You are quietly, perfectly crafted statements from a blossoming talent.
Kate Tempest  –  The Far Out Stage
Not just a singer but a poet, spoken-word performer and playwrite. pIn 2013, she won the Ted Hughes Award for her work Brand New Ancients. Her 2014 album Everybody Down (Big Dada) was nominated for a Mercury Prize. Far Out stage on Friday.
Pumarosa  –  Walled Garden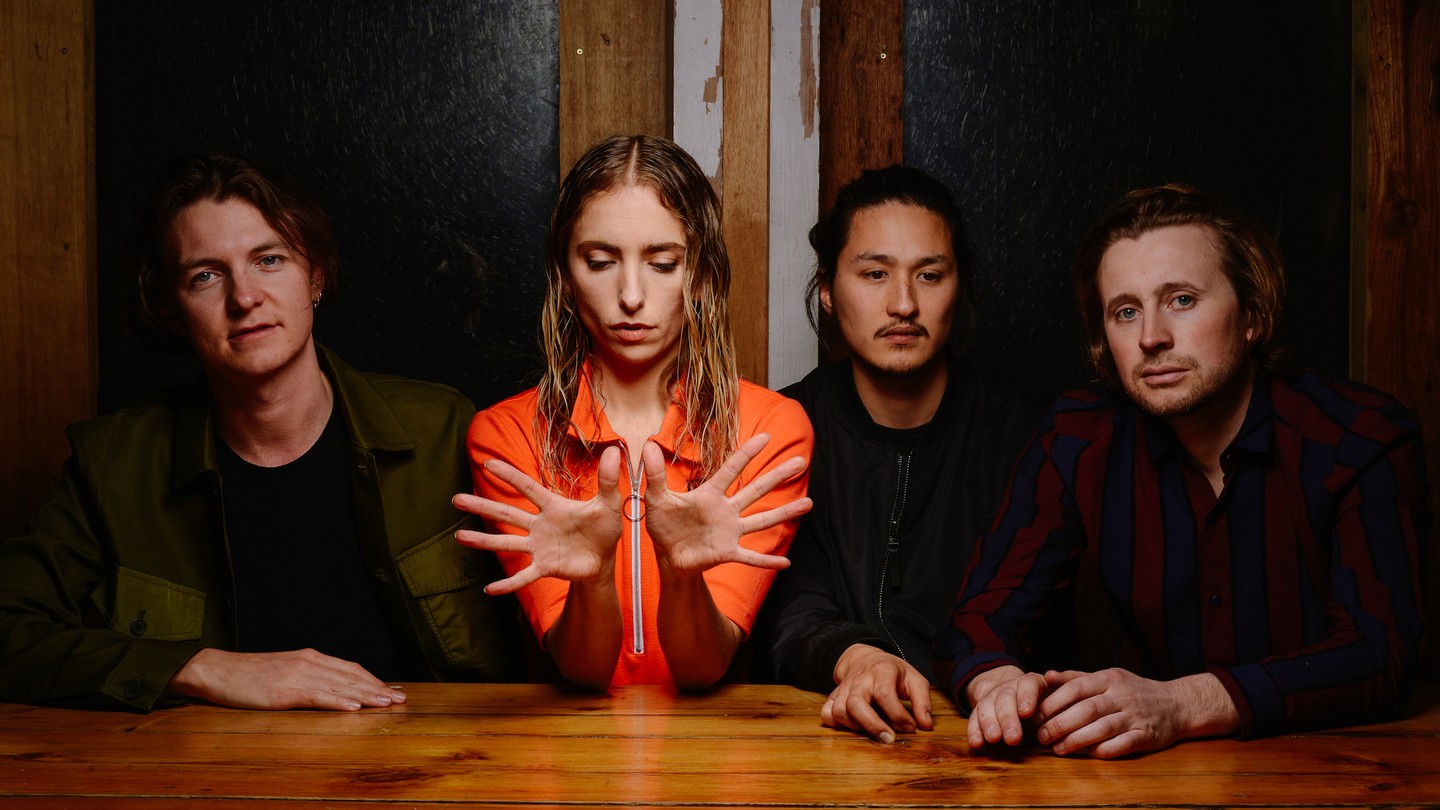 Pumarosa thrive under the influence of the unexpected. From chance encounters with mad-hatter characters, to 6AM strikes of inspiration on the rooftops of east London raves, their music is a patchwork history of happy accidents and hazy memories. The four-piece Pumarosa singer Isabel Muñoz-Newsom completed by Tomoya Suzuki, Nicholas Owen and Jamie Neville have sat outside the norm since day one. Releasing a slow-burning, eight-minute debut single like "Priestess" is a statement in and of itself, pushing back against a world we're so often told is plagued by ever-shortening attention spans. Theirs is a constant tug-of-war between their abstract ambitions and more real-world practicalities – from having to chop and change their live line-up due to work commitments, to relying on freebie recordings from friends to get their first ideas off the ground.
Stevie Parker – Rising Stage
I've been a big fan of Stevie Parker since the first time I saw her, the debut album"The Cure", is a real pleasure songs such as Blue, Without You, Prey and Stay. Songs that I've grown to love since the albums release and songs that I've yearned to see performed live. As Stevie only has her debut album and an EP but I thoroughly recommend going to see Stevie Parker if you get chance.
Nordic Giants – Cinedrone
Famed for their engulfing live performances, Nordic Giants perform live soundtracks to beautiful award-winning short films. The mysterious duo are always hidden behind masks – surrounded by thick smoke, lights and projections screens – Its an experience for all the senses!