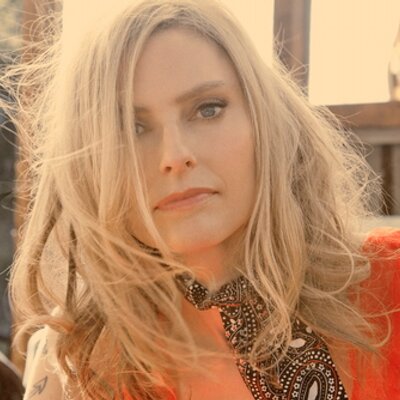 The 30 Days, 30 Songs project is a new thing: A full month of musicians posting anti-Trump music in the lead-up to the election. Death Cab For Cutie kicked it off with their new song "Million Dollar Loan" And today, the veteran badass singer-songwriter Aimee Mann has contributed the new song "Can't You Tell," a song that she actually wrote from the perspective of Trump. Singing in character as Trump, Mann paints a portrait of a disturbed man who's in over his head: "Isn't anybody going to stop me? / I don't want this job, I don't want this job / My god, can't you tell I'm unwell?"
Aimee Mann has said:
I wanted to write about Trump in the first person because I think it's more interesting to speculate on what people's inner life might be. I had heard a theory that Trump's interest in running for President was really kicked off at the 2011 White House Correspondent's dinner when President Obama basically roasted him, so that's where I started. And my own feeling was that it wasn't really the job itself he wanted, but the thrill of running and winning, and that maybe it had all gotten out of hand and was a runaway train that he couldn't stop.
To combat apathy, entertain the citizenry, and provide a soundtrack to resistance, over the next four years, the producers of 30 Days, 30 Songs will assemble a playlist of 1,000 songs. One song every day to get us through what promises to be a tumultuous and frequently dispiriting and certainly bizarre presidency. The playlist will feature original tracks, unreleased live versions, remixes, covers, and previously released but relevant songs that will inspire and amuse and channel the outrage of a nation.
Despite the results of the election, we still believe it's possible to build a more inclusive, equal, and just America. The world will not end on January 20th. It will continue to move forward, and it is up to us to chart its course. In the coming weeks, we plan to raise money for this endeavor through a crowdfunding campaign.