"Mickey Bradley. That's the stage name, of course. My real name is Michael Bradley." When I knew my copy of this book was on its way, I headed for Spotify and listened to as many tracks by The Undertones as I could find. I loved most of it. "Teenage Kicks" is a given, as great a record as a record can be and John Peel (who, by the way, was 39 at the time of its release) gave it his blessing which was a golden endorsement. There is so much raw energy, boisterousness, hyperactivity and humour in the back catalogue that it is impossible not to appreciate that these kids were on to something distinctive and special.
Through his radio shows, I know Michael Bradley's voice and presentation style and, as I read the book, I could hear him narrating it. Overall, it is conversational, nostalgic, honest and very funny.
The story starts with a bunch of Derry kids with notions of forming a band, even though they had barely a plectrum or drumstick between them. Through Provident and Credit Union loans, Freeman's catalogue easy payments and however else a few shillings could be scraped, slowly but not always surely, a semi-equipped band emerged, as did the opportunity for a few local gigs. In addition, singer Fergal Sharkey had access to a Radio Rentals van, for transport is essential in the world of rock and roll, even in a small world. The NME was the weekly road map through the music business. McDonald's grub became the sustenance of choice.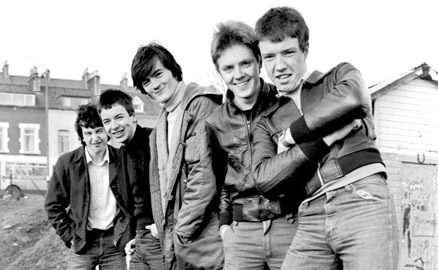 The Undertones' hangout was a prefab joint in Derry called The Casbah ("one third smoke, one third sweat, one third essence of beer spilled on carpet."). The seemingly ramshackle repertoire comprised covers of Rolling Stones songs and a few others that took their fancy. Eventually, with some original songs, a bit of a local fan base and a whiff of ambition, they decided to find a way to make a record. Assisted by local legend Terri Hooley and his Good Vibrations venture, a 4-song (including "Teenage Kicks") EP surfaced which found its way to John Peel who exposed it to a wider world including Sire Records and The Undertones were on their way as a proper band in the roughshod world of punk.
As seems common in stories like this, contractual and other legalities were handled badly. The band was not administratively savvy and advantage was taken. But, on the upside, there was the excitement of London, Europe and US trips, appearing on Top of the Pops, recording singles and LPs, playing gigs, posing for silly publicity photos, meeting a few of their music heroes and all the ballyhoo of being young, carefree guys in a rock band. Through it all, The Undertones wanted to be themselves, feet on the ground Derry lads.
On reflection, an older Michael Bradley says: "I've often thought that managing The Undertones would be a thankless task, with our lack of ambition, our accents and our reluctance to engage in the business side of things. Add to that our irrational dislike of touring and people who work in record companies. We didn't even have any addictions to drink or pharmaceuticals. At least we'd have had something in common with other bands."
The Undertones released 13 singles and 4 studio albums between 1978 and 1983. They still tour occasionally today. As I read this excellent book, my dislike of the generic word 'punk' thawed and I grew fond of The Undertones as people and as musicians. Listening to their catalogue now added to the enjoyment of their story. Michael, Mickey and Mike Bradley have together produced a wonderful book of memories told in a detailed, sincere and entertaining way. Kids forming bands today would benefit from reading this story, the ups and downs and highs and lows of showbiz, and the importance of staying true to their roots. It is nostalgic, witty and a joy to read.