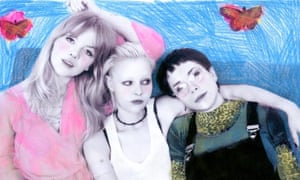 Dream Wife are named after a 1953 romantic comedy starring Cary Grant and Deborah Kerr. It's a movie from the golden age of Hollywood, the pre-countercultural era, with a surprisingly feminist bent. That notion of getting something more, or different, than what you expected appeals to the members of the band, who love the subversive quality of David Lynch's work and estimated, probably rightly.
They comprise three musicians, two British and one (singer Rakel Mjöll) Icelandic. Actually, "musician" does them a disservice: they're artists, and music just happens to be the vehicle for their ideas right now. They were studying, variously, fine art and visual art at college in Brighton a year ago when they had the concept of forming a "fake girl band" as an art project for a gallery exhibition. So they wrote a few songs, recorded them, made a mockumentary inspired by Spinal Tap, and performed at the opening of the exhibition. It went so well, the fake/fantasy outfit became a reality. They started getting booked for gigs around England, even playing a festival, wrote some more songs, toured Canada and signed to Enfer Records.
The lineup: Rakel Mjöll (lead vocals), Alice Go (guitar, vocals), Bella Podpadec (bass, vocals).
Dream Wife performing live at Kex Hostel in Reykjavik during Iceland Airwaves. Recorded November 6, 2016.
Songs:
Lolita
Fire
Take It Back
Kids
Somebody
FUU
Hey Heartbreaker