There's something gratifying about following a band that you first see maybe as a support then through to their first headline tour, the release of their EPs and then the debut LP. I've followed many bands to this point and one such as Palace,  Effortlessly bulldozing their way on to 'the scene' in 2014 with debut EP "Lost in the Night", it was obvious then that something a little special was a-brewing. And thankfully, like all good journeymen, the London four-piece have kept true to the roots that sowed them.
Tracks like the hypnotically sparse "Black Heath" ebb and flow with drowsy effervescence, wonderfully framing lead vocalist Leo Wyndham's endearing drool. Different to much that has come before it, the four piece, like all good storytellers, introduce a number of different elements throughout the song, which mirrors the sonic chiaroscuro and emotional contrasts that appear when looking at the 11 track offering on the whole. This is never more apparent than when the excruciatingly honest and airy "Family" is followed by "Have Faith" .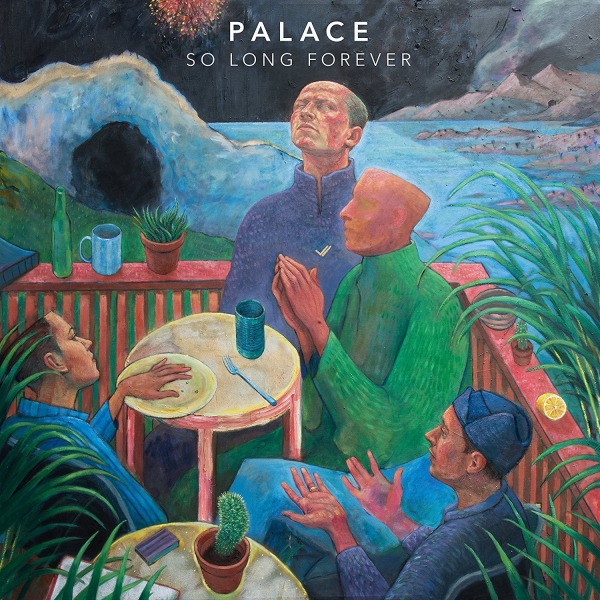 This effect – which appears throughout – offers a nice balance, both stylistically and temporally. The result is a rounded sound from a band who seem to have very much found their feet, and – to continue the podiatric proverbs – are comfortable in their own shoes. This is seen most explicitly in the re-mastered version of "Bitter" (which appeared on their debut EP). Many would have opted to keep it as it was, but instead, Wyndham et al went for more layers and a slightly more 'unkempt' sound, a musical entropy effect if you will, going from the more ordered original to something less so.
At points you do find yourself wanting a little more, however . The title track "So Long Forever" and closer "Slaving On" opt for a faster paced and glitchy backdrop – again providing a nice contrast to Wyndham's vocal – but only threaten to take off, without ever really getting there. Potentially an aversion to risk? Or perhaps they're aware, going back to narrative theory, that sometimes it's the tension and anticipation that cause the strongest effect
With comparisons to the likes of Foals and The Maccabees a plenty, it does strike me that the release of this emphatic debut becomes all the timelier with the hole left by the departure of latter. One only has to listen to "Holy Smoke" – the album's pièce de résistance – to realise this. With all the varied elements that appear on the LP melded into one, the three-minute masterpiece sees the London four-piece emphatically flex their various musical muscles, and with this synecdochical track as their flag in the ground, Palace show they have matured-yet-remained faithful, and expanded-yet-honed. So Long Forever is an album from a band who know what they want, and how they want to get there.