THE JAYHAWKS – PAGING MR PROUST
Produced by REM guitarist Peter Buck, Tucker Martine, and Gary Louris, this is the first Jayhawks album since 2011's 'Mockingbird Time' and is a return to the lineup of the band that made 'Rainy Day Music' in 2003 – the core band of Gary Louris, Marc Perlman, Tim O'Reagan, and Karen Grotberg. "It's the start of a brand new adventure." sings Gary Louris on 'Quiet Corners and Empty Spaces', the opening track on The Jayhawks' new album 'Paging Mr. Proust'. The band formed in Minneapolis in 1985 and the album shows their commitment to adventure and forward motion which makes this collection of songs exciting and instantly memorable.
LP – Housed in Gatefold Sleeve with Download.
John Doe – The Westerner CD/LP (Cool Rock)
John Doe calls his new album The Westerner his "psychedelic soul record from the Arizona desert." The album features 10 new tracks from Doe with guest appearances from Chan Marshall of Cat Power, Debbie Harry of Blondie, Cindy Wasserman of Dead Rock West and Tom Brosseau. The Westerner was produced by Howe Gelb (Neko Case, M. Ward), Dave Way (Fiona Apple) and Doe. The album's artwork was designed by Shepard Fairey and Aaron Huey to support Native American rights via a campaign called Protect The Sacred, with additional photography by Jim Herrington. Of the album Doe says, "The Westerner is dedicated to Michael Blake, author of many books, including Dances With Wolves, who was a scholar and advocate for Native American rights. He was also one of my best friends for over 30 years. Michael taught me how to ride horses (we knocked each other off them several times) and we taught each other about writing, music and art. Many of these songs are about him or use him as the main character. His presence has been with me throughout the making of the record. It's a wild, spread-out, desert-like life that we've lived."
SUN KIL MOON / JESU – SUN KIL MOON / JESU
'Sun Kil Moon / Jesu' is a collaborative studio album by American indie folk act Sun Kil Moon and British experimental act Jesu. The album also features guests Will Oldham aka Bonnie 'Prince' Billy, members of Low, Rachel Goswell of Slowdive and Isaac Brock of Modest Mouse.
2LP – Double LP with wide spine sleeve and a copy of the album on CD.
KING GIZZARD AND THE LIZARD WIZARD – NONAGON INFINITY
Recording, releasing and touring a couple of albums in 18 months is beyond the realms of comprehensibility for most bands, but then King Gizzard And The Lizard Wizard aren't 'most bands'. Forget a couple of albums, Friday April 29th 2016 marks the release of 'Nonagon Infinity', their fourth long-player for Heavenly Recordings in a little under a year and a half. Workshy they ain't! After the acid-flecked cosmic jazz of 'Quarters' and the hazy, pastoral, acoustic bliss of 'Paper Mache Dream Balloon', with 'Nonagon Infinity' the Gizzard once again dive head-long into the gonzo freak-beat frenzy that mark both their Heavenly debut 'I'm In Your Mind Fuzz', and their perpetually in motion, double-drummer propelled live show. Recorded by Wayne Gordon, Paul Maybury, Michael Badger and Stu Mackenzie at Daptone Studios in Brooklyn, in keeping with their indefatigable spirit the 9 track album may be the world's first infinitely looping LP. Each of the nine, complex, blistering tracks on 'Nonagon Infinity' seamlessly flows into the next, with the final song linking straight back into the top of the opener like a sonic mobius strip.
LP – Black Vinyl in Gatefold Sleeve with Download.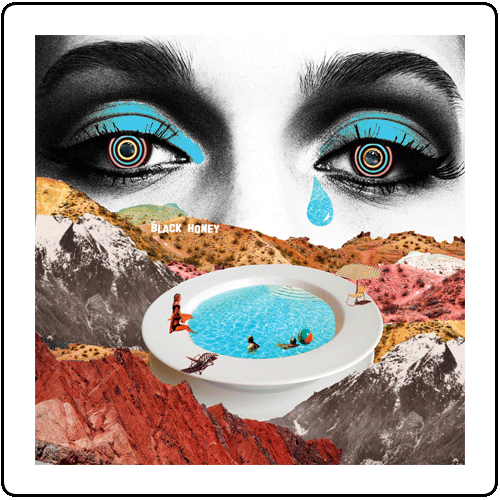 BLACK HONEY  –  Headspin 10″ Vinyl
Tracklisting:
Side A
1. All My Pride
2. Headspin
Side B
1. On Your Time
2. Mocking Swing
THE BARR BROTHERS – ALTA FALLS
Limited Red Vinyl 10″. The Barr Brothers release a new EP called 'Alta Falls'. The 5 songs on this record are some of their favourite misfits from the 'Sleeping Operator' sessions. The cover art is by their elusive friend Madame Gilles, whose posters have been anonymously gracing the telephone poles of Montreal for years.
THE LIMINANAS – MALAMORE
Working in the sweetly swinging tradition of Serge Gainsbourg and the ye-ye sound of the '60s, the Liminanas have a sound that blends sunny psychedelia with vintage pop. Based out of Perpignan, France, the group is composed of drummer and sometime vocalist Marie Liminana and bassist, organist, and jack-of-all-trades Lionel Liminana, as well as a host of guest vocalists including MU. With its combination of fuzzy organ, half-spoken / half-sung vocals, and vintage production, the band captures the sexy, ultra-hip sound of classic French pop. After releasing a series of singles, the duo released its self-titled debut in 2010 through the Chicago label Trouble in Mind. The band continued to crank out singles, and a second album, 'Crystal Anis', followed in the summer of 2012. After taking some time to revamp the Liminanas' sound to introduce more elements of French and Italian soundtrack music, the duo returned quickly with its third album for Trouble in Mind. 'Costa Blanca' was issued in late 2013. The band are now back with a new release 'Malamore'
.LP – Housed in gatefold sleeve with CD Version.
LUH  – SPIRITUAL SONGS FOR LOVERS TO SING
Rough Trade Exclusive with a Bonus Six Track CD 'Spiritual Songs for Lovers to Sing – Prologue'. LUH (which stands for Lost Under Heaven) is Ellery Roberts and Ebony Hoorn. Over the past two years, they have been releasing music, art, photography, film and manifestos into the world, including 2014's 'Unites' video and the expansive 'Lost Under Heaven' music and artwork package at the end of last year. Ellery's name might be familiar as the frontman of WU LYF, whose raw and primal voice helped create a sound that shaped a new model for the untamed fury of youth. Ebony is an audio-visual artist based in Amsterdam, where the pair now live, and co-directed the new video with Florian Joahn. 'Spiritual Songs For Lovers To Sing' is the pair's debut album and was produced by The Haxan Cloak (known for his own genre-bending experimental compositions and work on Bjork's Vulnicura album) in 2015 on the remote island of Osea.
LP+ – Rough Trade Exclusive Vinyl – Limited to 350 Copies with a Lyric Booklet. Double vinyl (AB white vinyl / CD black vinyl), packaged in separate sleeves with an A2 newsprint style poster and encased in a printed PVC outer sleeve. Comes with Bonus CD and Download. Also comes with 3 limited edition prints.
2LP – Double vinyl (AB white vinyl / CD black vinyl), packaged in separate sleeves with an A2 newsprint style poster and encased in a printed PVC outer sleeve. Comes with Bonus CD and Download.
LP – Double vinyl (AB white vinyl / CD black vinyl), packaged in separate sleeves with an A2 newsprint style poster and encased in a printed PVC outer sleeve. The Indie Retail Vinyl includes 3 limited edition prints. Comes with Bonus CD and Download.
CD – Comes with Bonus CD.