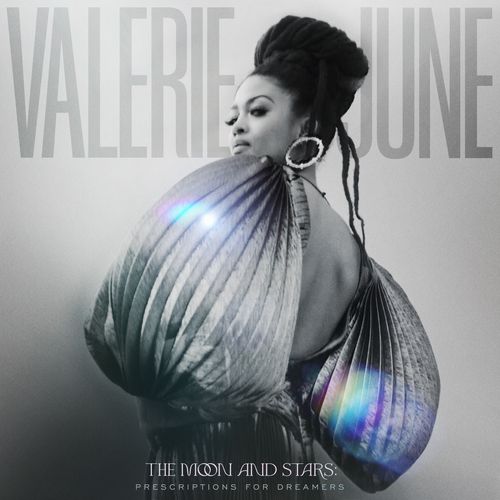 Tennessee-born singer/songwriter Valerie June "takes the dreamer's path" on her first new album since 2017's The Order of Time, expanding the scope of her already-nuanced folk/soul stylings to incorporate elements of funk, pop and psychedelia—adding a touch of the cosmic to her Americana. June, who co-produced her new record alongside Jack Splash (Kendrick Lamar, Alicia Keys, John Legend), wastes no time in setting its tone, opening with three-song suite "Stay" / "Meditation" / "You and I," and drawing inspiration elsewhere from the likes of Afrobeat giant Fela Kuti and David Bowie collaborator Tony Visconti. "With this record, it finally became clear why I have this dream of making music. 
When singer Valerie June began work on her new album, she knew she wanted to recapture the magical thinking of her youth, reflecting on the mysteries of the universe and the ties that bind us with childlike wonder. The result is a beautifully enchanting collection of songs called The Moon and Stars: Prescriptions For Dreamers. Listen to the songs "You And I" and "Starlight Ethereal Silence" from the record and talk about the inspired ways Valerie June weaves together folk, soul and cosmic psychedelia on this spiritual and sonic journey.
Immediately uplifting & spiritually revitalising, June's sun-dappled folk-soul melodies open up an ocean of positivity and possibility in a year prefaced with introversion and despondency.
Conjuring a next-generation fusion of folk, soul, gospel, country and transcendental blues, the moon and stars, prescriptions for dreamers, Valerie June's third full-length album for Fantasy Records is a deeply affecting work of genuine beauty and unassuming wonder. produced by jack splash and Valerie June and recorded at fresh young minds in Los Angeles, Ca and hit factory criteria in Miami, Fl., the new album is her first release since 2017's highly acclaimed the order of time and features 11 songs and three musical interludes, all written by Valerie. fans of Frazey Ford, Michael Kiwanuka, Whitney and Brittany Howard/Alabama Shakes lovers will be delighted with this record.
It's not for earthly reasons of wanting to be awarded or to win anybody's love—it's because dreaming keeps me inquisitive and keeps me on that path of learning what I have to share with the world," said June in a statement. "When we allow ourselves to dream like we did when we were kids, it ignites the light that we all have within us and helps us to have a sort of magic about the way we live.
From the album "The Moon And Stars: Prescriptions For Dreamers"