Praised as "one of the unsung heroes of American pop music" Despite a life marked by tragedy and a career crippled by commercial indifference, the singer/songwriter's slim body of recorded work proved massively influential on the generations of indie rockers who emerged in his wake."
He was one of the pioneers of power pop – and his catalog of proto-alternative rock has inspired the likes of Beck, R.E.M., Teenage Fanclub, Primal Scream, Afghan Whigs, Pete Yorn, Wilco, The Posies, and The Replacements, all of which have covered his music or name-dropped his band, Big Star, in the press. His name was Chris Bell.
Christopher Branford "Chris" Bell (January 12th, 1951 – December 27th, 1978) was born in Memphis, Tennessee to a well-off family. He was a sharp, funny, deeply introverted and sexually confused young man, who dreamed of rock stardom.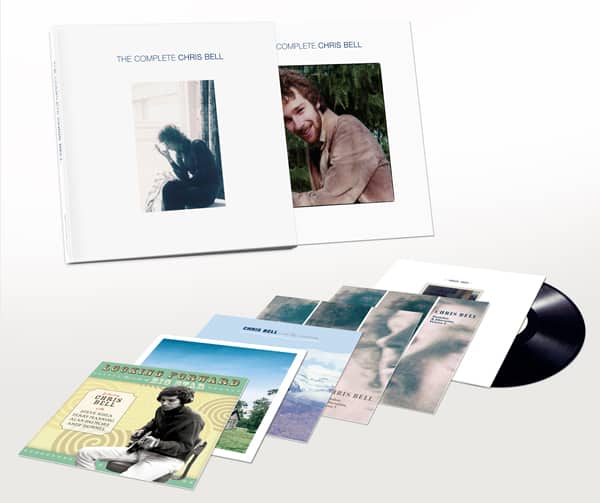 Omnivore Record's Looking Forward: The Roots of Big Star Featuring Chris Bell was the first of several planned releases from the Grammy Award-winning label showcasing the talents of Big Star co-founder Bell, who passed away in 1978. The label recently announced their next two Bell projects: a new expanded edition of the quintessential Bell collection I Am The Cosmos, and a definitive archive of his work as a 6LP box set.
Prior to Rykodisc's I Am The Cosmos in 1992, only two of the tracks (the title cut and "You and Your Sister") were released during Bell's lifetime; both tracks were pressed on a single released shortly before a car crash took the Memphis hero's life. (Much of it was recorded long before that, after Bell had departed Big Star and decamped to Paris in 1974 and 1975.) In 2009, Rhino Records also issued a double-disc Cosmos set that featured not only alternate versions and mixes of the album's original tracks but also cuts by Bell's pre-Big Star bands Icewater and Rock City for context. As those tracks (and more) are now a part of Looking Forward, this new double-disc edition sweetens the deal with another 10 tracks, most previously unreleased. Compilation producer Alec Palao and writer Bob Mehr provide liner notes, and a clear vinyl version of the original album (the first release of this material on the format in years) will ship day and date alongside the 2CD set.
The material of Looking Forward and I Am The Cosmos will also be featured on a comprehensive vinyl box set, The Complete Chris Bell, to be released later this fall. That set includes the vinyl premiere of Looking Forward (reconfigured to include only the Icewater and Wallabys tracks, plus Bell's solo "Psychedelic Stuff"); a separate vinyl debut of the material from Rock City, the I Am The Cosmos vinyl (as well as the material from the bonus disc on two LPs); and, exclusive to this set, a newly-discovered career-spanning interview with Bell, conducted by journalist Barry Ballard in 1975 and sourced from his own personal copy of the conversation.
Palao and Mehr again offer notes for the box (alongside an excerpt from Rich Tupica's forthcoming biography of Bell), all tracks are remastered by Michael Graves, vinyl was cut at Ardent Studios by Chris Jackson and Adam Hill, and Palao, Hill and Omnivore head Cheryl Pawelski serve as the box set's producers, with the full cooperation of Bell's estate (as run by his brother David). I Am The Cosmos is back in print , while The Complete Chris Bell is available November 24th!
In 1964 and 1965, Bell played lead guitar in a British Invasion-influenced group called the Jynx (the name is a takeoff on The Kinks) with local musicians, including lead vocalist Mike Harris, rhythm guitarist David Hoback, drummer DeWitt Shy, and bassist Bill Cunningham, and later, bassist Leo Goff. Other lead vocalists at some of the group's shows and rehearsals (though not present on their recordings) included local teens Ames Yates, Vance Alexander, and Alex Chilton. Chilton, who attended many Jynx shows and sang lead vocals at a couple of gigs, soon joined the Box Tops with Cunningham, as the Jynx split up in 1966. Here are the Jynx, with Bell on lead guitar, performing Little Girl:
Bell continued to perform and record in Memphis throughout the rest of the decade, including a stint in the heavier psych-rock band Christmas Future. By the late 1960s, after attending UT in Knoxville, he had turned his focus toward writing original songs. The group later known as Big Star stemmed from two Bell band projects that began in the late 1960s, while he recorded and performed live in groups, named Icewater and Rock City. These groups featured a revolving set of musicians including Jody Stephens, Terry Manning, Tom Eubanks, Andy Hummel, Richard Rosebrough, Vance Alexander, and Steve Rhea. Here are Icewater and All I See Is You:
Bell asked Alex Chilton to join several months after the group had started performing. Eventually, during a period of recording demos and tracks for their first album, the group settled on the name "Big Star." The lineup for Big Star's first album was composed of Bell (guitars/vocals), Chilton (guitars, vocals), Hummel (bass, vocals), and Stephens (drums, vocals). Bell and Chilton wrote most of the group's songs, with occasional writing contributions from Hummel and Stephens.
Big Star were, in the words of Robyn Hitchcock, "a letter posted in 1971 that didn't arrive till 1985." Crowned the inventors of power pop, they were, over the course of three critically acclaimed but commercially unsuccessful albums, much more than that. Nobody could turn pain into beauty like Big Star.
In 1971, the 20-year old Alex Chilton has already been a star. He was the front man of The Box Tops, a manufactured rock combo who had one the biggest hits of 1967 with The Letter. His teenage stardom meant that he'd already met Charles Manson, toured with the Beach Boys, and watched Hendrix from the side of the stage before he could legally drink. He was an "art brat" who'd been given peyote as a kid and was already living a remarkable life. But witnessing the guitar shredding, five-part harmonizing experimenters of rock had left him feeling uncomfortable. He was essentially in a boy band. He needed to step up and make his own music. So he quit The Box Tops and after a brief spell in New York, returned to his hometown of Memphis to make music he wanted to listen to.
Just to remind you what a great pop group The Box Tops were, here are a few of ther hits. Their first hit was their biggest, surely one of the classic singles of the 60s (and of all-time). Here's The Letter, with 16-year-old lead singer Alex Chilton:
Here's their third single, which was their second-biggest hit, "Cry Like A Baby":
Chris Bell obsessed with creating perfect, multi-layered pop music. To do this, he had the studios of Ardent Records, run by whizz kid engineer John Fry, who let the local musical kids use it at night for their own sessions. Fry taught Bell how to multi-track. Ardent had become a subsidiary of the legendary Stax Records, taking on some of its recording sessions and, in return, agreeing to be its pop/rock imprint. The studios and – bizarrely -TGI Fridays, were the twin pillars of a raucous Memphis counter-culture scene that was big on drinking, sexual experimentation and drugs, particularly ludes, Mandrax and related pills.
"That pill culture is unique to Memphis", says director and screenwriter Drew DeNicola. "It's what killed Elvis and it's what those Big Star boys were doing too. Everyone knew a crooked doctor. Polite society would go to bed and then, in the margins, the alternative kids could do what they wanted, as long as they made it to Sunday lunch with Momma."
It was out of this southern stew that Big Star's first album, #1 Record, came. The band's name had come out of desperation, taken from a chain of supermarkets, one of which sat across the street from Ardent. Chilton and Bell put their heart and soul into the album, with Jody Stephens and Andy Hummel on drums and bass respectively. It's an album of perfect pop songs, suffused with pain and melancholy, up-tempo and down-tempo, beautifully layered, subtle and all over the place genre-wise.
On its release in June 1972, #1 Record immediately received widespread acclaim, and continued to do so for six months, although an inability by Stax Records to make the album available in stores meant it sold fewer than 10,000 copies. Record World called it "one of the best albums of the year", and Billboard commented, "Every cut could be a single". It was described it as one where "everything falls together as a total sound" and one that "should go to the top". In 2003 it was ranked on Rolling Stone magazine's list of the 500 greatest albums of all time.
Eight years earlier in 1964, when their home town of Memphis, Tennessee became a tour stop for The Beatles, primary songwriters Alex Chilton and Chris Bell were thirteen years old. They went to the show together – and it made them see the light. Thirteen, a song Chilton wrote nearly six years after he first witnessed that Beatles performance, referred to the event with the line "Rock 'n' roll is here to stay".
Heavily influenced by the UK band, the pair – Bell in particular -wanted to model their songwriting on the Lennon–McCartney partnership, with the result that they credited as many songs as possible on Big Star's debut album to "Bell/Chilton". In practice, they developed material incrementally in the studio, each making changes to the other's recordings. Drummer Jody Stephens recalled, "Alex would come in and put down something rough and edgy and Chris would come in and add some sweet-sounding background vocals to it." The pair also each contributed songs individually composed before Big Star was formed, Bell bringing Feel, My Life Is Right, and Try Again, and Chilton, The Ballad of El Goodo, In The Street, and Thirteen.
Here's Feel, the album's opening track:
… and here's the song with which Alex "auditioned" for the band: Watch the Sunrise.
The album's short closing track, ST 100/6, is the only song where Alex Chilton and Chris Bell share lead vocals (lead vocals are divided among them on the rest of the album).
The critics loved the album but the public couldn't get their hands on it. Press attention focused on former teen star Chilton. Chris Bell, the driving force behind the album, was relegated to the sidelines.  The failure of #1 Record devastated him. He was tormented by his sexuality: he was probably gay but was unable, in Tennessee, to deal with it, and there were rumours in Memphis that he was in love with Chilton and that the latter's lack of reciprocation hastened his departure from the band, which came not long after #1 Record.
The frustration at #1 Record's obstructed sales contributed to tension within the band. There was physical fighting between members: Bell, after being punched in the face by Hummel, retaliated by smashing Hummel's new bass guitar to pieces against the wall. Hummel took revenge at a later date: finding Bell's acoustic guitar in the latter's unattended car, he repeatedly punched it with a screwdriver. In November 1972, Bell quit the band. When work continued on songs for a second album, Bell rejoined, but further conflict soon erupted. A master tape of the new songs inexplicably went missing, and Bell, whose heavy drug intake was affecting his judgment, attacked Fry's parked car. In late 1972, struggling with severe depression, Bell quit the band once more, and by the end of the year Big Star disbanded.
After a few months Chilton, Stephens, and Hummel decided to reform Big Star, and the three resumed work on the second album. The title chosen, Radio City, continued the play on the theme of a big star's popularity and success, expressing what biographer Robert Gordon calls the band's "romantic expectation"
Although uncredited, Bell contributed to the writing of some of the album's songs, including O My Soul and Back of a Car. Shortly before the album's release, Hummel left the band: judging that it would not last, and in his final year at college, he elected to concentrate on his studies and live a more normal life.
For all the trouble surrounding it, Radio City met with general acclaim. Critics judged the musicianship "superb" It was called "a collection of excellent material"; giving it an "A" rating, Robert Christgau calls the album "Brilliant, addictive", observing meanwhile that "The harmonies sound like the lead sheets are upside down and backwards, the guitar solos sound like screwball ready made pastiches, and the lyrics sound like love is strange," concluding his review with, "Can an album be catchy and twisted at the same time?"
However, sales were thwarted (again!) by an inability to make the album available in stores. As a result, the album achieved only minimal sales of around 20,000 copies at the time.
September Gurls is the best track on the album, almost as good as their best track overall, Thirteen.
Before returning to Bell's solo career, I would be amiss not to present Big Star's legendary third album known as Third or Sister Lovers. It was recorded in 1974. Though Ardent Studios created test pressings for the record in 1975, a combination of financial issues, the uncommercial sound of the record, and lack of interest from singer Alex Chilton and drummer Jody Stephens in continuing the project prevented the album from ever being properly finished or released at the time of its recording. It was eventually released in 1978 by PVC Records.
After two commercially unsuccessful albums, Third documents the band's deterioration as well as the declining mental state of singer Alex Chilton. It has since gone on to become one of the most critically acclaimed albums in history and is considered a cult album.
You have to take into account that most of the songs in Third/Sister Lovers are practically demos. I wonder what would be the final form of these songs, had Alex decided to properly complete the album…
Chilton went on to have an interesting solo career, but commercial success always eluded him. In truth, he wasn't really aiming for it. He also briefly reformed Big Star, as well as regrouped with the original Box Tops for a number of tours. He was taken to the hospital in New Orleans on Wednesday, March 17th, 2010, complaining of health problems, and died the same day of a heart attack. Four months later, Hummel died of cancer.
Back to our man, Chris Bell. After leaving Big Star, Chris would attempt suicide, abuse strong sedatives and use religion to suppress doubts around his sexuality amid an inherently homophobic Deep South.
Vocally, to some, Bell was an icon trapped in the wrong era. "At times Chris could be so punk rock and he'd just make this painful noise from the back of his throat like a Cobain," beams Adam Hill, an engineer at Ardent, who remastered Bell's recordings for posthumous collection I Am The Cosmos. "On grungy solo track Better Save Yourself, Bell contorts his voice, sometimes shouting, to bellow: "You should've gave your love to Jesus, it couldn't do you no harm. You better save yourself, if you wanna see his face." This was songwriting that had little time for affectation. Whereas on a song like Though I Know She Lies you could be listening to Dylan on Lay Lady Lay. He always pushed his vocal cords to their very limit." On the delicate You And Your Sister, Bell pours his heart out about an unrequited love. When he reflects "Plans fail every day," to backing vocals by Chilton, who remained an acquaintance, you sense heartbreak of both a romantic and professional nature. And Speed of Sound – with its existential dread of "The plane goes down, it will not land. The pilot's dead, nowhere to be found"—hits you right in the gut, writing the angsty blueprint Elliott Smith would later follow to a tee.
Seen by friends as an intervention, Bell's brother David took him across Europe in the mid-70s, armed with these solo demos. Bell, an anglophile who imported copies of NME, would get the chance to work with hero Geoff Emerick—a pivotal engineer on all the best Beatles albums—at the legendary Air Studios. "It was good for him to go to Europe but I sense he was still in a really dark place. He was an impatient artist after Big Star," says Van Duren, a fellow Memphis musician. With a record deal not forthcoming, Bell accepted he needed a regular 9-to-5 upon his return to Memphis. For a while, he worked for his father's hamburger chain Danvers—a heartbreaking scene for friends who understood his talent.
While Bell was back home flipping burgers, Big Star were blowing up in the UK, with NME unable to keep up with reader letters requesting copies of their first two albums. In fact, demand for both albums was so high they were eventually reissued in a gatefold release. "I called Chris and it was one of the only times I remember him being really happy, as all those Beatles Parlophone pressings he loved had the same address on the back," remembers Stephens, noting that the reissue said "Pressed by EMI at Hayes, Middlesex" on the back. However, Bell's adulation would be short lived.
"When I came back to Memphis we made plans to meet at the studio. However, when I arrived he had already left," recalls Stephens. Friends and family still don't know for sure what happened in the early hours of December 27th, 1978, the dark mystique of Bell's music holding even in death. "What's weird is I decided to drive back and when I got to the Sears department store, I could see police cars with their lights flashing and there was this car in the middle of the road. A pole had fallen and completely crushed the left side of the roof. I immediately thought 'I shouldn't look.' The next day John [Fry] phoned to say Chris had died in a car accident. I had passed by Chris." He was 27, that fateful age.
Unreleased for over 15 years, I Am the Cosmos, Bell's only solo album, is nevertheless an enduring testament to the brilliance of Chris Bell; lyrically poignant and melodically stunning, this lone solo album is proof positive of his underappreciated pop mastery. The title track is a harrowingly schizophrenic tale of romantic despair:
We end this story with the album's highlight, You and Your Sister – which features backing vocals from none other than Bell's Big Star mate Alex Chilton – which is simply one of the great unknown love songs in the pop canon, a luminous and fragile ballad almost otherworldly in its beauty.
Thanks to Yianna/John