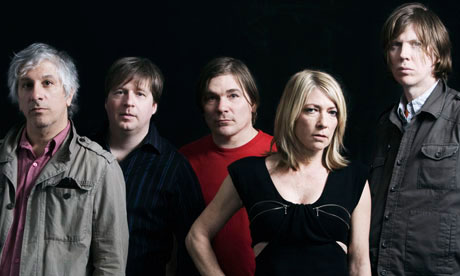 Sonic Youth taught us, that a guitar isn't just six strings and a fret board; it can be a wailing banshee or a starling singing its morning song. They taught us that age is no barrier to breaking into music.
There are moments in Sonic Youth's catalog where fundamental song structures are nowhere to be found, no matter how hard you look. But there are also moments of pure beauty to be uncovered in the wall of noise made by the band and its front-line guitar attack,
A testament to the Sonic Youth legacy is the bewildering number of styles and movements that they've been associated with over their 30 year history. In a career spanning 30 odd albums and 60 singles they rejected the grand rock and roll heritage, instead pursuing experimentalism and developing the notion of 'alternative'.
Their unconventional guitar tunings, feedback and experiments with noise borrowed from the free-form style of Velvet Underground and The Stooges and paired it with the New York no wave aesthetic. In doing so they pioneered a new soundscape that typified a generation who connected with their awkwardness and abrasiveness. From their first album in 1982 all the way up to 2012, when the band went on "indefinite hiatus", Sonic Youth put the 'noise' into noise rock – shaping the world of indie and paving the way for bands like Nirvana.
I first heard Sonic Youth on MTV2. an hour-long documentary about some band I'd never heard of. Instantly I was hooked. I think it was the opening slur of Kool Thing, the chugging guitars and Kim Gordon's vocal, brimming in nonchalance. I'd never heard a band that could make such a magnitude and symphony of noise, collecting every studio album, then the rarities and then the snobs-only bootlegs and noise albums. forking out hundreds of pounds on Sonic Youth.
Since that day the respect and adoration has never dwindled. Sonic Youth are one of the most important and influential guitar bands of all time, and one of the most prolific. Theirs is not just a world of albums; it's collaborations, films, books, art and everything in between. Being a Sonic Youth fan, you get the full rock education.
Their early records were marked by excursions into noise, feedback and discordant layers of sound that they occasionally turned into mini symphonies. By the time they settled on their core quartet — guitarists and singers Thurston Moore and Lee Ranaldo, bassist and singer Kim Gordon and drummer Steve Shelley they were finding exciting ways to organize that chaos. So here are our favourite Sonic Youth records .
Sonic Youth's discography is rich with countless EPs, soundtracks, collaborations, solo projects, split singles, and the like. These run the gamut from indispensible companion pieces (the self-released 'SYR' series of mostly instrumental EPs, the Richard Hell-fronted side project Dim Stars), to frequently brilliant but frustratingly inconsistent vanity projects (noodle-prone film soundtrack Made In USA, pseudonymous side project Ciccone Youth), to diehard-baiting endurance tests (theArc–meets-Metal Machine Music amplifier worship of Silver Session For Jason Knuth). Of these, only the 1982 debut is included in the following review, for reasons of accuracy, and the fact that the band itself considers this their first official album. Many other necessary stopgaps, like the EPs Flower (1985) and Kill Yr Idols (1983), have been subsequently tacked onto CD reissues of Bad Moon Rising and Confusion Is Sex, respectively.
'The Whitey Album' (1989)
Credited to Ciccone Youth, and released less than half a year after Sonic Youth's masterpiece 'Daydream Nation,' 'The Whitey Album' pays tribute to Madonna (Ciccone is her last name) with mostly new originals and a handful of covers. It's supposed to be a joke they cover Madonna's "Burnin' Up" (with Mike Watt) and "Into the Groove," as well as Robert Palmer's "Addicted to Love" but it's pretty much self-congratulating and unlistenable. That happens when the songs you're making fun of are better than your pointless side project.
'NYC Ghosts & Flowers' (2000)
Before heading into the studio to record 'NYC Ghosts & Flowers,' Sonic Youth had much of their gear stolen. So they put together the album using older instruments and equipment that they hadn't touched in years. The result was a flat, underdeveloped album that probably would have ended up somewhere near this place even without the backstory issues. (The LP sounds like a mix of their 1983 debut and 1994's deliberately difficult 'Experimental Jet Set, Trash and No Star.') A reboot was in order, which came with 2002's 'Murray Street,' their best album since their mid-'80s/early '90s peak.
The least-loved Sonic Youth album by some margin, the underrated NYC Ghosts & Flowers is the sound of Sonic Youth starting from scratch, and not necessarily by choice. While on tour supporting 1998's A Thousand Leaves, most of the band's one-of-a-kind guitars were stolen, Fans who malign NYC Ghosts & Flowers may consider the album the point at which the band's florid wordplay and Beat obsession would finally get the better of them, but more attentive fans will note that Sonic Youth has always used the influence of poetry as a catalytic element for their expansive jams, usually with transcendent results. If the specter of cafe existentialists looms too large over NYC Ghosts & Flowers, the album remains noble as an 'all in' gesture that casts a defiant shrug at potential alienation, and we might recall that the history of great rock and roll is pockmarked with similarly courageous endeavors. Twelve-string guitars are introduced, as is the presence of the inimitable Jim O'Rourke (who would officially join the band as a full-time member for the next two albums). The album also boasts a spellbinding title track by Lee and a classic in opener "Free City Rhymes." NYC Ghosts & Flowers is a bewitching album that rewards repeat listens and deserves far better than its reputation.
'The Eternal' (2009)
Sonic Youth's last album doubles as a neat summation of the band's quarter-century career. It's noisy, messy and arty; it's also a straightforward rock 'n' roll album at times, brimming with definable hooks. In the end, it all still sounds like Sonic Youth, something they couldn't shake over 15 albums. Not that they'd want to.
Diffusive and divisive, The Eternal has in common with Experimental Jet Set, Trash And No Star an affinity for direct, shorter songs, and as far as 'final albums' go, this one leaves us hanging a little. Picking up where the catchier and more immediately likeable Rather Ripped left off, The Eternal adds a new fifth member in Mark Ibold (late of Pavement) after a short-lived return to a four-piece for Rather Ripped. The meatier production of The Eternal well suits the sturdier, more melodic tunes, but it's the endearingly seasick-sounding "Malibu Gas Station," the romantic "Antenna," and Lee's uncharacteristically somber "What We Know" that really sparkle. And no Sonic Youth mix CD would be complete without the hopped-up "Leaky Lifeboat (For Gregory Corso)," featuring a rare Thurston and Kim unison vocal that conjures a bizarro world Dead Moon.
Sonic Youth (1982)
Originally released on Glenn Branca's Neutral label and the only Sonic Youth album to feature original drummer Richard Edson, the band's debut sounds like the dark, post-punk cousin of Thurston's spunky new wave band The Coachmen. Punk mostly in the temporal sense, the songs force-feed jangle to dissonance, occasionally sounding like a more melodic (though not much more) Public Image Limited. Though almost unrecognizable from the Sonic Youth we know today, Sonic Youth nevertheless remains a decent if inauspicious debut that offers a fleeting glimpse of what was to come. It's also fitting that the cassette version of the first album by a band that would become synonymous with experimentation features the entire program repeated on side 2 –- in reverse.
'Rather Ripped' (2006)
Jim O'Rourke, who helped round out 'Murray Street' and 'Sonic Nurse,' was gone, and the band was about finished with Geffen Records, too. Their last album for the major label that briefly carried them outside of cult status is also one of their most accessible. The melodies and production never sounded cleaner, and the grown-up themes covered here, like infidelity, hinted at the personal problems that would end the band five years later.
Both "Rather Ripped" and "The Eternal", their last two records, command nothing less than an energetic free-for-all and very rarely feel the need to stop and come up for air.
Rather Ripped was Sonic Youth's last contracted album for Geffen, and you could say they went out with a bang. From the punk-evoking stencil fonts on the cover to the relative brevity of the songs (seven out of 12 tunes clock in at under four minutes!), the message is clear: no fucking around. Steve's drums are mixed good and loud, which ably serves this relatively cleaned-up and frequently poppy version of the band. The least noisy Sonic Youth album since the s/t EP, Rather Ripped nevertheless forsakes none of the band's classic dynamism and charm — think of it as a well-earned vay-cay from the yawning void. "Incinerate" is the band's best single in years, Lee's "Rats" outrocks everything on classic rock radio, and the oddly bucolic "The Neutral" marries a Paisley Underground jangle to shimmery guitars reminiscent of the Cure circa Disintegration (this is likely accidental). Not a moment of Rather Ripped meanders and not a note is wasted. Missing the spectral abstraction fans have begun to expect from this era, this is definitely not the Sonic Youth album to patiently count ceiling tiles to, but as a showcase for the leaner, punchier side of the band, Rather Ripped more than holds its own.
'A Thousand Leaves' (1998)
Sonic Youth made some money as part of the 1995 Lollapalooza festival, so they invested it in their own studio, which led to 1998's overindulgent 'A Thousand Leaves' Two songs push the nine-minute mark, and one clocks in at an exhausting 11 minutes. It's their most mannered and most excessive album, but there are some good moments buried here.
The first thing you notice about the Sonic Youth of A Thousand Leaves is that there are fewer traces of punk than ever, at least in the aural sense. Following a long tour, the band established their own studio, Echo Canyon, to allow for more time to experiment with the backlog of songs written during the three-year break between albums — the longest such break in the band's history. It is no wonder all of this wood-shedding yielded the first batch of the mostly crucial SYR series of non-album studio experiments. Though the band's jammy tendencies came to the fore on previous album Washing Machine, there are no caffeinated respites like that album's "No Queen Blues" to be found here. A Thousand Leaves, however, more than any other Sonic Youth album, provides a bridge that connects two of the band's distinct phases, and, as such, is a great introductory album for newcomers. While "Wildflower Soul" hearkens back to the spindly jams of EVOL, and "Sunday" recalls the melancholic motorik of classics like "Dirty Boots," songs like the epic "Hits Of Sunshine (For Allen Ginsberg)" foreshadow the Beat-obsessed ethereality of future albums NYC Ghosts & FlowersandMurray Street.
'Experimental Jet Set, Trash and No Star' (1994)
Thanks to the emerging alternative nation, Sonic Youth broke into modern-rock radio with 1990's 'Goo' and 1992's 'Dirty.' For their next album, they almost entirely abandoned the commercial pathways they had forged. They also left behind the sharper sense of songcraft and the relatively big hooks found on the preceding LPs. The result was a moody, dismal record that probably pleased old fans who thought they had sold out on 'Goo' and 'Dirty,' but it's a bummer all the way.
Based on the title alone, many fans might have incorrectly assumed, upon its release, that Experimental Jet Set, Trash And No Star was a collection of three EPs. In retrospect, that feeling of disengagement from the material as a body of work is understandable. Experimental Jet Set, Trash And No Star is the first album to not feature a Lee-sung number since Bad Moon Rising (also a lesser album in the discography –- coincidence?), and was to be followed by a long touring hiatus. Recorded by a likely baffled Butch Vig the album is full of short, jarring songs with atmosphere to spare. There are some brilliant moments –- the propulsive "Bull In The Heather" is a sort of cousin to the Breeders' unlikely hit "Cannonball," and the chugging "Screaming Skull" is manna for fans wishing every Sonic Youth song was a variation on "100%." Another highlight is Thurston's affecting "Winner's Blues," a rare 'unplugged' number that portends future solo album Demolished Thoughts. Bonus: to save money, Experimental Jet Set, Trash And No Star was recorded over the band's previously used master tapes (a common practice), so if you turn the album up real loud, you can hear Sister leak through during quiet parts!
'Confusion Is Sex' (1983)
Messy, noisy and lo-fi to the point it renders the album almost unlistenable, Sonic Youth's debut LP suffers because of its unfocused chaos. The band used this approach a few times throughout its career, but 'Confusion Is Sex' is coupled with the inescapable fact that Sonic Youth hadn't yet learned how to make records.
Confusion Is Sex is a great record, but only a contrarian would name it a favorite. The frankly terrifying Sonic Youth of Confusion Is Sex is mostly absent from later albums (and the debut EP), but it's a most welcome anomaly. Unlike Bad Moon Rising, the unselfconscious nihilism of Confusion Is Sex rings remarkably true. The leaden and uneasy opener "She's In A Bad Mood" sets the tone, as each subsequent song one-ups the previous one with increasingly intensifying onslaughts of sinister solid-state rumble and somnambulent keening. Even the cover of the Stooges' pogo-worthy "I Wanna Be Your Dog" sounds here like something Swans deemed too unsettling to release (Swans drummer Jim Sclavunos plays on all but two tracks). Other highlights like "Shaking Hell" and "Protect Me You" (which — trivia fans take note — is the only Sonic Youth song on which Lee has ever played bass!) feature guitars that sound like the vibrations of axe handles after striking a stone. Visceral and relentless, Confusion Is Sex is one the best no-wave albums of all time, and the fact that it doesn't even crack the top 10 of this countdown says a lot more about this band than this album.
'Bad Moon Rising' (1985)
Between their first and second albums, Sonic Youth released a pair of EPs that nailed down the classic sound they were inching toward and which they finally achieved here. There were still a few ragged edges to shake off, but 'Bad Moon Rising' leads straight into the band's most productive and fertile period. By their next album, Sonic Youth's core lineup was complete.
The 1985 sophomore album, reissued and add four bonus tracks. Features Death Valley '69 with Lydia Lunch. Sonic Youth's second full-length LP Bad Moon Rising was originally released on Homestead and Blast First in 1985. The album is a fascinating examination of "the junction where hippie idealism [meets] the cold hard world," says guitarist Lee Ranaldo, "where Woodstock [meets] Altamont Death Valley, Charles Manson, Brian Wilson, musicians, murderers, heroes and villains." Its original eight-song tapestry of droning guitar feedback, distant clattering percussion, and sullen vocals, all held together with interstitial noise loops and shadowy haze, ambles through a long, dark night before the feverish Death Valley '69, driven by runaway guitar riffs and a frantic Thurston Moore / Lydia Lunch vocal duet, pounds the capstone into place. Sonic Youth's big leap forward from Confusion Is Sex and Kill Yr Idols "reflects the spirit of the time," to quote All Music Guide. Bad Moon Rising views "American gothic through the glassy eyes of wilful moonlit paranoia." Back in print on Goofin' Records, this reissue includes bonus tracks Flower and Halloween, both from a 12″ single of the same era.
'Murray Street' (2002)
Sonic Youth had spent more than a half decade creatively lost when they released 'Murray Street' in 2002. The emergence and destruction of the alternative rock boom in the mid-'90s was both a blessing and a curse, as the band, after reaching relative commercial success, violently turned away with some of its most experimental noise. 'Murray Street,' which added multi-instrumentalist Jim O'Rourke to the lineup, marks a comeback powered by a compromise of everything they do so well namely beautiful noise occasionally shrouded in vaguely straightforward songs.
Murray Street is the first of two albums to feature newly minted fifth member Jim O'Rourke, and if his influence is harder to detect here than on, say, Wilco's Yankee Hotel Foxtrot, consider that a weird guy supplementing a weird band will naturally have fewer noticeably drastic results than a weird guy supplementing a not-as-weird band. Though Kim has never been a stranger to playing guitar on Sonic Youth records (in fact, she'd been favoring it for years), O'Rourke's auxiliary support facilitated both the three-guitar era of Sonic Youth and the added excitement of Thurston and Kim as occasional frontman and frontwoman, respectively, during concerts. When diehards insist that the band's late Geffen years are often overlooked, they mean this album. All over Murray Street, guitars corkscrew around each other like a 21st century Television bequeathed with a second Richard Lloyd, with every sound rendered in loping, immersive tangles. Call it a 'return to form' if you like — for once, the appellation fits. "Karen Revisited," whose ambitious mixing of studio recordings with live jams does nothing to dispel notions of Sonic Youth as the new Grateful Dead, anchors the album with typical slow-burning guitar synergism. "Sympathy For The Strawberry" (featuring Lee on keys!) slowly cascades from delicate restraint to white-knuckled abandon. Best of all is the dreamy and profluent "Rain On Tin," whose celestial jam sounds like it's trying to provide the soundtrack to a visit to the best planetarium ever.
2002's "Murray Street", typifies everything great about Sonic Youth: it's part gentle, part manic, part cool, part quirky, part rocking and even part referential.
'Sonic Nurse' (2004)
'Murray Street,' from 2002, was the comeback album Sonic Youth desperately needed in the new millennium. The follow-up, 'Sonic Nurse' didn't alter much. But where they sounded like they had something to prove on 'Murray Street' the group settles here, mining familiar territory for much of the album's 60-plus minutes. It's not bad, but there's nothing really special about it either.
Sonic Nurse sounds, in many ways, like a sequel to Washing Machine both albums are records of remarkable maturity and depth and both hit the song-to-jam ratio just right. The songs on Sonic Nurse are mostly appended and enlivened by noisy-not-noodly improvisations, with clean guitars snaking their way around winsome clusters of gauzy low-end fuzz and supple percussion. Sonic Nurse is also back-loaded, and while this does not diminish tracks like the effortlessly dazzling "Unmade Bed" or the frenetic William Gibson ode "Pattern Recognition," from track 5 ("Stones") on, Sonic Nurse is perfection.
'Washing Machine' (1995)
The album on which Sonic Youth became a jam band. Following the disastrous 'Experimental Jet Set, Trash and No Star' from the year before, 'Washing Machine' returned to more structured songs, but with one new quirk: a handful of super-long songs. The epic closing number, "The Diamond Sea," runs nearly 20 minutes, and it's the best thing on the album. The guitars once again take the spotlight on their last great album until the '00s.
They're a band that confidently conjures up moments of flurried aggression alongside a unique brand of improvised majesty–a trait that is best exemplified by the awe-inspiring closer "The Diamond Sea" from the album "Washing Machine".
Full disclosure: Washing Machine is my favorite Sonic Youth album. Though it cannot be given the title of 'best' in any objective way, it's the one I often reach for when I need a dose. This is Kim's album, the one on which she shines brightest, and the one on which her boho beat persona is most convincing and inspired. The title track is a marvel, beginning with a Loaded-era Velvets choogle that eventually segues at about four minutes in to a magical, goosebump-worthy moment of guitar catharsis. Lee's great "Skip Tracer" features lyrics that rival even Steely Dan's observational cynicism, and "Little Trouble Girl," abetted by a great vocal cameo by Kim Deal, is "Tunic" with a Shangri-Las makeover. This leaves the elegiac "The Diamond Sea," which you could consider Sonic Youth's "Dark Star" if the comparison wasn't such a cliché at this point. An awe-inspiring masterpiece of improvisation, "The Diamond Sea" is a moiré of atonal scrambling and harmonic scree that feels far too short at 19 and a half minutes. Washing Machine provides a roomy antidote to the claustrophobia of Goo and Experimental Jet Set, Trash And No Star, and the most perfect balance yet of the band's rockist and avant tendencies. Even the cover art rules: Meta and mysterious as ever, the band chose to spotlight the torsos of two teenage fans in Sonic Youth T-shirts, one of which is autographed — by members of the band Come.
'EVOL' (1986)
The first album to include the classic Sonic Youth lineup of Thurston Moore, Kim Gordon, Lee Ranaldo and Steve Shelley, and their first LP to move closer to more conventional songwriting. The changes did them good. Tempering the noise factor, but still striking an experimental note that keeps the songs from drifting into predictability, 'EVOL' completes the creative leap started on the previous year's 'Bad Moon Rising.'
EVOL is an album full of suspense. Taken together with its proper follow-up, Sister, EVOL provides the cornerstone upon which the 'Sonic Youth sound' is built, due in part to the debut of drummer Steve Shelley, who would remain with the band permanently. EVOL is ground zero for the combination of chiming guitars and atonal skronk, qualities mostly absent on the band's first EP and only hinted at on previous albums. It is on EVOL that Sonic Youth first happens upon the muggy delirium with which they would make with their name, launching a half million imitators in its wake. The virile "Tom Violence" sounds less 'written' than 'coaxed from a cauldron,' the sort of song that fogs windows. The off-kilter "Starpower" is a droning love song sung in frosty monotone — Kim evoking Nico. "In The Kingdom #19" features Mike Watt on bass and marks the debut of a Lee vocal, and what a debut! The harrowing story of a highway wreck over a suitably edgy instrumental backing, the tune is punctuated by a classic (and audible) moment of studio hijinx, as Thurston surprises Lee, mid-take, by hurling a handful of live firecrackers into the vocal booth. They don't make 'em like this anymore.
'Dirty' (1992)
The follow-up to 'Goo' pretty much repeats the big-ideas-and-even-bigger-songs approach of that 1990 breakthrough. Nirvana's 'Nevermind' producer, Butch Vig, cleans up 'Dirty,' a reaction and tribute to the growing grunge scene. It's about as close to a mainstream record that Sonic Youth ever made — "100%" made it all the way to No. 4 on the modern-rock chart — but they never lost their individualism along the way.
Fuzzed-up bass lines and irreverent words of Sonic Wisdom define the expensive-sounding "Dirty", a record that finds itself living in great tonal opposition to later works like the spacey "A Thousand Leaves" and darling of controversy "NYC Ghosts & Flowers". They're a band that confidently conjures up moments of flurried aggression alongside a unique brand of improvised majesty
Released in 1992 — the year after the year punk broke, you'll recall — Dirty finds Sonic Youth accepting the lifetime achievement award from their grunge progeny and raising the stakes. While fans tend to overrate Dirty (for a certain demographic, this is as much a coming-of-age album as Are You Experienced?), the album has held up remarkably well, especially the deeper cuts which are so often overlooked in favor of showstoppers like the sexy "100%," the declarative "Youth Against Fascism" (featuring Ian MacKaye in an extremely rare cameo role) and the irresistible "Sugar Kane." Butch Vig's clean production places the guitars center stage, but the rhythm section compensates by just pounding.
Kim's vocals often steal the show, out-punking even Johnny Rotten on the airhead-baiting "Swimsuit Issue" and the snarling "Orange Rolls, Angel's Spit," the personification of big-sister cool on seductive album closer "Creme Brulee." Dirty's goofy vamps are frequently playful and rarely expansive, but even the simpler-sounding tracks are wonderfully deceptive. If on first listen a handful of these songs sound like they wouldn't sound out of place on an Alice Cooper record, listen closer and you'll notice a structural bed of wild, howling feedback beneath some of the album's catchiest tunes.
'Goo' (1990)
For their sixth album (seventh, if you count the Ciccone Youth side project released a year earlier), Sonic Youth signed with a major label and actually ended up with a modern rock Top 10 hit. But they weren't tamed by their new bosses. Instead, their new home opened them up to more focused songs and bigger, grander guitar workouts. A milestone record of the era, and an indirect door opener for Nirvana and other like-minded indie bands of the early '90s.
Goo (originally titled Blowjob!) gave Sonic Youth a surprise hit with "Kool Thing," a frenzied earworm of a tune about LL Cool J (inexplicably featuring an awkward cameo by a coerced-sounding Chuck D of Public Enemy). The album is perhaps the least art-damaged entry in the Sonic Youth catalog, and features some of the band's most enTagsduring material. "Dirty Boots" is easily one of the greatest songs of the alternative rock era, perhaps only overshadowed on Goo by Lee's masterful "Mote," whose conflagrated denouement recalls early classics like "Expressway To Yr Skull" and "Hey Joni," and fittingly closes out the first side of the album. Elsewhere, "My Friend Goo" successfully borrows The Replacements' bored-as-fuck background vocal style from "I Don't Know," while the 'noise metal' break at the end of "Mildred Pierce" provides a most unexpected and jarring coda. The Raymond Pettibon cover art is no coincidence — Goo is Sonic Youth nodding to their punk roots.
The playing is also tighter that ever, and Kim begins to emerge as a truly great rock and roll singer, paving the way for gender-defying grunters like Royal Trux's Jennifer Herrema. And if "Tunic," a glum threnody for Karen Carpenter, comes off more roast than tribute, well, were you really expecting "Candle In The Wind?"
'Sister' (1987)
A run-up to Sonic Youth's masterpiece 'Daydream Nation," just a year away, 'Sister' tests the ground of the band's new alternative-pop direction, with genuine hooks cut into the flurry of guitars and distorted noise. An influential record on the upcoming decade's army of flannel-wearing indie kids — maybe more so than the more defining, and defined, 'Daydream Nation.'
Let's get something straight. There is no album in the entire corpus of indie rock — not Loveless, not Surfer Rosa, not Psychocandy — that reaches the heights of invention, joy, and magic of Sonic Youth's sublime fifth album. If your night out has ever been made by a floppy-haired stoner disemboweling a guitar; if you've ever had an out-of-body experience while hearing a record of disembodied vocal catatonia and libidinous murmurs; if you've ever gotten a contact high from a deliciously 'off' noise-rock tumult — then you can thank this album. The haunted reveries of Sister remain with you for years, even if you only hear them once. This isn't a rock album — it's mortar fire. It is the point at which Sonic Youth discovered a new and truly radicalized "psychedelic" music that owed nothing to Pet Sounds or Sgt Pepper's, but to an amalgamation of record store arcana, suburban Gnosticism, and teenage kicks. Their peers may have been rocking, droning, and caterwauling, but Sister is the sonic manifestation of refracted light.
'Daydream Nation' (1988)
The epic double-album that helped shape a generation of guitar-wielding indie rockers, 'Daydream Nation' is a milestone record of the decade and genre. The opening "Teen Age Riot" sounds like a prophecy of rock 'n' roll to come, but the rest of the album soars along just as assuredly. And unlike their earlier work, the LP is filled with actual songs that build to mountain-scaling levels. When Sonic Youth made their next album two years later, they were on a major label and all ready to lead a new alternative nation.
Writing about Daydream Nation is sorta like writing about pizza. Almost everyone is familiar with it, everyone — save for a few loonies — agrees that it's great, and everyone has their fussy preferences about it. The band's first double album is a conceptually loose celebration/expose of the American badlands, as keen an examination of the concrete wilderness as ever constructed by a buncha guitar players. The album moves brilliantly, each song twisting into miniature vortexes, spiraling to exhaustion. As indebted to Amon Duul as Arto Lindsay, the album's beauty sounds effortless, as if the band's myriad public obsessions all converged and produced the album by divination. There is a piercing melancholy to many of the songs, not least "Teenage Riot" (for my money, still the band's best song), despite reportedly being little more than a loving ode to Dinosaur Jr.'s J Mascis.
The double album ends, fittingly, with a trilogy of songs, a lofty concept whose irony was probably not lost on a band that was covering Crime's "Hot Wire My Heart" on their previous album. Yet this trilogy is one of the few in the annals of rock and roll worth its weight in Thai stick, bearing none of the grandiose prog-rock pomposity one expects from a "suite" of songs. If anything, this third act (especially "Eliminator, Jr") is as unfriendly as the album gets, recalling, if only for a couple of minutes, the earlier, fangier Sonic Youth of Confusion Is Sex.
"Daydream Nation", the album that is often cited as the band's greatest effort, was the first of theirs I heard. From the stoic beginnings of fan favourite "Teenage Riot" to the caustic climax of epic three-parter "The Wonder", the album struck me in a way I wasn't expecting. I relished in the abrasive noise break that bridges "Silver Rocket", and was taken aback even further at the introduction of the rather sullen if strangely poignant "Providence".
But as great an album it is, Daydream Nation barely reports on the band's vastly alterable creative output. The Official Sonic Youth Reverb Shop on October 30th, where the noise rock pioneers will sell more than 200 pieces of gear and memorabilia from across the history of the band. you can head over to Sonic Youth's Reverb LP shop to find hundreds of Sonic Youth's exclusive test pressings, reissues, and rare records—including versions of Daydream Nation, Murray Street, Goo, and Experimental Jet Set, Trash and No Star—as well as additional pressings from Sonic Youth Recordings and Goofin' Records. Items for sale October 30th will include more than 200 pieces of gear, as well as nearly 200 screen-printed show posters, rare poster-sized photographs, memorabilia, and personal relics. Head over to Reverb LP now to find Sonic Youth's 300 exclusive test-pressings and other records, and sign up to be notified as soon as The Official Sonic Youth Reverb Shop goes live. Also, fans can check out nugs.net now for access to previously unreleased live audio and videos from Sonic Youth's archives.
Whatever happens next, that ideal will surely be Sonic Youth's legacy: an EVOLution of creative desires fuelled by the never-ending need to kick some serious six-string ass along the way.