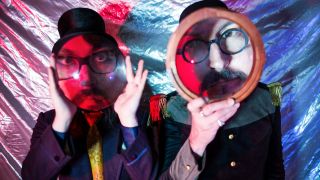 The band comprises of Primus vocalist and bassist Les Claypool and Sean Lennon, with the follow-up to 2016's Monolith Of Phobos titled South Of Reality.
Released on February 22nd of this year via ATO Records. Speaking about his partnership with Claypool, Lennon tells Rolling Stone: "We are great friends indeed, and I guess I'm not nervous in quite the same way as I was in the beginning, but I still make sure to do as much preparation as possible.
"Ideas always come quick for us, and I think that's why we like working together. But playing with Les is like knowing you're gonna be playing tennis with Rafael Nadal – it makes you wanna brush up on a few things before you get on the court."
The video for "Blood & Rockets," from The Claypool Lennon Delirium, taken from their second album release "South Of Reality" suddenly I am no longer offended by Claypool's sophomoric sense of humor and no longer bored with Mr. Lennon. Quite the contrary! "South Of Reality" is a smart, exciting, well-played, and admittedly, somewhat out of control mix of Pepper-era Beatles, Barrett-era Floyd, and all the listenable bits from your favorite psych and prog records. It has more than a few kitchen sinks, but always keeps you engaged by never forgetting to toss in a great hook or melody with everything else. This one is consistently entertaining, something that becomes increasingly more difficult to say.
From The Claypool Lennon Delirium's new album "South of Reality" out Feb 22nd, 2019.