With stints in Throwing Muses and The Breeders behind her, Tanya Donelly was more than ready to front her own alternative rock band, and Belly captured the spotlight even more firmly than those previous groups. Filled out by three musical cohorts from Donelly's Rhode Island home base, Belly made an impressive debut with "STAR" the 1993 Sire set included a Modern Rock chart-topper in "Feed The Tree," another MTV favorite in "Gepetto," and brought the quartet two Grammy nominations. These 15 originals give indie dream pop plenty of appealing hooks – even if the album's sweet-sounding vocals sometimes sing about rather strange stuff. Today we'll wish upon a Star in honor of Tanya Donelly's birthday.
Star was borne out of artistic restlessness, Donelly having blossomed as a songwriter in her first band, Throwing Muses, by the sessions for their fourth album The Real Ramona, becoming an equal to the band's heretofore leader, and Donelly's stepsister, Kristin Hersh.  Donelly came to the sessions with more than her requisite pair of songs, quickly realising elsewhere would be a better fit for the bulk of them rather than the latest Muses' album.  Initially, that home was ostensibly The Breeders' sophomore release: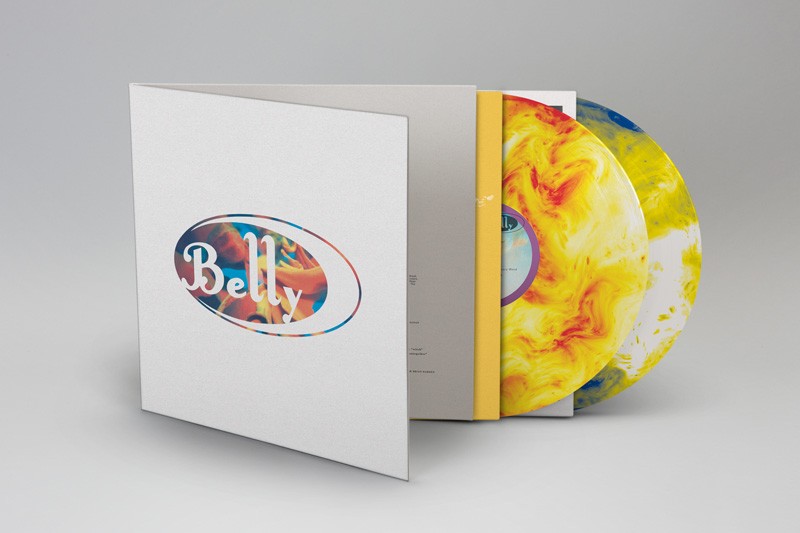 "The songs I brought to The Real Ramona were the two that ended up on there ("Not Too Soon" and "Honeychain"), "Full Moon, Empty Heart," "Slow Dog," and "Gepetto" (all songs that would appear on Star).  This was around the time [the early quartet lineup of Throwing Muses] had started to dissolve so I thought, I'll have the two on there and save the rest for The Breeders.  They had several home options for about six months there."
In the time off between Throwing Muses albums at the turn of the 1990s, Donelly and Pixies guitarist Kim Deal collaborated on a new project, The Breeders, who released their debut Pod in 1990 largely consisting of Deal's songs with the plan of the follow up featuring largely Donelly's songs.  As luck would have it, that second Breeders album would become Belly's first.
"Everything that is on Star was intended for the next Breeders album.  All the old reels I have in my basement of the demos are labeled The Breeders.  The Pixies had announced a year long, worldwide tour and Kim signed on for that.  I sort of got antsy, had already left the Muses and so I thought, I'm taking my songs and making my own band!"
In retrospect, with such a flurry of activity occurring in such a compact timeframe, the aesthetic groundwork for Star appears to have been laid in Donelly's final pair of Muses tracks; the off-kilter, chipper pop of "Not To Soon" and the harrowing dreamlike beauty of "Honeychain" portending the two ends of Star's spectrum.  Indeed, Donelly views the latter as forming "the bridge between my Muses and my Belly life."
Star's appeal is clear; its tone is impeccably balanced between oblique jangle-pop and moody dream-pop, tracks that individually would appear at odds with each other benefitting by this balance to achieve an unwitting congruity.
That said, with the exception of REM's Automatic For The People, the upper echelon of the UK albums chart in and around February 1993 was continuously peppered with compilations of legacy pop acts with nary a blink at rising alternative acts until Suede's debut would chart a couple months later, so how and why Star?  .
Indeed, few albums can as deftly move from the Eastern European flavours of "Angel" to "Gepetto"s jangly bounce, veering over to "White Belly"s gorgeous murk and back around to the countrified folk of "Untogether".
While truthfully a rather sprawling album at 15 tracks over 51 minutes, Star plays small owing to its constant shift in tone reinvigorating the listener track to track.  "Dusted"s razor wire riff belongs chiseled on a Rushmore of indie rock hooks while there is nary a chorus as exuberant in the annals of indie rock as "Slow Dog".
It's Donelly's unsuspecting vocal prowess that threads Star together as an album rather than a collection of songs.  Wafting vaporously into view on opener, "Someone To Die For", she proceeds, throughout the album, to emit just enough grit and force to stay atop her band's thunderous patches while reining back at precisely the opportune respite points.
Release date 25th January 1993