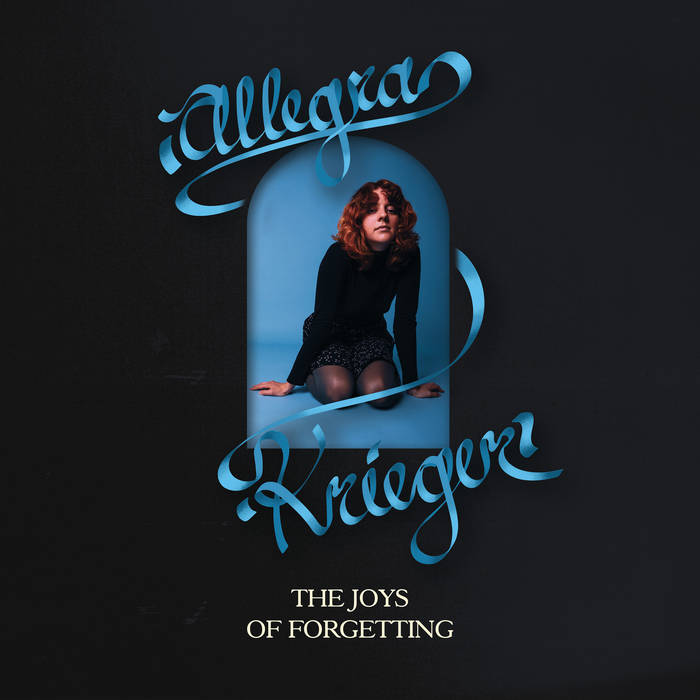 Most often, forgetting can feel like a failure—a missed birthday or a neglected anniversary. But forgetting can also mean freedom, an unburdening from past twinges of pain. On her debut album, "The Joys of Forgetting", Allegra Krieger embraces the idea of forgetting as relief.
Growing up in suburban Florida, Krieger was raised staunchly Catholic. Much of her childhood was spent in a church, where she also studied classical piano and sang in the choir. Although she was encouraged to pursue a consecrated life, she chose a different path, dissociating from religion. The following years brought continual transitions of personhood and place. From housekeeping at a Death Valley motel, to tree-planting in Georgia, she explored different sides of herself, chasing ideals yet avoiding certain truths. As she reckoned with her own malleability, she came to understand the value of leaving something behind. The solitude and disenchantment that accompanied this lifestyle gave way to introspection, yielding the songs that became the Joys of Forgetting.
Like memory itself, Krieger's personal growth ebbs and flows across The Joys of Forgetting. She makes for an inviting companion as she connects the nonlinear dots on her journey. She lays her feelings and desires plain as she unfolds them: to find someone to confide in, to talk on the telephone, to catch up with a friend. She learns to seek comfort in patience, finding that affection is easy, but loving takes time. Her arrangements are elegant and unobtrusive, skirting her crystalline voice with acoustic guitar, curling strings, and percussion that gently tumbles. And though Krieger makes a strong case with her Joys of Forgetting, her songs leave a lasting imprint that's a pleasure to recall over and over again. 
I came to this record through the photographer of the cover and they didn't steer me wrong here. This record starts off slow but truly builds to blow you away by the time you reach "Forgot". Allegra's voice is a wave of joy in a rough year. On "Welcome" her self harmonizing is gorgeous and plays well off the string section that comes in to overtake the track halfway through before it becomes a western waltz again. The arrangements of these songs are stunning. "Telephone" shimmers and glides along while Allegra calls for human connection rather than interacting through devices. The album floats along delicately until "Forgot" which just comes at you harder than anything up to that point. It ends in a glory of mashing up off-kilter drumming, an echoing of voices and slashing guitar chords that just cut right through you. "Rot" brings some welcomed rock and roll vibes to the record that continue into "Come In", which ends in another great loud convergence by the musicians. The string section in "I'm Gonna Drive" swell as Allegra cries out "thing things you've been after" is heartbreaking. Allegra has a bright future ahead, this was her first LP, and it will be great to hear where she takes her arrangements and writing next.
Released August 7th, 2020
The Band:
Rob Taylor on Bass
Jacob Matheus on Electric Guitar
Eladio Rojas on Drums