Steely Dan's records were pristine to the point where you could eat off their glistening surfaces. They were never as sharp or as focused as they are on 'Aja,' their 1977 hit that balances cool jazz with timeless pop appeal. Band leaders Donald Fagen and Walter Becker have been criticized for their coldness. But on 'Aja,' they reveal a warm, beating heart beneath that steely exterior.
One of the many signature qualities of this album is that it is impeccably produced, a fact that has garnered both praise and condemnation. Admittedly, I've always found it silly to criticize a band for being too proficient at their job. Becker, Fagen and crew ease you into Aja with "Black Cow," a song about a man who grows fed up with his lover's pill addiction and continuous infidelity. You have to appreciate that the beauty of Steely Dan's music is found in  its sonic flawlessness enveloping sharp and intelligent lyrics.
Ian Dury once said of this album, "Well, Aja's got a sound that lifts your heart up… and it's the most consistent up-full, heart-warming…even though, it is a classic L.A. kinda sound. You wouldn't think it was recorded anywhere else in the world.
The title track is the antithesis of what should be on a rock album. Then again, is this a rock album? The nearly eight-minute opus has been described by Donald Fagen as being about "tranquility that can come of a quiet relationship with a beautiful woman."
These people are too fancy, they're too sophisticated," William S. Burroughs said of Steely Dan in 1977. "They're doing too many things at once in a song." Burroughs, who had no personal connection to the band, had been asked to comment on Aja, Steely Dan's new record, because co-founder Walter Becker and Donald Fagen had named themselves after "Steely Dan III from Yokohama," the surreal dildo featured in Burroughs' most notorious novel Naked Lunch. His comment embodied a common-man criticism made about Steely Dan by their detractors: The unit, who stated their claim in the pop sphere with clean, blues-steeped singles like 1972's "Reelin' in the Years" and "Do It Again," had gradually but consistently ceased to resemble a meat-and-potatoes rock band, instead spiraling off into groovier, jazz-inspired pop experimentalism.
'Aja' (1977): "Aja"
The eight-minute title song to Steely Dan's best-selling album brilliantly combines jazz and rock. But even the fiery interplay between drummer Steve Gadd and saxophonist Wayne Shorter was more the product of studio wizardry than in-studio camaraderie. Gadd recorded his titanic drum fills live — and, he's said, in one surprising take no less — with the rest of the legendarily picky members of Steely Dan. Shorter was brought in later and taped his answering solo over their already completed parts. At this point, that had become the norm, rather than the exception. Aja ended up taking a year and half to record, with studio expenses piling up into the hundreds of thousands of dollars. "We overdubbed a lot of the overdubs over," Becker joked with Cameron Crowe in 1977, and he wasn't really kidding. Still, the extended sessions allowed Fagen and Becker to explore entirely new corners of the their self-taught musical minds. The result is a moment like "I run to you" on "Aja," where the song seems to come totally unmoored.
The effect heightened as Fagen and Becker systematically fired all of their band's other members, and replaced them with industry-standard jazz, soul, and blues musicians. They stopped touring; the songs' narratives and jokes became more acidic and obscure. Rolling Stone's review of 1976's sprawling, sinister The Royal Scam summarized the feelings of the band's skeptics and newfound admirers alike, that they would "eventually produce the Finnegan's Wake of rock." On the day Aja came out, Walter Becker told Cameron Crowe that he was empathetic toward the concerns, but also uninterested in compromise: "These days most pop critics, you know, are mainly interested in the amount of energy that is…obvious on the record. People who are mainly Rolling Stones fans and people who like punk rock, stuff like that… a lot of them aren't interested at all in what we have to do."

Instead of the Rolling Stones or punk rock, Aja was deliberately intellectualist pop music that appealed easily to music-school types and jazz fans–chops-y rock music that helped "legitimize" the genre. Becker and Fagen's songs, charted out across six or seven sheets normally, prized and necessitated technical musicianship. They used horns as expressive, exalted instruments in rock songs, not just padding or blunt, skronking deus ex machinas. But the record's appeal extended well beyond the ranks of any subgenre of snobs. Standard-issue rock listeners, after all, indulged in elaborate, preciously-conceived, and strange things in the 1970s, a decade which yielded four Top 10 albums for Emerson, Lake, and Palmer.
Years later, Aja is still Steely Dan's commercial triumph. It was their only record to sell over a million copies, spawned three Top 40 singles—"Peg" hit No. 11—and stayed on the charts for well over a year, peaking at No. 3. In 1977, the music industry was at the apex of LP sales and mammoth recording budgets. In the year-and-a-half Fagen and Becker spent making Aja, the Dan would push their studio expenses into the hundreds of thousands, all while not playing live. On its 20th anniversary, Becker would chalk Aja's success over past Steely Dan ventures up to the right-place-right-time factor: "That was a particular time when people were just selling lots of records." They assumed, he said, that "'we're gonna sell three times as many records as we would have two years before.'"
To just chalk it up to a general market uptick, though, would be to sell the unique, subversive appeal of the re-minted Dan of Aja way short. Today, Aja still stands as the crucial microcosm of Becker and Fagen's artistry, and as one of the most inventive blockbuster rock albums of its decade.
'Peg'
"Peg," which is the most well-known track on the album, is in a class by itself. It's also the song that took forever to complete. The band went through seven studio guitarists to find the right sound on the guitar solo before settling on Jay Graydon's version. Detractors will point to this fact as not letting a moment happen organically, but I would argue that it made a good song great. Having Fagen's lead vocal mix with Michael McDonald singing background made it even better. "Peg" is the middle point of Aja and ensures that the album has already exceeded expectations before you even listen to the latter half. The interesting thing about this song is that Becker did not play bass on it. Those duties were handed to veteran session player Chuck Rainey.
'Home at Last'
From: 'Aja' (1977)Donald Fagen once called this Steely Dan drinking song a "blues for Odysseus." As such, it's only appropriate that the hero in 'Home at Last' would be served "smooth retsina," a Greek resinated wine, during his stay in paradise. Contrary to the track's title, he can't stay – "it's just the calm before the storm." Maybe he can take a bottle to go.
'Black Cow'
From: 'Aja' (1977)Could it be that there's a drink referenced in a Steely Dan song that doesn't contain alcohol? Nothing's for certain, but 'Black Cow''s titular beverage could be a simple coke float or a more adult version of the beverage. I guess it depends on what one finds most comforting during a break-up: "It's over now / drink your big black cow / and get out of here."
This 'Aja' classic romances the idea of being a jazz musician toiling in obscurity – something that might have seemed appealing as Becker and Fagen became more famous throughout the '70s. 'Deacon Blues' concocts the appropriate cocktail for this: get a cool name, learn to play an instrument, refuse to compromise, "Drink Scotch whisky all night long and die behind the wheel." Wow. Sounds great, doesn't it? (Kids, really, don't try this at home.)"They got a name for the winners in the world / I want a name when I lose / They call Alabama the Crimson Tide / Call me Deacon Blues." There are song lyrics that make you scream, "Damn, I wish I wrote that." A prime example are the lyrics to "Deacon Blues," one of those songs that's easily quotable and just stays with you forever. The name "Deacon" was influenced by Hall of Fame football player Deacon Jones. Fagen and Becker's ode to underdogs clocks in at 7:36, but feels like a four-minute song that you wished lasted longer. Fagen's inspiration came from his thought that "if a college football team like the University of Alabama could have a grandiose name like the 'Crimson Tide,' the nerds and losers should be entitled to a grandiose name as well." It may the coolest nod to geeks that I know of.
During the making of Aja, the Dan were well-settled into retirement from live performance. Fans had gotten used to the band's new, faceless new image. Over the months they spent fashioning the album, a suite of 7 songs about lust, wanderlust, delusions, and the destructive effects of American Dream, Donald Fagen and Walter Becker methodically reimagined the sound of their studio-assembled ensemble. It was not a dramatic repositioning. Steely Dan had been mostly made up of session musicians since 1974's Katy Lied, and their songs had already featured plenty of weird chords and prodigious horn solos. But there was nothing like a big, rollicking rock'n'roll single on Aja: no "Kid Charlemagne," no "My Old School," and certainly no fucking "Reelin' in the Years." Guitars provided auxiliary punctuation and effects-less solos rather than the brunt of the song; a stew of acoustic piano and electric keyboards, reminiscent of Miles Davis' In a Silent Way, were at the warm center of the mix. Aja's sound was a direct offshoot from jazz and fusion, steeped in its harmonic language, as well as that of turn-of-the-century modernist classical music (Debussy and Stravinsky, especially).
The particular musical syntax on Aja was in many ways uniquely Dan's, however, the misbegotten result of Becker and Fagen's own self-taught musical education. Their chordal sense was central to the issue: The complex changes left the average rock listeners' ear out in the cold, pointing toward whole new keys for choruses and away from easy resolution. Moments like "I run to you" on Aja's title track leave one totally adrift for clues as to where the song will move; elsewhere, there are deceptive instrumental flourishes, like the mystical Rhodes-and-guitar fanfare that introduces "Deacon Blues." Fagen and Becker voiced chords so unusually that theory-heads refer to a specific "Steely Dan chord" (or "mu major chord"): a substitution for the typical primary (or tonic) chord featuring an added 9th rubbing up against the major 3rd. Harmonies like these pop up everywhere on Aja, imbuing its songs with sophisticated, decidedly un-rock'n'roll atmosphere.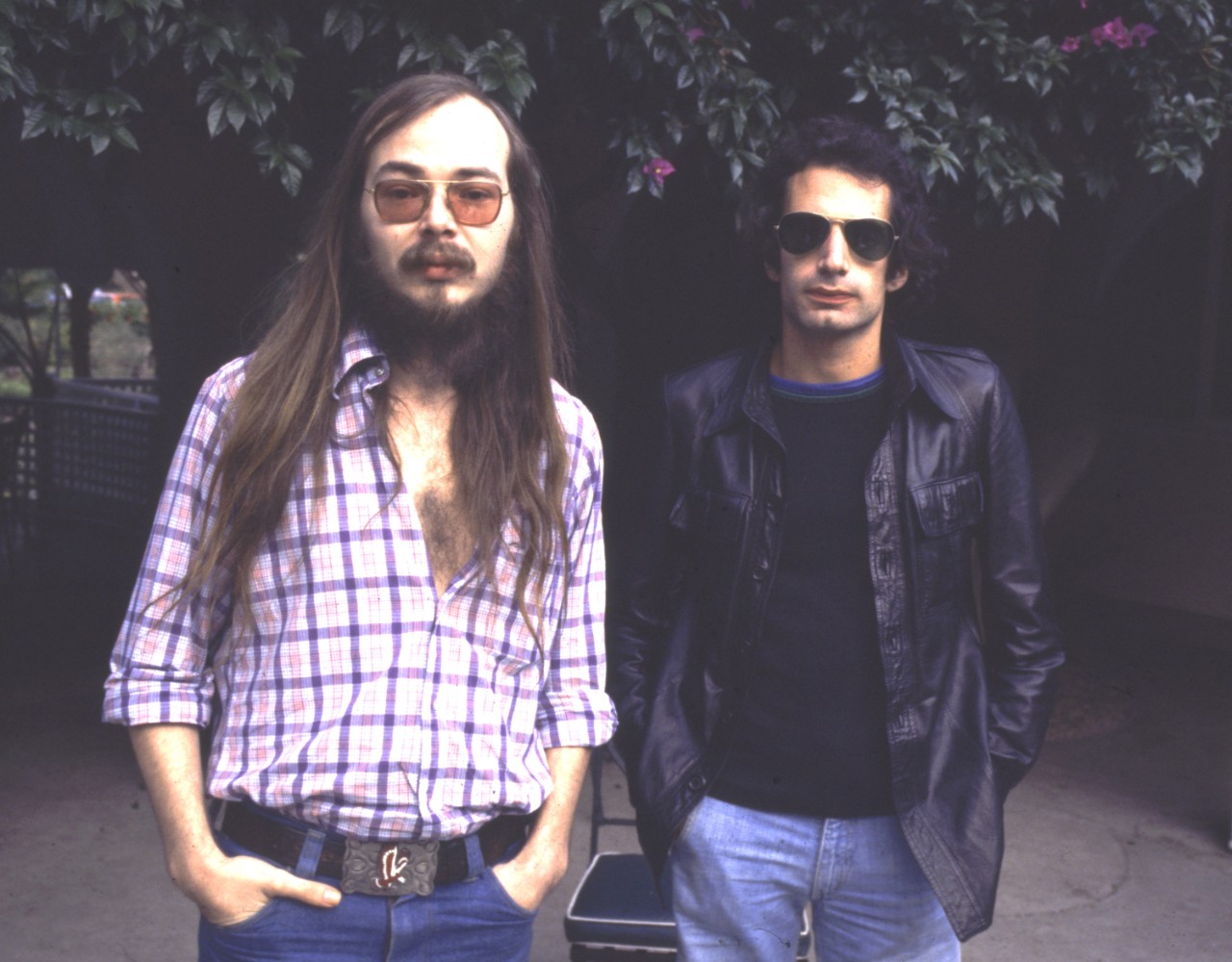 But Becker and Fagen also borrowed plenty from contemporary pop music, despite their general dismissiveness of it. Plenty of why Aja was so successful–and spawned actual hit singles–came from its emulation of the backbone of American R&B and soul of the time. They hired players that had defined the sound of records by James Brown, Aretha Franklin, and Quincy Jones, as well as virtuoso jazz soloists (Larry Carlton, Victor Feldman, saxophone luminary and Miles/Weather Report alum Wayne Shorter). The most time-consuming sessions would be devoted to the lock-groove-based tunes, the ones that wouldn't be too out-of-place next to disco on a playlist: "Peg," the warped blues of "Josie," the lascivious "I Got the News." Fagen and Becker's obsession with precision backbeats would become a more empirically insane compulsion during the more troubled sessions for 1980's Gaucho, with some interference from a custom-designed drum machine called "Wendel."
Decades later, Becker admitted just how much of this had to do with disco. "They had all these records that were just whack-whack, so perfect, the beat never fluctuated, and we didn't see why we couldn't have that too, except playing this incredibly complicated music, and the drummer would go and play a great fill or something and come exactly back at the perfect beat at the same tempo, you know?" he told GQ UK in 2014. "It seemed like a good idea."
Much gets made of how obsessively Fagen and Becker would plot parts for musicians, but many of Aja's best and most famous were defined by their players' independent innovations. As bass player Chuck Rainey recalled in the Steely Dan biography Reelin' in the Years, Fagen and Becker had specifically told him not to slap his bass during the sessions for "Peg." Rainey responded by turning his back to the control room and slapping away. Fagen and Becker liked the sound, despite their prejudices, and Rainey went on to slap again on "Josie."
Then there was Bernard Purdie, one of soul music's most inimitable drum stylists, whotold the story of taking control of the direction of the recording of "Home at Last" himself in the Classic Albums episode on Aja. "They already told me that they didn't want a shuffle. They didn't want the Motown, they didn't want the Chicago," Purdie explained. "But they weren't sure how and what they wanted, but they did want halftime. And I said 'Fine, let me do the Purdie Shuffle.'" It was precisely what Fagen and Becker hadn't asked for, until they heard it. Purdie would go on to use the same beat on one of the Dan's greatest singles, Gaucho's "Babylon Sisters."
Meanwhile, drum prodigy Steve Gadd foiled the duo's plans for the day by running down the intricate title track of Aja in just one take. For the most muso-focused listener, his epic, virtuosic solo in the instrumental middle of the song is the beating heart of the album, layered over with chunky horn charts from arranger Tom Scott and alien synthesizer atmosphere (an anomaly for a Becker/Fagen recording at the time.)
Like their hero Duke Ellington, Fagen and Becker needed the identity of individual soloists to create their finished canvas, but within quite specific and refined structural limits. The duo was not as good with people as Ellington, but they didn't have to be. From the safety of the studio booth, they could just say "try it again" as much as they needed, and scrap the solos they didn't like after the fact. According to Reelin' in the Years, the band's career-long producer Gary Katz would break the disappointment to the players by talking to them about baseball, before dropping the news that their solo—which the person had spent hours trying to hammer out—would not make the record. When it came to the prospect planning a live tour behind Aja, they got as far as rehearsals, but ultimately backed down.
"We had 4,000 dollars worth of musicians in the room, guys who wouldn't go out on the road for Miles Davis, literally, and they were committed to doing this," Fagen explained. "And we both left the room together and said, 'What do you say, you wanna can it?' And we both said 'Yeah' without thinking twice."
Once you get to "Home at Last" and "Josie," you realize that something truly special happened during the recording of Aja. A rock band named Steely Dan made a jazz album that masqueraded as a rock album, and the results are glorious. A smartly crafted, well-produced album does not equate to selling out or being soft. Their sound may not be for everybody, but it works for me.
Aja, despite its detractors, is one hell of an album that demands not just one play, but multiple spins. Aja makes you think. It compels you to listen again and again, as you continually uncover new elements and flourishes you hadn't heard before. Great albums make you want to come back for more. And Aja is a great album.
Aja was one of the only records Becker and Fagen ever made that they would speak about with real pride. (Less than a year after Gaucho's release, they would characterize it as a "sideways" move; Fagen admitted, "It's possible that we took a few steps backward with this album.") Today, Aja remains the extreme of their modernistic progress, a place they could not effectively move forward from or visit again, except when running down its songs on reunion tours two decades later.