Founded by drummer Ginger Baker when he recruited Eric Clapton, followed by Jack Bruce to form a new band, Cream would quickly become one of the most influential groups of the 1960s, changing the landscape of blues and rock 'n' roll simultaneously. Volcanic onstage, Baker and Bruce were equally volatile offstage. Despite antagonistic history between the two, Clapton convinced them to set aside their differences and Cream was born in 1966, becoming the prototype power trio, fusing the blues and rock 'n' roll into a powerful new brew. Three technically gifted musicians with a penchant for volume, Cream's live performances made a strong impression in Europe, making all but a select few bands sound lightweight or tame by comparison. Although all three members, especially Clapton, had established reputations in Europe, none of them had ever ventured to America. Other than Clapton, who had a modest reputation from import recordings by the Yardbirds and John Mayall's Bluesbreakers, the members of Cream were unknown commodities in America.
This all changed over the course of six months, with San Francisco and the city's primary concert promoter, Bill Graham, playing a major role in making it happen. The band's initial visit to the States occurred in March of 1967 and was not an auspicious start. Cream played nine dates at Brooklyn's RKO Theater for Murry The K, who presented five shows a day featuring Mitch Ryder, Smokey Robinson, Wilson Pickett, the Blues Project, and the Who, in addition to the virtually unknown Cream. As such, Cream were first relegated to playing three songs per show, which was soon paired down to a single song, "I'm So Glad," which they were required to play five times a day.
Not an inspiring first visit, but Cream would return to the States in August of 1967, when they would embark on their first American tour and experience an alternate universe flourishing on the other side of the country. Much had changed in the past several months, both culturally and musically. The Beatles had released Sgt. Pepper and the Summer Of Love was in full swing when Cream landed in San Francisco, a city that would have a profound impact on the band. Cream's first residency at Bill Graham's Fillmore Auditorium occurred the last week of August and the first week of September. For the first week, Graham presented the Paul Butterfield Blues Band and Southside Sound System (which featured Charlie Musselwhite and Harvey Mandel) as openers to create a truly incredible triple bill of modern blues. The following week was no less impressive with jazz vibraphonist Gary Burton's group (which included a young Larry Coryell on guitar) and the newly formed Electric Flag, featuring Mike Bloomfield, opening the shows.
Graham's inspired billing and the great influx of young people that had descended on San Francisco at this time meant these shows were packed to the hilt. The Fillmore Auditorium had a legal capacity of 900, but somewhere between 1400 and 1500 people were reportedly crammed in for these shows, making Cream's initial San Francisco residency a huge success. What they experienced in San Francisco, both culturally and musically, had a profound impact on the band. In turn, Cream's performances had a lasting impact on the music scene now flourishing in the city. Faced with a more demanding performing experience, Cream began improvising more and incorporating spontaneous jams into many of their songs, some stretching out to nearly 20 minutes. The 1967 audiences in San Francisco embraced experimentation and sensory exploration and Cream took both to new levels on stage. With many of the key up-and-coming San Francisco musicians attending this run of shows, Cream had a significant impact, inspiring groups like the Grateful Dead, Quicksilver, and countless others to further embrace spontaneity in their own performances.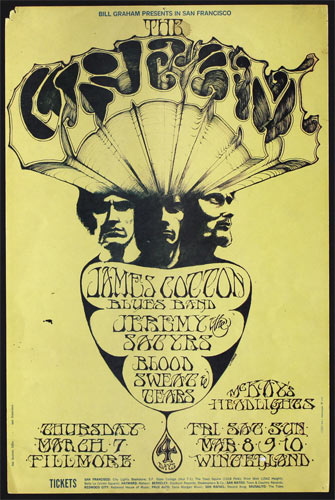 Thanks in large part to this initial run of 1967 Fillmore Auditorium performances, word of mouth spread rapidly. Cream established a reputation as one of the most exciting live acts to ever hit the city, which in turn increased album sales and demand for their performances in America. Early the following year, Cream returned to the States to record sessions for their third album at Atlantic Records New York City studios and to embark on their second US Tour. With much of the studio recordings for Wheels Of Fire just completed and with their new single, "Sunshine Of Your Love" just hitting the airwaves, Cream hit San Francisco for a second extended stay. With their reputation preceding them this time around, demand for tickets was now much greater. To address this, Bill Graham presented Cream at the significantly larger Winterland Ballroom (5,000 capacity) for three nights, followed by a fourth night at the more intimate Fillmore Auditorium, with the Loading Zone and Big Black opening all four nights. These concerts—which began on February 29th and continued through the first three nights of March—were a huge success, and following a few days off, Graham presented an additional four nights. These shows would go down in history as the peak performances of Cream's career.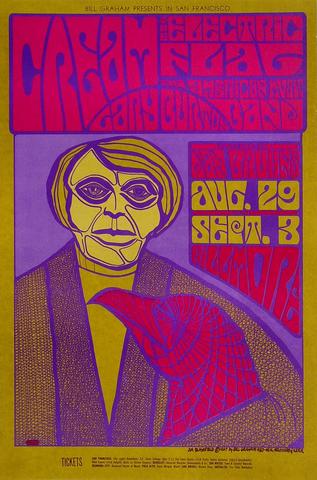 Atlantic Records and the group's producer, Felix Pappalardi (who would soon team up with Leslie West to form the Cream-influenced band Mountain) were wise to capture the band's onstage energy this time around, and much of Cream's live legacy is based on the results of these recordings. Cream's final run of San Francisco ballroom shows, which occurred on March, 7, 8, 9 and 10, 1968 would end up providing nearly all the evidence of Cream at their peak on stage and would also become the source of decades of confusion among fans, historians and collectors. For this final run, Bill Graham would reverse the approach of the following week, beginning with one night of two performances at the intimate Fillmore Auditorium, followed by six shows over the course of three nights at the much larger Winterland, this time with the James Cotton Blues Band and Al Kooper's new outfit, Blood, Sweat & Tears opening. For this final four-night run, Cream producer Felix Pappalardi hired Wally Heider's mobile unit and engineer Bill Halverson to record all eight performances. Essentially an eight track recording studio on wheels, Pappalardi and Halverson's tapes from these nights would provide the incendiary live recordings fueling the second Wheel's Of Fire album and eventually be mined for the posthumous Live Cream and Live Cream Volume 2 albums in the years to come.
Cream's double album, Wheel's Of Fire, would achieve astounding success, becoming the first double-record to ever sell a million copies, due in large part to the live material recorded by Pappalardi and Halverson during the final four nights in San Francisco. Herein also lies the initial source of confusion surrounding the official notation of these gigs, as the liner notes in Wheels Of Fire attributed the second disc of the set as Live at The Fillmore, despite the fact that all but one of the tracks was actually recorded at Winterland. At the time, this made marketing sense, as the Fillmore had far greater name recognition thanks to the local cultural scene receiving so much attention in the media, especially in Life and Time Magazine, as well as Crawdaddy! and the bourgeoning Rolling Stone magazine, which had recently launched out of San Francisco.
The confusion surrounding the venues on these recordings was further convoluted as the years went by and subsequent releases and reissues (including Cream's own recent career retrospective box set – Those Were The Days) identified some of the material from these recordings as being from Fillmore West, a venue the band NEVER played. For the benefit of those questioning the validity of this statement, the reality is actually quite easily explained. In March of 1968, which is when these live San Francisco recordings were made, Fillmore West did not yet exist. Graham had opened Fillmore East in New York City (that same week, in fact) but he was still in the early stages of pursuing the 2800 capacity venue in San Francisco, which was then known as the Carousel Ballroom. Graham would not present concerts there until June of 1968, which is when he moved operations and christened the venue Fillmore West. Three times the capacity of the intimate Fillmore Auditorium and an entirely different experience, Cream never got the opportunity to perform there. By the time they returned to California on their farewell tour in October of 1968, they were playing huge sporting arenas like the Forum in Los Angeles and the Oakland Coliseum in the Bay Area, having already outgrown the likes of Fillmore West or Winterland. Despite this, incorrect information persists in authorized biographies, official release liner notes and is ubiquitous in much of the online documentation surrounding the March 1968 recordings. Because these Fillmore Auditorium and Winterland recordings were utilized as individual tracks on multiple albums over the course of the next several years, much date confusion surrounds the individual songs as well. With Pappalardi and Halverson's recording logs as a guide, much of this has been rectified during the past decade, as reissues have begun documenting individual live song dates accurately, but the incorrect Fillmore West notation persists.
Since the Pappalardi/Halverson recordings have only been released as individual song edits, spread out and re-sequenced over several different releases, it is difficult, if not impossible, to enjoy an accurately sequenced continuous recording of Cream at their peak, unless one pursues poor quality audience recordings of the era. All of which makes this 40-minute two-track board recording from Bill Graham's archive quite fascinating. Recorded at the early show on March 10th, 1968, the final night of this historic run, this particular set includes the performance of "Crossroads" that forever cemented Eric Clapton's reputation and presents an extended sequence from one of the group's greatest performances. Being a direct board recording of the house mix, rather than a post-production multitrack mix, provides a significantly different listening experience that in some ways is a more satisfying one, despite the less polished nature of the recordings.
The recording begins with the first song of the set, "Tales Of Brave Ulysses," well underway. This is the performance that would later surface on Live Cream Volume 2 and features some of the greatest wah-wah guitar soloing ever played by a white man. Written by Clapton, Cream is in fine form right off the bat, setting the stage for the incendiary performances to come. It's difficult to believe that the versions of "Crossroads" and "Spoonful" that floored so many on the Wheels Of Fire album could have occurred so early on in a set (and during an early show to boot!), but indeed they did, although Pappalardi wisely chose to reverse their order on the album. Here one can experience both songs in context of the larger performance, beginning with that monumental version of Willie Dixon's "Spoonful." This is a prime example of Cream at the peak of their exploratory powers. Despite "Spoonful" being based on a very simple riff, the trio has the ability to improvise both tonally and rhythmically and the results burn for a solid sixteen minutes. It's an extraordinarily daring performance that displays the intricate interplay and innate chemistry of these musicians. At approximately 10 minutes in, this performances heads for the stratosphere, with all three musicians furiously improvising, taking a basic blues soaring into regions few had ever explored.
This is followed by the now definitive Cream performance of Robert Johnson's "Crossroads," possibly the greatest live encapsulation of Eric Clapton's strength as a guitarist. This is a blistering performance, in which Clapton, Bruce, and Baker all seem to be soloing simultaneously. "Crossroads" is a dazzling display of the fury and bravado when Cream was at the pinnacle of their powers. This raw two-track recording also dispels several long-standing myths regarding "Crossroads" on the Wheels Of Fire album, which is indeed this performance. Many have claimed Clapton's blistering solo a result of studio overdubbing, but here it is, fully intact, exactly as it went down, proving that one of the most blazing guitar solos of all time was indeed done spontaneously live on stage. Several noted historians have also claimed "Crossroads" to be an edited amalgamation of only the best parts, but that too is clearly not the case, as Cream really did manage to compress that much finesse and energy into a little over four minutes.
Taking a few seconds to catch their collective breath after "Crossroads," the band next tackle Jack Bruce's "We're Going Wrong," which many listeners will find fascinating as it has never seen official release. This is another fiery performance that slowly builds in intensity over the course of nearly eight minutes, well over twice the length of its studio counterpart. Here Jack Bruce displays what a passionate singer he could be, while simultaneously playing extraordinary bass lines. A hybrid of blues, rock, and a dose of psychadelia, this is another exciting performance that demonstrates Cream's unique chemistry onstage. Along with the Jimi Hendrix Experience (arguably Cream's only competition at the time) this music clearly foreshadows the "hard rock" sound that would come to dominate in the following decade.
Following "We're Going Wrong" the band take a minute or so to debate what to close with. If one listens closely, Clapton can be heard suggesting "Cat's Squirrel," but Baker vetoes the suggestion, and since they've yet to play one of his songs, they pursue "Sweet Wine," one of Baker's contributions to their debut album. Although the tape runs out six and a half minutes in, this still provides another excellent example of the group building up a powerful performance based on the collective strengths of the individual members. Bruce and Baker are particularly impressive here, playing with a relentless fury that is well beyond what any rhythm section was attempting at the time. Clapton wails in response with seemingly boundless creativity.
Reaching the pinnacle of their collective strength, Cream wouldn't last much longer and within a few short months; the constant bickering between Baker and Bruce would take its toll, leading the group to split up before years end. For the not quite three short years they were together, Cream was a prolific unit, releasing four (five if you count Wheels as a double) albums that set a new standard for rock musicianship. Despite their personal volatility (or perhaps in part, because of it), Cream burned brighter than most and left a lasting impression. Ginger Baker's jazz-influenced drumming and Eric Clapton's blues guitar stylings, combined with the complex bass lines and extraordinary voice of Jack Bruce, created a distinctive sound that would have a lasting impact. In many ways, Cream is largely responsible for creating the basic blueprint for rock music, with their heavier (and much louder) fusion of blues and rock 'n' roll. Much of the recorded evidence of their power on stage is sourced from these San Francisco performances and it's doubtful they ever played with more conviction or invention than they did on the final night at Winterland, March 10th, 1968.
thanks to Alan Bershaw
Eric Clapton – guitar, vocals; Jack Bruce – bass, vocals, harmonica; Ginger Baker – drums