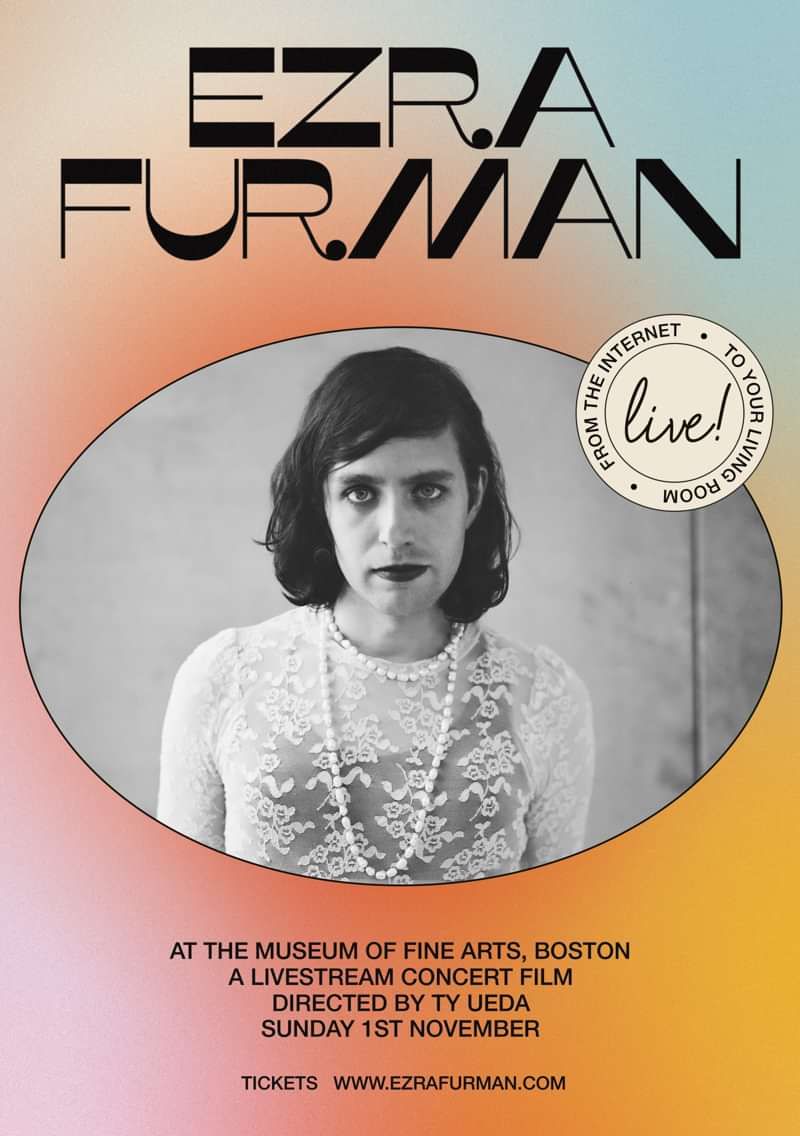 Ezra Furman finally takes her first steps back towards the ordinary life we all crave as she performs a full live solo set in the magnificent confines of Boston's Museum Of Fine Arts. 
In a year which has continued to challenge the creative arts and both inhibited and reshaped the art of live performance, we have at least been blessed by innovation in a way we could not have imagined. And with good fortune Ezra Furman has not only provided us with the magnificent soundtrack to the Netflix series "Sex Education" earlier in 2020 but has also performed a consistent stream of live songs through her Facebook channel, demonstrating her wide ranging and eclectic taste which have inevitably fueled her consistently high quality of song writing over recent years. But with the ever growing frustrations of having to cancel or postpone the vast majority of her 2020 touring schedule, Ezra set about plotting to bring us a very special and intimate solo show with just her and her guitars and the songs she's spent her life crafting.
The setting for this performance was the magnificent Museum Of Fine Arts in Boston. The inspiration for this came from Ezra's hero, rock'n'roll minimalist Jonathan Richman, who referenced the building in The Modern Lovers classic song Girlfriend. The prospect of hearing the performance of some great songs filmed against the stunning backdrop of the Museum's galleries was certainly something not to be missed.
Drift back to the start of our journey with Ezra Furman and his band The Boyfriends but on a cool October evening back in 2012. The diminutive figure of Ezra Furman who took to the stage in a denim jacket with an acoustic guitar strapped over his shoulder. It was a nervous entrance with Ezra, previously completely unknown to myself, having an almost apologetic look on his face as he performed the half hour support set. But it soon became clear to me that this was no ordinary support set. Someone appearing so frail and nervous in front of an audience yet delivering such powerful and assured messages through his songs. I found myself wondering if this is how a youthful and inexperienced Bob Dylan would have portrayed himself in those early days performing in Greenwich Village, not appreciating how his songs would resonate with so many people over so many years to come. 
Fast forward through a period when Ezra's onstage and offstage persona began to fully recognise more assurance Ezra's bisexual and gender-fluid status, You could only wonder how the rock'n'roll outsider would feel performing in the presence of some of the finest American art of the 19th century that is displayed on the walls of the Boston Museum. However reassured when Ezra commented that "I think my stuff can measure up to theirs" and I had little doubt that it would.
Ezra Furman plays 'The Queen of Hearts' as part of a streamed performance film shot at The Museum of Fine Arts Boston
As the live stream commenced and Ezra moved in to take her place and pick up her electric guitar, there was a further overlaying intermittent commentary by Ezra which made it sound at times like she was conversing with herself. As Ezra explained how important the medium of a song is in her life and "how we all belong in a song", it was clearly her intention to make moments for others as her favourite artists have made moments for Ezra.