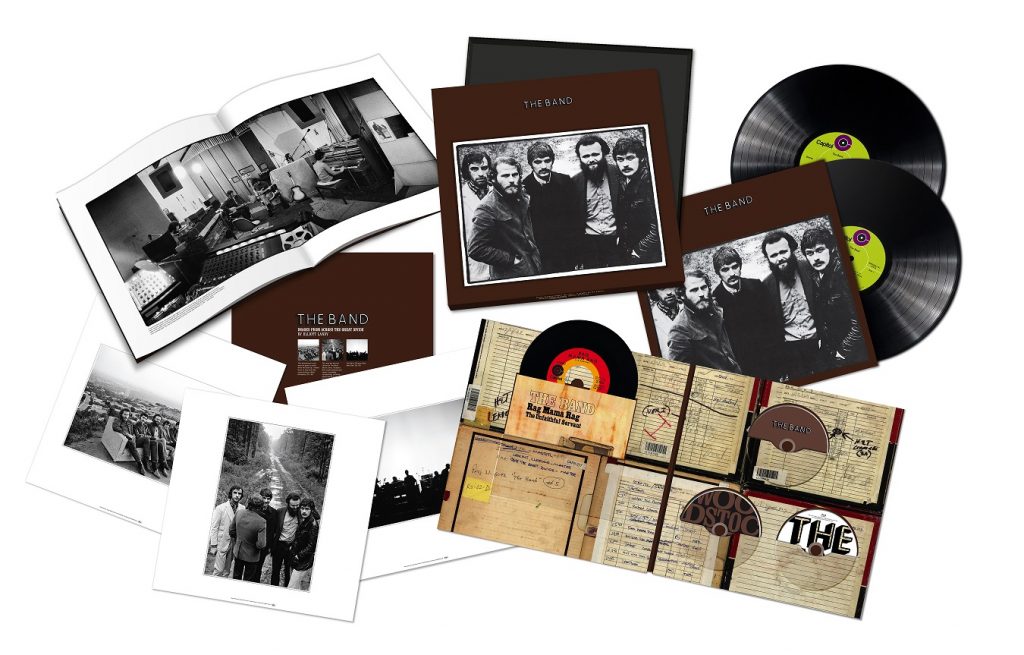 The Band are reissuing their 1969 self-titled sophomore album to celebrate the 50th anniversary of its release. A super deluxe limited edition version of The Band is slated to arrive November 15th.
The reissue will feature a new stereo mix of the album that engineer Bob Clearmountain made from the original analog masters, as well as classic photos, the group's previously unreleased 1969 "Live At Woodstock" performance, Classic Albums: The Band documentary, and thirteen bonus tracks.
Exclusively for the boxed set, Clearmountain has also created a new 5.1 surround mix for the album and bonus tracks, presented on Blu-ray with the new stereo, both in high resolution audio (96kHz/24bit). All the new audio mixes have been mastered by Bob Ludwig at Gateway Mastering. The boxed set also includes an exclusive reproduction of The Band's 1969 7-inch vinyl single for "Rag Mama Rag"/"The Unfaithful Servant" in their new stereo mixes and a hardbound book with an extensive new essay by author and music critic Anthony DeCurtis and classic photos by Elliott Landy. For the album's new vinyl editions, Chris Bellman cut the vinyl lacquers for the album's new stereo mix at 45 rpm at Bernie Grundman Mastering, expanding the album's vinyl footprint from one LP to two.
The super deluxe reissue of The Band is cut at 45RPM and available on two 180-Gram LPs. Additionally, a reproduction of the Band's 1969 7″ vinyl single for "Rag Mama Rag" with a B-side of "The Unfaithful Servant." Listen to the alternate version of "Rag Mama Rag" .
All the Anniversary Edition releases were overseen by guitarist/songwriter Robbie Robertson and feature a new stereo mix by Bob Clearmountain from the original multi-track masters, similar to the 50th anniversary collections of last year's Big Pink releases. The 50th Anniversary Edition's CD, digital and boxed set configurations also include 13 outtakes, featuring six previously unreleased outtakes and alternate recordings from The Band sessions,  The Band's legendary Woodstock performance, which has never been officially released.
"Up On Cripple Creek" was the B side of The Night They Drove Old Dixie Down. Robbie Robertson wrote this song and it appeared on The Band's sophomore self-titled album.
The Band had rented Sammy Davis's house turning the pool house into a recording studio, nailing baffles all along the outside wall and getting a great sound inside. The album was recorded there except "Up On Cripple Creek", "Jemima Surrender" and "Whispering Pines" which was recorded at the Hit Factory studio in New York City.
The unusual sound that sounds like a jaw harp was achieved by Hudson with a wah-wah pedal on his clavinet. The song has a great Americana sound to it. Hard to believe this band was all Canadian except for the southern Levon Helm. Guitarist Robbie Robertson wrote this song, which tells a disjointed story about a mountain man and a girl named Bessie. We hear about a trip to the horse races, listening to Spike Jones, and how what really makes him happy is when she "dips her doughnut in my tea."
Like many songs by The Band, it's wide open for interpretation. Robertson claims he doesn't even know what's going on. "I don't really write songs with anything other than just a storytelling sense," he said when asked about the song in Goldmine (August, 1998). "You sit down and write the song, and usually when something happens, you just don't even know where it came from, or why it came, or anything like that. That's the best. You know, when something comes out of you that surprises you. And it was one of those. You know, I was just sitting down to see if I could think of anything, and that's what came out. But it was a fun song to write."
Drummer Levon Helm sang lead on this track, giving it a very folksy vibe.
The guy in this song is one of the many curious characters Robbie Robertson has conceived. "We're not dealing with people at the top of the ladder," he said. "We're saying what about that house out there in the middle of that field? What does this guy think, with that one light on upstairs, and that truck parked out there? That's who I'm curious about."
Robertson is listed as the only songwriter on this track, which is something his bandmates disputed, as they claimed they helped write it. Songwriting credits going to Robertson was a great source of friction in The Band.
That funky sound on "Up On Cripple Creek" was created by keyboardist Garth Hudson, who played a Hohner Clavinet D6 through a Vox Wah Wah pedal.
In The Band's 2000 Greatest Hits compilation, Levon Helm said, "It took a long time to seep into us. We cut it two or three times, but nobody really liked it. It wasn't quite enough fun. Finally one night we just got hold of it, doubled up a couple of chorus and harmony parts, and that was it." The B-side of the single was "The Night They Drove Old Dixie Down," which became a hit for Joan Baez in 1971.
The Band performed this on The Ed Sullivan Show in 1969. It was their only appearance on the show.
The Band was originally released on September 22nd, 1969. In short order, the Band appeared on The Ed Sullivan Show, one of only two television appearances the group would ever make, and it had a hit single with "Up on Cripple Creek." In addition, The Band appeared on the cover of Time magazine in January of 1970, the first North American group ever to do so.