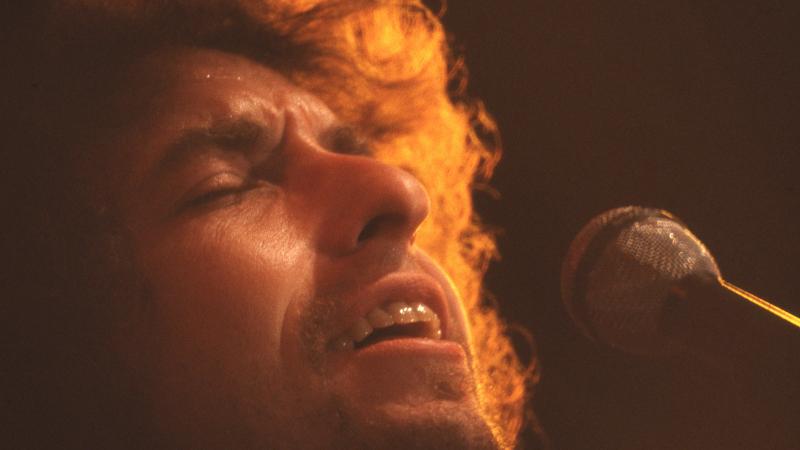 Bob Dylan's Gospel years inspired and rankled in unequal measure – with the critical brickbats and audience boos often drowning out the strength and beauty of the impassioned musical ministries delivered by Dylan between 1979 and 1981, gathering around him his five-strong chorus of gospel singers, and a crack band that included Little Feet guitarist Fred Tackett, bassist Tim Drummond, Muscle Shoals keyboardist Spooner Oldham and pianist Terry Young, and veteran drummer Jim Keltner. it's no great mystery that when Bob Dylan seemed to find new faith around 1979, a lot of fans and Dylanologists lost theirs — in him. it seems clearer that another major impetus for him in heading down the path of spirituality had to be the opportunity to tap into the higher power of a great rock-gospel band.
So what were audiences to think when, with the release of 1979's "Slow Train Coming" album, he sang that he was "Gonna change my way of thinking / Make myself a different set of rules" and preached that "there's only one authority / And that's the authority on high"?.
Roots music aficionado that he's always been, Dylan has long understood the power gospel music has to move and inspire listeners. In turn, Bob Dylan served up some of his most impassioned, electrifying performances with these gospel-steeped songs.
"Bob Dylan — Trouble No More — The Bootleg Series Vol. 13/ 1979-1981." This one spans the so-called "Christian period" of his trio of albums: "Slow Train Coming," "Saved" (from 1980) and "Shot of Love" (1981).
Slow Train Coming was at least a challenging and engaging album, with much typical imagery and complexity. A stunning gospel version of the title track features in the current hit play Girl from the North Country at the Old Vic theatre. The follow-up album, though, 1980's Saved was too close to pure gospel, too devotional, and alienated even more fans. Shot of Love in 1981 continued the religious theme to a degree, but it was intermingled with what one might term secular tracks, and there was evidence that Dylan was once again changing course.
Filmed at Toronto's Massey Hall and in Buffalo, New York, Dylan's gospel shows have long been a bootlegger's holy grail, and it was only on last autumn's Trouble No More boxed set, the latest volume in the official Bootleg Series, that some of that footage finally found official release. Now that hour-long film has made it The nights of religious fervour and impassioned performances. It intersperses up-close and personal studio rehearsals with exceptionally intimate live footage of some of Dylan's strongest Gospel songs – the likes of "Solid Rock", "Slow Train", "When He Returns" and "Precious Angel" – with slightly contrived but absorbing enough "sermons" written by Luc Sante and performed by Michael Shannon, who plays a lean, mean kind of preacher who wouldn't be out of place in Girl from the North Country, the hit Dylan musical.
A lot of fans abandoned Bob Dylan during his Gospel [de]tours, largely to their own detriment
The subjects for each "sermon" were apparently suggested by Dylan, but it seems the singer had no further part in shaping their texts. A shame. There was a bit of a disconnect between the tone of these spiritual homilies and the music itself, so intimately captured, and so strong and vivid an expression of Dylan's spiritual journey at the time. It might have made more sense to, say, use Hank Williams' Luke the Drifter song-sermons. It was material that certainly chimed with Dylan from an early age ("I could listen to the Luke the Drifter record all day and drift away myself, become totally convinced in the goodness of man…" he wrote in Chronicles).
Director/producer Jennifer LeBeau excelled in choosing the strongest musical performances, all of it prefaced by that remarkable rehearsal footage, and closing with an extremely affecting performance of "Abraham, Martin and John" by Dylan and Clydie King, his then-girlfriend and a Gospel singer whose voice sounds like the female voice of an Old Testament God – tearing the air like paper and raising whatever roof it's under until it hits the ground.
A lot of fans abandoned Dylan during his Gospel [de]tours, largely to their own detriment, but this was a film that put the music's undeniable power up front, in your face and centre stage. Plenty of people back in 1979 and 1980 were talking up the "end times" and we're enjoying a new flavour of "end times" right now, aren't we, in a more solid, indigestible form? In that light, it's fascinating to see and hear these spiritually impassioned songs performed under "the darkness that will fall from on high" that Dylan felt pressing down on him during those Gospel years. But let's leave the last word to one of the men who was there, Fred Tackett. Here's what he thinks of the film: "I was amazed, man. Everything was just so good. They picked the very best songs. Him and Spooner Oldham playing this harmonica and Hammond organ together at the end of 'What Can I Do for You'… it was just so cool and hip, and Bob Dylan is playing so great. They found the best stuff and put it in this movie."
In tracks like 'Solid Rock', you can feel his heart bursting with religious passion
That force comes through as well in the best tracks of Bob Dylan's Trouble No More – The Bootleg Series Vol 13 1979-81, the concert chronicle of his much-maligned "Christian" albums. The fiery gospel fervour delivered here benefits a great deal from being live rather than reproduced in the studio. These two discs are dynamite, containing, I am sure, some of the very most stirring moments of Dylan's gigantic opus. In tracks like "Solid Rock" from San Diego in 1979, you can feel his heart bursting with religious passion, and everyone else – from the tightest of bands to five red-hot back-up singers – possessed by the spirit. This combination of note-perfect excellence and total letting-go can only be good for the soul, Dylan's own, but for us the audience as well.
The deluxe set from Columbia Records/Legacy Recordings encompasses eight CDs and one DVD with director Jennifer Lebeau's new documentary, "Trouble No More: A Musical Film." An abridged two-CD set and a four-LP vinyl version are also available.
The deluxe set comprises 100 tracks: alternate studio versions, rehearsal takes and live performances. Only one has been previously released: "Ye Shall Be Changed," which appeared on the first installment from 1991, "The Bootleg Series, Vol. 1-3."
The first two discs of the "Trouble No More" set are drawn from various tour stops from 1979-81, while discs 3 and 4 collect rare versions of songs from the studio albums along with several that didn't wind up on any of those releases. The fifth and sixth discs contain his full show from April 18th, 1980 in Toronto, while CDs 7 and 8 offer up another full concert from June 27th, 1981 at Earl's Court in London. (For Dylan completists, the singer-songwriter's website is offering two additional discs with yet another complete performance, this one from his Nov. 28th, 1979 tour stop in San Diego.)
Discs 1 through 4 are framed smartly, each of the four opening with markedly different renditions of the same song: "Slow Train Coming," displaying how Dylan's restless artistry was always in search of the right feel, tempo and attitude for a given song.
An alternate studio take of one of the "Slow Train Coming" album's higher profile songs, "Gotta Serve Somebody," features a livelier bounce in the rhythm section of Drummond and drummer Pick Withers, while keyboardist Barry Beckett pushes the song forward with beat-anticipating piano interlaced with funky clavinet parts. The backing gospel singers on the released version are absent.
The fidelity of the live versions varies noticeably in places, which makes for some compromises. The performance of "Man Gave Names to All the Animals" on the first disc, recorded in 1980 in Portland, Ore., benefits from a more fluid reggae-ized lilt by the band, and is buoyed further by a break where the gospel singers are featured.
But Dylan's vocal is low in the mix, rendering certain lines difficult to discern, especially to anyone not already intimately familiar with his clever roster of creation stories he cooked up for so many critters.