On February 25th, George Harrison would have turned 74 years old.  One day earlier, UMe and the estate of the late Beatle will release his entire solo album catalogue in one new vinyl box set.
George Harrison – The Vinyl Collection includes newly-remastered editions of 13 albums, from Wonderwall Music (1968) to the posthumously released Brainwashed (2002).  Each album has been remastered at Capitol Studios from the original tapes and pressed onto 180-gram vinyl.  The albums are all packaged in replica sleeves, and the entire set comes in one sturdy slipcase.
While all of the LPs will be available individually, the box set will also contain exclusive 12-inch singles of "When We Was Fab" and "Got My Mind Set on You."  The standalone release of the 3-LP All Things Must Pass (including the Apple Jam disc) will be a limited edition.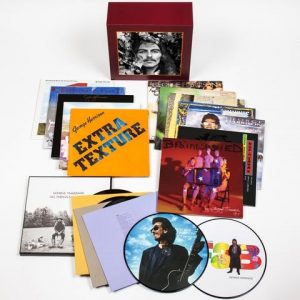 The titles included are:
Wonderwall Music (1968)
Electronic Sound (1969)
All Things Must Pass (1970)
Living in the Material World (1973)
Dark Horse (1974)
Extra Texture (1975)
Thirty-Three & 1/3 (1976)
George Harrison (1979)
Somewhere in England (1981)
Gone Troppo (1982)
Cloud Nine (1987)
Live in Japan (1992)
Brainwashed (2002)
The box will be joined by a George Harrison Essential III turntable manufactured and designed by Pro-Ject Audio Systems, limited to 2,500 units worldwide; and a reissued, "extended" version of Harrison's 1980 book I Me Mine.