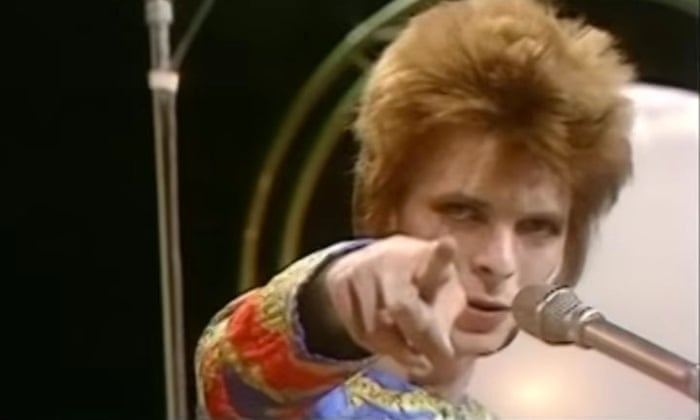 The moment he pointed down the camera during his appearance on the BBC in July 1972 was also the precise moment that David Bowie became a major star
48 years ago today, David Bowie played Starman on Top Of The Pops. And for many British music fans, Something changed in those three minutes. It was probably also present in the performance of Starman that he recorded for the ITV show Lift Off With Ayshea three weeks before that historic Top of the Pops appearance. But ITV lost the tape, which seems typical somehow.
Like everybody else on 6th July 1972, I genuinely remember seeing David Bowie perform Starman on Top of the Pops. It's one of the few historic pieces of pop television. I knew who David Bowie was, had already bought his record and had even seen him wearing a dress on the cover of Melody Maker. That short appearance with the Spiders From Mars, doing a song that only got on the record because somebody at RCA thought it was a hit, felt like an arrival. It wasn't just the clothes. Lots of acts raided the dressing-up box. The way Bowie pointed that finger, smilingly draped an arm around Mick Ronson, the way he worked out which camera he was on and looked beyond the camera to engage the audience sitting at home.
When Bowie appeared on Top of the Pops singing Starman. That was the moment Bowie went above ground and nationwide. The hype may have led us to expect something edgy and challenging. The record was as simple and hummable a radio hit as you could possibly desire. For the post-Beatles generation coming into their albums-buying majority, the record wasn't really the point. The point was the way he looked at them.
The last time he'd been on Top of the Pops was playing piano behind Peter Noone on the latter's hit version of his own Oh! You Pretty Things. Bowie's people were furiously working the machine. His first release of 1972, Changes, was not a hit, despite being single of the week on Tony Blackburn's Radio 1 show.