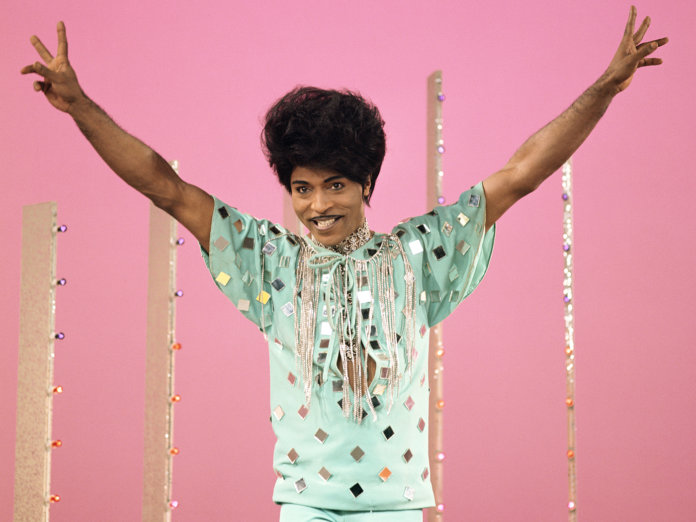 Born in Macon, Georgia, on December 5, 1932, Richard was one of 12 children. His father was a preacher who also ran a nightclub, and his mother was a devout Baptist.
Speaking to BBC Radio 4 in 1998, he said he started singing because he wanted to stand out from his siblings. I was the biggest head of all, and I still have the biggest head," he said. "I did what I did, because I wanted attention. When I started banging on the piano and screaming and singing, I got attention."
As an artist, Little Richard's breakthrough came in 1956 with the single "Tutti Frutti", before cementing his fame and reputation with the run of hits "Long Tall Sally", "Lucille" and "Good Golly, Miss Molly", among others. His 1957 debut album, "Here's Little Richard", remains a template for the genre.
Earning the nickname "The Innovator, The Originator, and The Architect of Rock and Roll", he had an immeasurable influence across the world of music – his flamboyant style and free-spirited attitude inspired the likes of The Beatles, The Rolling Stones, David Bowie, Elton John and countless more.
It's impossible to list all the major rock stars that the Little Richard influenced. His look, sound, and attitude really wrote the blueprint for what it means to be a rock star, and tons of the most major artists of all time covered his songs (and often became popular for their own versions). The Beatles had no lack of Little Richard covers, and his music was also performed by Elton John, Eric Clapton, The Kinks, Creedence Clearwater Revival, Queen, Motorhead, Scorpions, Bruce Springsteen, The Band, The Animals, Fleetwood Mac, T. Rex's Marc Bolan, The Zombies, Deep Purple, and that's really just a small sample size.
Little Richard was among the first artists to be inducted into the Rock & Roll Hall of Fame in 1986, alongside Elvis Presley, Chuck Berry, Jerry Lee Lewis, James Brown and Buddy Holly. His other honors include a GRAMMY® Lifetime Achievement Award (1993) and inductions into the Songwriters Hall of Fame (2003), the NAACP Image Awards' Hall of Fame (2002) and the Blues Hall of Fame (2015).
Bob Dylan has paid tribute to Little Richard, who has died at the age of 87.
The musician's son, Danny Jones Penniman, confirmed the rock'n'roll pioneer's death to Rolling Stone, adding that the cause of death was cancer. Bob Dylan wrote: "He was my shining star and guiding light back when I was only a little boy. His was the original spirit that moved me to do everything I would do."
Announcer:  "The Beatles, with Paul McCartney paying tribute to 'the Everlys' with Lucille."  Really?   How can Paul McCartney be  paying tribute to the Everly Brothers by playing a song written by, and made famous by Little Richard? , Just another example of how many of these Rock and Roll and Jazz Radio Disc Jockeys can be heard uttering nonsense on many archival broadcasts.
Before the Beatles became stars in their own right, they were opening for Little Richard in Hamburg and Liverpool. They were huge fans of his, and would go on to cover many of his songs over the years, including "Long Tall Sally", "Ooh! My Soul" and "Lucille.". Two of the band members covered Richard's songs in their solo careers, too:  John Lennon recorded "Slippin' and Slidin'" and a medley of "Rip It Up"/"Ready Teddy" on his 1975 covers album, Rock 'n' Roll, while Paul McCartney recorded "Lucille" for a live album in 1988.
Little Richard (born Richard Wayne Penniman) combined the passionate spirit of gospel, the bawdiness of the blues and the swing of New Orleans jazz to create something altogether fresh: rock & roll.
When the young artist was signed by Specialty Records' Art Rupe in the mid–'50s, he gained a new platform to showcase his bold sound and flamboyant persona, captured in all their glory on his legendary 1957 debut, "Here's Little Richard".  
The album, which primarily gathered the artist's early Specialty singles from 1955-1957, could easily serve as a best-of compilation. In fact, seven of the songs on Here's Little Richard were Top 10 hits on the Billboard R&B chart, while two tracks peaked in the Pop Top 10("Long Tall Sally" and "Jenny Jenny"). The album also included such favourites as "Reddy Teddy," "Slippin' and Slidin'," "Rip It Up" and Little Richard's most iconic song, "Tutti Frutti." Originally released in October 1955, the effervescent single helped usher in an exciting new genre of music. 
Little Richard Medley: Tutti Frutti / The Girl Can't Help It / Long Tall Sally / Jenny Jenny (Live at Royal Albert Hall 12/1/1969) · Delaney & Bonnie & Friends On Tour With Eric Clapton
Creedence Clearwater Revival play Little Richard "Good Golly Miss Molly" from the album Bayou Country
"Slippin' and Slidin'" – This track had an interesting evolution—almost like a game of musical telephone. In 1955, R&B singer-songwriter Al Collins wrote a song called "I Got the Blues for You." A year later, New Orleans blues pianist Eddie Bo reworked the song and recorded it as "I'm Wise." Little Richard then created his own rendition of the tune, "Slippin' and Slidin'," which would become the definitive version. Richard revisited the song several times throughout his career, recording it a decade later with Vee-Jay and, later, Modern. A host of other artists would cover Little Richard's version, including John Lennon, Johnny Winter and Otis Redding.
While the artist would go on to release more than a dozen studio albums after Here's Little Richard, his debut remained his crowning achievement, as well as his highest-charting full-length (peaking at No.13 on the Billboard 200). Richard would revisit those foundational 12 tracks throughout his career. 
Over the decades, Here's Little Richard has been widely acknowledged for its importance in pop music history. In 2012, Rolling Stoneranked the title at No. 50 in its roundup of the "500 Greatest Albums of All Time" while TIME included Here's Little Richard in their "All-Time 100 Albums" list. In 2007, Mojo ranked "Tutti Frutti" at No. 1 in their "100 Records That Changed the World" list, and in 2010, the Library of Congress inducted the song into its National Recording Registry, proclaiming that the song "announced a new era in music." 
"Ready Teddy" – Though "Ready Teddy" was a Top 10 R&B hit for Richard, the song would be made even more famous by one of his biggest fans, Elvis Presley, who sang the upbeat tune in front of 60 million television viewers on his record-breaking debut appearance on the Ed Sullivan Show. It also graced the silver screen twice—in the 1958 Jayne Mansfield comedy The Girl Can't Help It(Richard's recording of the title song was a hit in the US and UK) as well as in Federico Fellini's 1960 classic, La Dolce Vita, where it was performed by Italian rocker Adriano Celentano
"Rip It Up" – This song was a No.1 R&B hit for Little Richard and a Top 20 single (peaking at No.17 on the Billboard Pop chart in the summer of 1956). However, the significance of these charting hits was often muted for Little Richard and other black musicians at the time, because of a common record industry practice in the '50s, which called for "safer" white artists to cover popular R&B singles. This was often the case with Little Richard's songs and became a point of contention for the artist. In the case of "Rip It Up", contemporaries Bill Haley and the Comets covered the tune (hitting No.25 on the Pop chart) and later performed the song in the 1956 film Don't Knock the Rock. Richard did have the opportunity to make a cameo in the musical, though, and his over-the-top showmanship stole the show, as he performed "Long Tall Sally" and "Tutti Frutti."