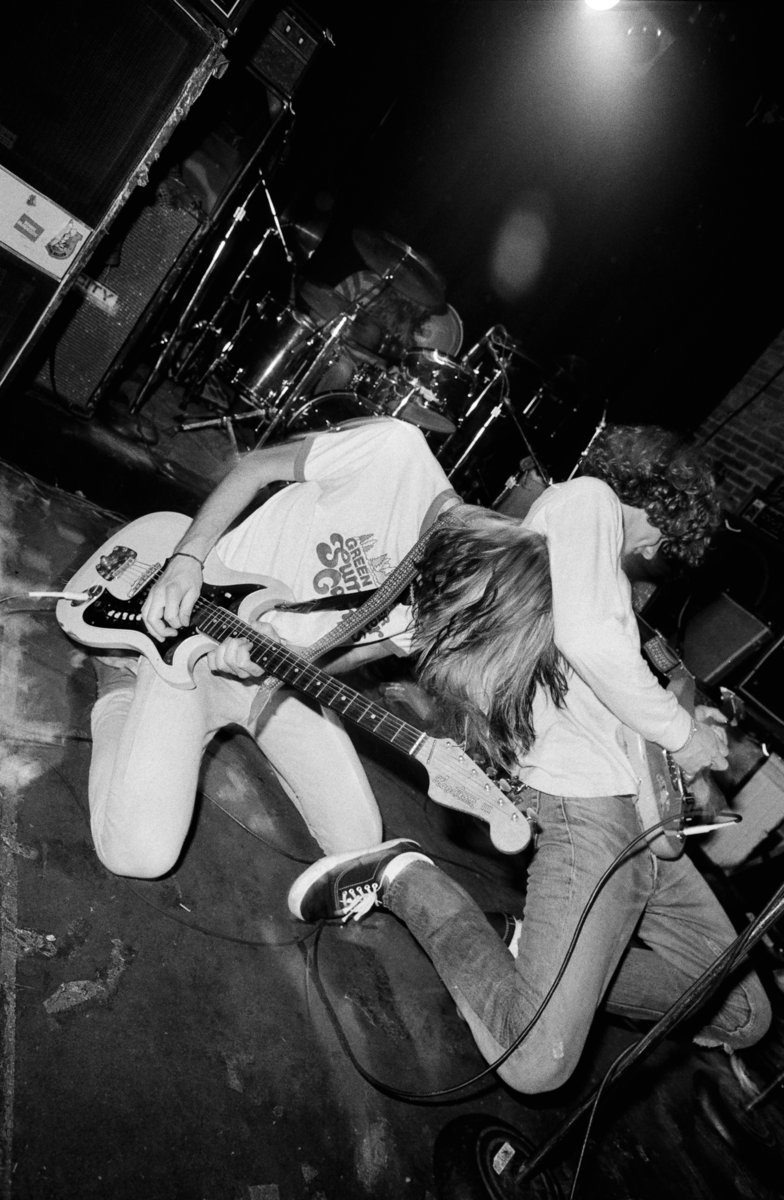 Sub Pop Records will release the remastered and altogether deluxe 30th-anniversary edition of Mudhoney's "Every Good Boy Deserves Fudge", the Seattle group's classic second full-length album. Originally released 30 years ago, this expanded version includes the remastered original album in its entirety, as well as a 15-track bonus LP (or CD, your choice!) of additional material, with 7 previously unreleased songs The album also includes liner notes from Mudhoney biographer (Mudhoney: The Sound and the Fury from Seattle) and MOJO journalist Keith Cameron, as well as new cover art, archival band photos, and a full-color fold-out poster. The first run of LPs will be on coloured vinyl.
By going back to basics with "Every Good Boy Deserves Fudge", Mudhoney flipped conventional wisdom. Not for the first time – or the last – they would be vindicated. A month after release in July 1991, the album entered the UK album chart at Number 34 (five weeks later, Nirvana's Nevermind entered at 36) and went on to sell 75,000 copies worldwide. A more meaningful measure of success, however, lay in its revitalisation of the band, casting a touchstone for the future. The record is a major chapter in Mudhoney's ongoing story, the moral of which has to be: when in doubt, fudge it.
The album began at Music Source Studio, a large space equipped with a 24-track mixing board – downright futuristic, compared to the 8-track setup that birthed the band's catalytic 1988 debut, "Touch Me I'm Sick." The Music Source session quickly turned into a false start when the results, in guitarist Steve Turner's words, "sounded a little too fancy, too clean." Lesson learned, the band went primitive and got to work at Conrad Uno's 8-track setup at Egg Studio. Named after the cartons pasted on the walls in an optimistic attempt at sound-proofing, Egg boasted a '60s vintage 8-track Spectra Sonics recording console, originally built for Stax in Memphis.
So it was that, in the spring of 1991, Mudhoney made Every Good Boy Deserves Fudge. The resulting album is a whirlwind of the band's influences at the time: the fierce '60s garage rock of their Pacific Northwest predecessors The Sonics and The Lollipop Shoppe, the gnashing post-hardcore of Drunks With Guns, the heavy guitar moods of Neil Young, the lysergic workouts of Spacemen 3 and Hawkwind, the gloomy existentialism of Zounds, and the satirical ferocity of '80s hardcore punk. The quartet's special alchemy meant these fond homages never slid into pastiche. Ultimately, Every Good Boy Deserves Fudge epitomised the best of Mudhoney: here was a band reconnecting with its purest instincts, and in the process reinventing itself.
Whether it was Uno's production, the addition of more instruments to the Mudhoney arsenal (notably Mark Arm adds organ, as can be enjoyably heard on "Who You Drivin' Now," among other numbers), plus a slew of brilliant songs, or a combination of the above, Every Good Boy Deserves Fudge found Mudhoney coming into their own album-wise. "Let It Slide," the album's lead single, fuses everything from surf rock drumming from Dan Peters to a delicious vocal whine on the verses from Arm into a hotwired classic. It's not so much grunge as speed-freak energy, and all the better for it given the caricatures of Sub Pop's sound that would soon take over the airwaves. "Into the Drink" is another fun single, using acoustic and electric guitar to carry a nicely snotty garage stomp along, the full band adding one of their better chorus-gang shouts. More acoustic twang surfaces here and there (check out "Move Out"), helping to show that the variety of songs and styles is much more apparent and welcome here than on the self-titled album.
The almost-pretty rushed guitar chime on "Good Enough" could be mid-'80s while Steve Turner's harmonica playing often suggests even deeper roots (and on "Pokin' Around" is both quick on the pace and sweetly mournful). Uno's eight-track production makes more of less plenty of times — "Something So Clear" may not sound as full to some ears as their other records, but the basic guitar overdubs add just enough force, an effective simplicity (and Turner's soloing is pretty great to boot). The six-minute "Broken Hands" is the one point on the album where the band completely freaks out, but unlike the takes-too-long moments of Mudhoney, it's all worth it here, down to the final chaotic amplifier abuse.
This 30th anniversary edition, remastered by Bob Weston at Chicago Mastering Service, stands as testimony to the creative surge that drove them in this period. The album sessions yielded a clutch of material that would subsequently appear on B-sides, compilations, and split-singles. This edition includes all those tracks, and a slew of previously unreleased songs, including the entire five-track Music Source session.
Released July 23rd, 2021
Sub Pop Records
Mudhoney has announced a 28-date UK & EU tour starting on September 7th, 2022 in Manchester, UK with shows in Bristol, London, Barcelona, Paris, Copenhagen, and Amsterdam, ending on Oct. 9th in Nijmegen, NL. See below for a full list of shows.